"You Have It Within YOU"



"It is not easy to find happiness in ourselves,
and it is not possible to find it elsewhere."

~Agnes Repplier, American Essayist (1855-1950)

February 10, 2003
Today's Tune (on/off):

"Eclipse of the Heart"

IN THIS
WEEK'S ISSUE:


From the Inside Out...
Hearts Made Strong


Yes You Can!...
Find Getaway Deals


Far Horizons...
South Georgia



Links That Shine...
Northwinds Productions


Fascinating Facts...
Antimicrobials Don't Help



Laughing It Off...
Police Files



Untangling the Web...
What a Site!
Computer Ease



Look at That!...
Workout or Nap?


Joyful Lifestyles...
A Life that Counts

---




BE the World
You Want to See!

Several years ago I experienced an incredible "Heart Opening" that was facilitated by young woman from India who I'd never even heard of before. Basically, I was tagging along on someone else's journey to a satsang gathering near Limberg, Germany. As things sometimes go, the event was, unknowingly, meant for me and is one of THE great moments in my life.

~ Chelle ~





From the Inside Out
HEARTS
MADE STRONG

The heart seems to be one of the most vulnerable in the system because it is the one that has held the most fear, the most old pain, perhaps, and repressed energy. It is the one that is most afraid to open to pure unconditional love, which is indeed where your power lies. So, in essence, when you open your heart and heal without fear, you are opening to your own spiritual power. The power is in the heart, in the love, in the truth, and however challenging or difficult it may appear to be at times, the power is still in the truth of Love.

When you are on your journeys, in confusion, perhaps, afraid to turn this way, turn that way, it is the confusion in the heart that keeps you from walking forth in true connected power. It is that smoke screen, if you will, of the confusion of the heart —without setting the heart free to clearly love, to support, to bring the truth of unconditional love — that keeps you from stepping into who you truly are.

For many, the heart has been in a place of just existing but not truly loving, being a bit numb or complacent, perhaps a bit stagnant — for without the heart truly connecting with unconditional love, there is no true connection to your own passion. There is no true connection to your own creativity because you are not fully feeling with emotion the love for yourself and then, of course, for others.

The exercise that is required for this particular time to strengthen the heart is to truly go deeply into the heart on all levels — feeling, connecting to the pain, to the joy, to the confusion, to the openness, to the expansion, to the Light, to the repression, to the feeling of confused darkness — because as you go into that place and hold it, and hold the energy of the heart open to it instead of fleeing from it, you do strengthen the heart. You must go into the heart because it is aligned with soul and purpose.

Strengthening the Heart Exercise:

*Find a safe, quiet space in which to do this exercise. When you are fully relaxed, travel into your heart.

*To strengthen the heart, allow yourself to go deeply into the heart on all levels. Connect to everything: the pain, the joy, the confusion, the darkness, the love, holding the energy of the heart open to the experience instead of backing away.

*Tune in to it and feel what energy is there. Is the heart open or constricted? Is it warm or is it cool, or cold, perhaps?

*When you are ready, think about a person, situation, or emotion and bring that energy directly into the heart. If you feel yourself back off, continue to breathe into it. Embrace it. Hold it. Breathe out.

*Then bring it in again, allowing yourself to really "feel" it, holding it a little longer, a little deeper, each time. Stretch a little further.

*Keep opening the heart, stretching it, holding it open, until that energy begins to feel a natural part of your being.

What causes your heart to contract? What person(s) or situation(s) does your heart back away from? How does it feel to open your heart fully to every experience?

Second Exercise: Do this with someone with whom you are trying to experience more openness, more love, more joy: Sit across from each other and place your right hands over each other's heart. Breathe, letting the heart open. Continue to let the energy open and hold it. Open and hold. Let the energy cycle, opening each other's heart. Hold that energy as long as you can.

1. How did this exercise with another person change how you feel about him or her?

2. What fears, if any, did you experience? (fear of joy, intimacy, trust, openness)

3. My fears: ________________________________________________

4. My partner's fears: _________________________________________


~Shirley Knapp & Nanette McLane
Northwinds Productions



Yes You Can!
FIND GETAWAY DEALS

If you're ready to flee, use the Net to find the best deals. It takes practice to become a true escape artist — to be able to take off for a quick break of a week or so, knowing exactly what to do and when. With that in mind, we offer some tips to build your skills for travel at any time of year.

Flexibility rules:
Going against the crowd can really pay, especially when it comes to knowing where and when to travel. This doesn't just mean traveling in "shoulder seasons." It also means flying on less in-demand days of the week or flying into alternative airports.

If you're going on a weekend trip, flying Thursday and Sunday can be cheaper than Friday and Monday. "Just be flexible and think creatively and
it can pay off in a big, big way," says Gregg Brockway, co-founder of Hotwire.com. "If you're heading to Los Angeles, think Burbank airport. Heading to San Francisco? Think Oakland or San Jose."

Fly, sleep, drive blind:
If you're willing to forgo a little knowledge when planning your trip, you can rack up a whole lot of savings. You often don't get to see what airline, hotel or car rental company you're buying from until after you've paid.

The missing piece of the purchase puzzle varies by site — and by what you're buying: most hide the exact rental car company until after you've paid, and at Priceline.com, the prices as well as the airlines and itineraries are hidden. At Hotwire and Expedia, the prices are preset and viewable, but you allow them to pick the airline and itinerary, within certain parameters.

Get the inside scoop:
Sites such as Flyertalk and Biddingfortravel are dedicated to taking some of the ambiguity out of buying from the Pricelines and Hotwires of the Web. After all, when you're buying from sites that don't show you the goodies until after you've paid, you only want them to THINK you're ignorant.

"Biddingfortravel" focuses exclusively on how to get good deals on Priceline, with message board posters sharing their winning bids and tricks, such as how to figure out how many layovers are involved. Flyertalk and Frommer's message boards are also good for sniffing out the best deals — and the best customer service. One discussion thread focused on rental car companies, including one to stay away from.

Package it:
"Hotels and, to a lesser degree, airlines care about their rate integrity," says Expedia spokesman Mitch Robinson. "They don't necessarily want you to know how much you're saving when other people are paying more." Sounds crazy, but if you're bragging about the $59 special you found for your hotel room and the guy next to you paid double, he's probably going to be less than happy.

One way they can hold onto "opaque pricing," Robinson says, is by packaging their services. Online packages don't necessarily work like their offline counterparts, where everything from the hotel to airline and itinerary is predetermined. Orbitz partner NeatTravel's E-packs and Expedia's Build Your Own Trip module allow you to put a customized package together. The savings potential is 30%-70% over buying all the elements separately.

Beat an efficient Web path to the best deals:
Admittedly, this can be hard to do, given the dynamic nature of the inventory. But you want to use the most helpful online tools, rather than randomly and laboriously surveying tons of sites. Again, helpful tools include the travel message boards and also fare finders such as a downloadable search agent like SideStep, and QIXO, which requires no download. Both will compare prices from all over the Web (almost 30 different airline and travel sites at QIXO and more than 130 at Sidestep).

Another search tool popular with some BiddingForTravel message board users is ITA Software.com. You should also try some of the bigger sites, including Expedia, Orbitz and Travelocity, along with specialty discount travel sites such as Hotwire, Hotels.com and Site59 — dedicated to last-minute fares —and auction sites, such as Skyauction and eBay.

Finally, don't forget the major airlines' own sites, even for packages:
United Airlines' recent two-night air/hotel deal to Vegas rivaled those offered on sites such as Expedia. Also, if you buy your ticket on an airline's site, you can avoid forfeiting frequent-flier miles as you do on Priceline and other travel sites.

You also avoid their fees: Orbitz charges you $5 for tickets on airlines that pay it commissions and $10 for tickets on airlines that don't, for example. And not all airlines sell tickets on major sites such as Expedia and Orbitz — notably, budget carrier Southwest Airlines.


~Jennifer Mulrean
MoneyCentralMSN.com

Far Horizons
SOUTH GEORGIA

South Georgia is an island in the Atlantic Ocean about 800 miles southeast of the Falkland Islands. Stunningly beautiful and rugged, this island wildlife sanctuary is not easily forgotten. Its majestic grandeur of snow covered peaks, blue glacier ice and emerald green bays is a breathtaking sight. South Georgia is an "Antarctic Oasis" in the cruel and stormy southern oceans and is home to thousands of penguins, sea and land birds, seals and reindeer. Many visitors come as a result of reading the story of Sir Ernest Shackleton's Antarctic Voyage. Shackleton lies buried in the picturesque cemetery at Grytviken. The abandoned whaling stations rusting away in Grytviken remind us that this island was once a grand whaling capital.


LINKS
THAT SHINE

"NORTHWINDS PRODUCTIONS "

Spiritual healing through books, tapes, classes and private consultations by Energy Healer and Author Shirley Knapp. Shirley's goal is to empower us to move beyond personal barriers and limitations to lead a more powerful and productive life.
www.NorthwindsProd.com





Visit Our Website for LINK Details
... Plus Our All New
eZINE ARCHIVES and
BOOKS of the MONTH: Self-Empowerment
Fascinating Facts

ANTIMICROBIALS DON'T HELP
Once Consumer products such as soaps and lotions often contain germ-killing antimicrobials, but there is scant evidence they are helpful in preventing infections, according to an American Medical Association (AMA) committee. What's more, they may actually be harmful in terms of promoting bacterial resistance to germ-killers, according to a report from the AMA's Council on Scientific Affairs.

Indiscriminate, widespread use of antimicrobial products is discouraged by the medical community because it is believed to promote the growth of bacteria resistant to chemicals used as hospital disinfectants. Still, the use of antimicrobial-laden products, such as disinfecting hand soaps and lotions, have skyrocketed in recent decades. Indeed, 45% of consumer soaps contain an antimicrobial, even though there is no proof the products can prevent infections better than regular soap.

The authors report that "a growing number of studies" suggest that bacteria are gaining resistance to the antimicrobials used in these products. It is even possible that bacteria that become resistant to such antimicrobials may also be harder to treat with therapeutic antibiotics.

"These same surface chemicals have been used effectively for several decades in hospitals under stringent guidelines that require, among other precautions, minutes—not seconds—of exposure," according to Dr. Stuart Levy of Tufts University School of Medicine in Boston, Massachusetts. A high concentration of the chemicals is left on surfaces "long enough to do the antimicrobial job required."

In the home, however, the products leave a residue on the skin, kitchen or bathroom in a less-than-effective dose, setting up the "perfect condition for the selection of microbes resistant to their action," Levy notes. There is no "evidence that additional cleaning or disinfecting power is needed in the home beyond that provided by normal cleansers, soap and water. Instead the negative consequences stemming from the residues of these compounds present an unacceptable risk to the household."
~REUTERS Health.com
CAUGHT FOR SPEEDING:

The cop got out of his car and the kid,
who was stopped for speeding, rolled down his window.
"I've been waiting for you all day," the cop said.
The kid replied, "Yeah, well I got here as fast as I could."
When the cop finally stopped laughing,
he sent the kid on his way without a ticket.

STUCK UNDER A BRIDGE:

A truck driver was driving along on the freeway.
A sign came up that read, "Low Bridge Ahead."
Before he knew it, the bridge was right ahead of him
and he got stuck under it. Cars were backed up for miles.
Finally a police car arrived. The cop got out of his car and
walked around to the truck driver, put his hands on his hips
and said, "Got stuck, huh?" The driver said,
"No, I was delivering this bridge and ran out of gas."

DEALING WITH TROUBLE:

A deputy police officer responded to a report of a local disturbance.
The "disturbance" turned out to be well over six feet tall and
weighed 300 pounds. What's more, he boasted that he
could whip the deputy and Muhammad Ali at the same time.
Said the policeman, "I'll bet that you're also an escape artist —
probably better than Houdini." The giant nodded with a grin.

"If I had some chains," the deputy continued, "you could show us
how strong you really are. But all I've got is a set of handcuffs.
Why don't you see just how quickly you can break out of them?"
Once in the cuffs, the man puffed, pulled and jerked for four minutes.
"I can't get out of these," he growled.
"Are you sure?" the deputy asked.
The fellow tried again. "Nope, I can't do it."
"In that case," said the deputy, "you're under arrest."

CLOSING TIME:

The man was in no shape to drive.
So he wisely left his car parked and walked home.
As he was walking unsteadily along, he was stopped by a policeman.
"What are you doing out here at 2 A.M.?" said the officer.
"I'm going to a lecture," the man answered.
"And who is going to give a lecture at this hour?" asked the cop.
"My wife," replied the man.



~Contributed by Sherry Rothfield





Untangling the Web

WHAT A SITE!

You'll never get lost with
assistance from today's website .. www.MapsOnUs.com
provides integrated yellow pages, directions
and mapping in one place.




COMPUTER-EASE

A Browser Maintenance Shortcut:
If you want to organize your Favorites in Internet Explorer 6, you can choose Favorites|Organize Favorites to open the Organize Favorites dialog box. If you prefer to use keystrokes, you can open the Organize Favorites dialog by simply pressing Ctrl + B. access.


Look at THAT!
WORKOUT OR NAP?


Photo: H. Knippertz /AP


Do you work in an office, stuck at a desk?
If so, two new innovations may help you through the day, whether you're looking for a workout or just a quick snooze. The "bike-desk," by Danish firm SIS International, enables a worker to pedal away and burn some calories while still remaining productive on the job. German engineer Matthias Knigge has designed a desk that converts into a giant pillow at the push of a button for workers in need of a respite. "The aim isn't to keep people chained to their desks 24 hours a day," Knigge said. "I think people should also get away from their desks and get a life." ~MSNBC 2000


Joyful Lifestyles: Weekly Insights
A LIFE THAT COUNTS
In his book TOUCHING MOMENTS, Steve Goodier of Life Support System.com,
tells a wonderful true story of a man who decided to show the world who he
really was and what truly mattered in his life:
"One morning in 1888, Alfred Nobel, inventor of dynamite, the man who had spent his life amassing a fortune from the manufacture and sale of weapons of destruction, awoke to read his own obituary. Of course, it was a mistake. Alfred's brother had died, and the reporter inadvertently wrote Alfred's obituary.

"For the first time, Alfred Nobel saw himself as the world saw him — "the dynamite king," the great industrialist who had made an immense fortune from explosives. This, as far as the general public was concerned, was the entire purpose of his life. None of his true intentions surfaced. Nothing was said about his work to break down the barriers that separated persons and ideas. He was, quite simply, a merchant of death, and for that alone would he be remembered.

"Alfred read the obituary with horror. He felt that the world must know the true meaning and purpose of his life! He resolved to do this through his last will and testament. The final disposition of his fortune would show the world his life's ideals. And at that time came into being yearly prizes for chemistry, physics, medicine, literature — and the famous Nobel Peace Prize.

"If you were to read your own obituary today, what would it say? Do others know what you stand for, what you believe in and what truly matters to you?

"Dr. Philip Humbert asks, "What remarkable, extraordinary and amazing things will you do with this wild and wonderful miracle, your one and only life?" The question should perhaps also be asked this way: "What will you do with this wild and wonderful miracle, your one and only day?" For how we spend our days will decide how we spend our lives.

"Chances are, you will not be reading your own obituary. But you have already begun to write it — day by day, moment by moment. Live your todays as if they truly matter, and tomorrow you will look back on a life that counted." ~Steve Goodier
Every day that we are alive affirms the magic of the Universe and
the miracles that can happen through the power of intention.
Each time we step beyond a wall that has imprisoned us,
we become more empowered and our intent reinforced.
~ Chelle Thompson ~
CLICK BELOW TO SHARE THIS ISSUE
WITH YOUR FRIENDS & FAMILY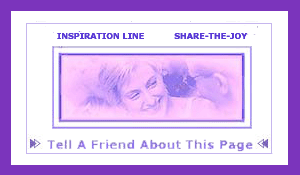 Click for FREE SUBSCRIPTION
WWW.INSPIRATIONLINE.COM
"The intent of Inspiration Line is to show What Is Possible … By choosing new perspectives,
we can change ourselves from the inside out and improve our relationships, our community and our planet."
Editor . Chelle Thompson ~~~ Associate Editor . Geri Merrill
........................................................
E-mail your motivational, informative or humorous stories for us to share:
Editor@InspirationLine.com

COPYRIGHT NOTICE: We make every attempt to credit articles to original authors
and websites, and do not intentionally infringe on anyone's copyrighted material.
........................................................

Copyright © 2003 Inspiration Line - All Rights Reserved