NOTE: Music may be turned ON/OFF under 'Today's Tune' on left ...



Connecting 74 Countries around the Globe




"Humility does not mean you think less of yourself.
It means you think of yourself less."

~ Ken Blanchard, Motivational Speaker & Author


October 13, 2003

TODAY'S TUNE
(On/Off)

"You've Got a Friend"


---

IN THIS
WEEK'S ISSUE:


From the Inside Out...
"It's Really Nothing"

Yes You Can!...
Avoid Career
Change Woes

Far Horizons...
Horsing Around

Links That Shine...
Hugs and Hope

Fascinating Facts...
Infection Protection Onboard


Laughing It Off...
Parental Dictionary

Untangling the Web...
What a Site!
Computer Ease


Look at That!...
Ancient Hands

Joyful Lifestyles...
Life Is Meant
to Be Lived

From the Inside Out
"IT'S REALLY NOTHING"

Some people will be reluctant to accept your help. They hate to bother you or anyone else. They need your reassurance that what you did for them was "really nothing." When dealing with them you need to minimize your bother factor even if you had to go out of your way and it took you much time and effort. You might feel a need to let them know how difficult it was and you were still happy to do it for them. But this will just make them even more reluctant to allow you to help them in the future.

Be careful not to feel resentful if the person you tell, "It was really nothing," believes you. Some people tend to say this, but deep down hope that the person they helped will realize that what they did was a product of much effort. If you want someone to realize that you care about them and therefore were willing to help them at the price of great sacrifice on your part, tell it to them. But do so in a way that conveys the message, "I feel so much joy in helping you that no matter what I do it becomes relatively easy since you are so important to me."

You might want to give someone money because he is presently experiencing great financial difficulties, but that person is the type who doesn't want to take from others. Then creatively find some subterfuge about how to get him the money he needs. Here are some examples:

1. Tell him that you have some extra money right now that you aren't going to be using. You don't want to leave it in the house and you have reasons why you don't want it to be put into a bank. Could he please do you a favor and hold it for you. You give him permission to spend it on himself now, and he can replace it any time in the future that he finds convenient.

2. Buy something from him that you might not really need, and buy it for a higher price than it is available for elsewhere, or for more than it's really worth. This could be an item like a picture he has, an antique that most people wouldn't buy, or some other item that he might not have thought of selling.

3. Have a friend give him a used computer or another expensive item. Then have someone else "buy" it from him. Thus he ends up with the money that you wanted to give him in a way he feels comfortable about taking.

4. Give his employer money to supplement a raise in salary or a bonus.

One of my students told me the following:I was frequently surprised that so many people refused to allow me to help them. Finally, I spoke to a person I knew who constantly did things for other people. "Why do people keep insisting that they don't need my help when I know they really do?" I asked him.

"Can I tell you the truth?" he asked me.

"Of course," I said. "I really want to know even if it's not what I would hope to hear."

"You make it seem that it's extremely difficult for you to do the favors you say you'll do for them. It's in your tone of voice and the expression on your face. Create an inner positive feeling towards helping others and express this verbally and nonverbally."

I was grateful for this painful awareness. I accepted what he said and made the necessary changes. It's unbelievable how people who used to decline my offer of help are now totally open and grateful.

~ From Kindness: Making a Difference in People's Lives:
Formulas, stories, and insights by Zelig Pliskin
Printed with Permission of Shaar Press

Subscribe to our free "Kind Words" weekly e-mail
featuring stories and kindness techniques.
www.PartnersInKindness.org


Yes You Can!
AVOID CAREER CHANGE WOES

Changing careers is never easy. Half the world thinks you've lost your mind, headhunters say you'll never work again and your mother-in-law steps up the old "I told you so" routine. But for many burned-out, bored or multitalented folks who are sitting on skills they're not getting a chance to use, changing fields is the only way to keep from losing their marbles. Regardless of your career change strategy, never make these 10 mistakes:

1. Don't look for a job in another field without some intense introspection. Nothing is worse than leaping before you look. Make sure you're not escaping to a field that fits you just as poorly as your last.

2. Don't look for "hot" fields unless they're a good fit for you. People who are trying to help you will come along and do the equivalent of whispering "plastics" in your ear. Instead of jumping at their suggestions, take time to consider your options. Decide what you really want to do. When you enter a field just because it's hot, burnout isn't far behind.

3. Don't go into a field because your friend is doing well in it. Get thorough information about the fields you're considering by networking, reading and doing online research. Having informational interviews with alumni from your college, colleagues, friends or family is a fun way to get the scoop on different fields.

4. Don't stick to possibilities you already know about. Stretch your perception of what might work for you. Explore career fields you learn about from self-assessment exercises.

5. Don't let money be the deciding factor. Workplace dissatisfaction and stress is the number-one health problem for working adults. This is particularly true for career changers, who often earn less until they get their sea legs in a different field.

6. Don't keep your dissatisfaction to yourself or try to make the switch alone. This is the time to talk to people (probably not your boss just yet, nor some coworker who likes to tell tales). Friends, family and colleagues need to know what's going on so they can help you tap into those 90-plus percent of jobs that aren't advertised until somebody has them all sewn up.

7. Don't go back to school to get retreaded unless you've done some test drives in the new field. You're never too old for an internship, a volunteer experience or trying your hand at a contract assignment in a new field. There are lots of ways to get experience that won't cost you anything except your time. A new degree may or may not make the world sit up and take notice. Be very sure where you want to go before you put yourself through the pain and debt of another degree program.

8. Be careful when using placement agencies. Do some research to be sure to find a good match. Ask those who work in the field you're trying to get into or other successful career changers for suggestions. Try to find a firm that knows how to be creative when placing career changers — not one that solely focuses on moving people up the ladder in the same field.

9. Don't go to a career counselor expecting they can tell you which field to enter. They can help ferret out your long-buried dreams and talents, but you'll have to do the research and the decision making by yourself. Anyone who promises to tell you what to do is dangerous.

10. Don't expect to switch overnight. A thorough career change usually will take a minimum of six months to pull off, and the time frequently stretches to a year or more.

Changing fields is one of the most invigorating things you can do. It's like experiencing youth all over again, except with the wisdom of whatever age you are now.


Barbara Reinhold, Careers.MSN.com


---


MAKE A DIFFERENCE EACH DAY... JUST CLICK HERE

AT NO COST TO YOU, SPONSORS CONTRIBUTE EVERY TIME
YOU "CLICK" WITH THESE FIVE HUMANITARIAN ORGANIZATIONS

~~ SHARE THE JOY ~~

ENTER HERE TO SEND INSPIRATION LINE
GIFT SUBSCRIPTIONS
TO YOUR FRIENDS & FAMILY

Far Horizons
HORSING AROUND


Photo: Francois Lenoir /REUTERS


A fisherman rides a horse hauling a shrimp net out to sea near the coast town of Oostduinkerke, Belgium. On days when the weather is reasonable, a group of stalwart, yellow-slickered gentlemen mount sturdy horses and wade into the surf at low tide to drag vast nets behind them, ensnaring large quantities of delicious crevettes — tiny, gray shrimp that thrive in the waters of the North Sea. These are the shrimp fishermen of Oostduinkerke, and they follow a tradition that dates back several centuries. If you go to the National Fishery Museum's next-door neighbor, the De Peerdevisser cafe, soon after the fishermen return, you can purchase the just-caught, just-boiled delicacies by the sackful.

---

LINKS
THAT SHINE

"Hugs & Hope"

This website is dedicated to supporting very ill children and their families. Volunteers from across the country send emails, cards, gifts, and donations to the children, their siblings, and parents. Many of the families have no other support outside of Hugs and Hope and many endearing friendships have been made, especially in the chat room where families of the sick children share ideas and encouragement.
www.HugsAndHope.org


CLICK FOR MORE LINKS

Fascinating Facts

INFECTION PROTECTION ONBOARD
There seems to be general agreement, according to a number of experts consulted, that air travelers are at higher risk for colds and other microbial or viral infections, perhaps simply because of the close quarters involved. The suggested countermeasures are simple, ranging from washing your hands and not touching your face to bringing along your own pillow and perhaps using saline solutions to cleanse the nose. A study from the University of California at San Francisco published last year found that roughly one in five passengers came down with a cold within one week of a flight. That is far higher than the rate at which colds strike the general population at any given time, according to Scott Gold, a physician and co-founder of the New York Sinus Center.
In addition to close people-to-people contact in an airline cabin, Gold said, another issue is that "the air they're breathing is primarily recirculated ... and air quality in terms of humidity is very low and harsh," drying out the body's mucous membranes which defend against germs. Cabin air is a combination of fresh and recirculated air, a mixture designed to conserve fuel that would otherwise be spent on air conditioning if only fresh air was used. Aircraft are also equipped with filters designed to trap infectious agents.
Dr. J. Paul Sanders of Travel Medicine Consultants in Dallas says: "The No. 1 most common way to get a viral infection is by touching your face — nose, mouth or eyes. The organisms involved get on the hand from a surface. When you touch your mouth, nose or face it transmits those organisms right into the body. You can also inhale ... but a smaller number of organisms are going to be floating in the air than laying on surfaces. So your first step is washing your hands more often." Those interviewed said antimicrobial moist towelettes or lotions are a good approach if passengers can't leave the seat to wash their hands.
Sanders says the best defense from someone in-your-face and obviously with a cold is a healthy nose. The interior mucous membrane should be moist, he said. "We tell people when traveling to drink more water than normal, or if they're taking medications that dry the nose out then it's wise to put a saline spray in," he said. While less is known about SARS, the same guidelines apply "though it does seem to be transmitted through the air more easily than average," with reports of transmission through building air-conditioning systems, he said.
Phyllis Stoller, president of the Women's Travel Club, says she employs a cotton swab to coat the inside of her nose with a nonprescription triple antibiotic salve. "I try to leave rested and well fed. I drink a lot of water for two days beforehand and eat two good meals if flying at night," she said. "I do not put my face on the airplane blanket or pillow. I use my own pillow or at least a scarf between me and their gear."

~Michael Conlon, Reuters



| | | |
| --- | --- | --- |
| | Who invented chewing gum? | Click for Answer |


Laughing It Off
PARENTAL DICTIONARY

DUMBWAITER:
One who asks if the kids would care to order dessert.

FEEDBACK:
The inevitable result when the baby doesn't appreciate the strained carrots.

FULL NAME:
What you call your child when you're mad at him.

GRANDPARENTS:
The people who think your children are wonderful even though they're sure you're not raising them right.

HEARSAY:
What toddlers do when anyone mutters a dirty word.

DEFENSE: What you'd better have around de yard if you're going to let the children play outside.

OW:
The first word spoken by children with older siblings.

PUDDLE:
A small body of water that invariably draws other small bodies wearing dry shoes into it.

SHOW OFF:
A child who is more talented than yours.

STERILIZE:
What you do to your first baby's pacifier by boiling it, and to your last baby's pacifier by blowing on it and wiping it with saliva.

TOP BUNK:
Where you should never put a child wearing Superman jammies.

TWO-MINUTE WARNING:
When the baby's face turns red and she begins to make those familiar grunting noises.

TEMPER TANTRUMS:
What you should keep to a minimum so as to not upset the children.

WHODUNIT:
None of the kids that live in your house


~FunForwards.com





Untangling the Web

WHAT A SITE!

Calendars through the Ages...
have always been based on astronomical events — equinoxes, solstices and the like — and their effects (real or perceived) on human activity. This site documents the structures humankind has attempted to place on these celestial movements.
http://WebExhibits.org/calendars


COMPUTER-EASE

A fast way to add a web page...
to your favorites, or bookmarks (depending on what browser you use) is to hold down the CTRL key and press the D key once. Go ahead and give it a try. This page should now be in your Favorites!


---

Look at THAT!
ANCIENT HANDS



Photo: The Australian Museum

The hand outlines in this rock painting...
were created up to 4,000 years ago, around the era of Stonehenge. Australian scientists have discovered a cave containing scores of these pictures up to 4,000 years old. The cave holds 203 paintings, stencils and prints in "pristine condition" depicting humans and god-like human/animal composites, birds, lizards and marsupials. There are life-size, delicately drawn eagles, kangaroos and an extremely rare depiction of a wombat, painted in 11 layers during a period from about 2000 B.C. to the early 1800s. ~Discovery.com and
The Australian Museum
Joyful Lifestyles: Weekly Insights
LIFE IS MEANT TO BE LIVED
Life is to be lived. No excuses. No reservations. No holding back. Once again, our dear friend, author Steve Goodier of Life Support System.com .sheds a beautiful light on a universal subject:
"An enchanting story about violinist Fritz Kreisler tells how he once came across a beautiful instrument he wanted to acquire. When he finally raised the money for the violin, he returned to buy it and learned that it had already been sold to a collector.
"He went to the new owner's home in order to try to persuade him to sell the violin. But the collector said it was one of his prized possessions and he could not let it go. The disappointed Kreisler turned to leave, but then asked a favor. "May I play the instrument once more before it is consigned to silence?"
"Permission was granted and the great musician began to play. The violin sang out a quality of music so beautiful that the collector himself could only listen in wonderment. "I have no right to keep that to myself," he said after the musician finished. "The violin is yours, Mr. Kreisler. Take it into world, and let people hear it."
"William Arthur Ward said, "If you believe in prayer, pray; if you believe in serving, serve; if you believe in giving, give." For you and I are exquisite violins — our music is meant to be heard.
"I want to live my life that way — to take it into the world and live it fully. I'd rather burn out than rust out. I'd rather be used up than die not having done whatever I could...wherever I would. I'm not talking about wearing ourselves out on over-activity. Happiness is never found in excessive busyness. But it is found in investing our lives in others. Saying YES when asked for a hand. Volunteering some time for a worthwhile organization. Spending an hour with a lonely relative.
"In the end, I know that my happiness will not have been about by my ability or my inability. It will have been about my availability. My life is meant to be lived." ~Steve Goodier © 2002

~ Chelle Thompson ~
CLICK BELOW TO SHARE THIS ISSUE
WITH YOUR FRIENDS & FAMILY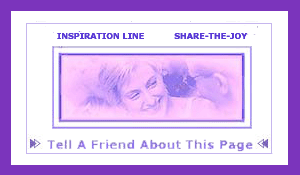 WWW.INSPIRATIONLINE.COM


"The intent of Inspiration Line is to show What Is Possible … By choosing new perspectives,
we can change ourselves from the inside out and improve our relationships, our community and our planet."
Editor . Chelle Thompson ~~~ Associate Editor . Geri Merrill

........................................................
E-mail your motivational, informative or humorous stories for us to share:
Click Here to Submit Articles, Contact Us or UNSUBSCRIBE


COPYRIGHT NOTICE: All articles and images shown are believed to be public domain and, therefore, reprintable material.
We make every attempt to credit original authors and websites, and do not intentionally infringe on anyone's copyright.
........................................................

FOR YOUR PROTECTION: All transmissions are virus-free.
Copyright © 2003 Inspiration Line - All Rights Reserved