SPECIAL NOTE: Music may be turned ON/OFF under 'Today's Tune' on left ...



Connecting 67 Countries around the Globe




"I have always looked at life as a voyage,
mostly wonderful, sometimes frightening.
In my family and friends I have discovered
treasure more valuable than gold."

~Jimmy Buffet, Famed Singer & Songwriter(1946 --)


June 16, 2003

TODAY'S TUNE
(On/Off)

"Changes in Latitudes,
Changes in Attitudes"


---

IN THIS
WEEK'S ISSUE:


From the Inside Out...
The Yellow Shirt

Yes You Can!...
Avoid
E-Mail Mistakes

Far Horizons...
Tikal Mayan Pyramid

Links That Shine...
Stuttering Foundation
of America

Fascinating Facts...
How to Choose
a Vacation (1)


Laughing It Off...
The Cat Miracle Diet


Untangling the Web...
What a Site!
Computer Ease


Look at That!...
Laundromat Love

Joyful Lifestyles...
Irrational Thinking (1)

From the Inside Out
THE YELLOW SHIRT

The baggy yellow shirt had long sleeves, four extra-large pockets trimmed in black thread, and snaps up the front. It was faded from years of wear, but still in decent shape. I found it in 1963 when I was home from college on Christmas break, rummaging through bags of clothes Mom intended to give away.

You're not taking that old thing, are you?" Mom said when she saw me packing the yellow shirt. "I wore that when I was pregnant with your brother in 1954!" "It's just the thing to wear over my clothes during art class, Mom. Thanks!" I slipped it into my suitcase before she could object. The yellow shirt became a part of my college wardrobe. I loved it. After graduation, I wore the shirt the day I moved into my new apartment and on Saturday mornings when I cleaned.

The next year, I married. When I became pregnant, I wore the yellow shirt during big-belly days. I missed Mom and the rest of my family, since we were in Colorado and they were in Illinois. But that shirt helped. I smiled, remembering that Mother had worn it when she was pregnant, 15 years earlier.

That Christmas, mindful of the warm feelings the shirt had given me, I patched one elbow, wrapped it in holiday paper and sent it to Mom. When Mom wrote to thank me for her "real" gifts, she said the yellow shirt was lovely. She never mentioned it again.

The next year, my husband, daughter, and I stopped at Mom and Dad's to pick up some furniture. Days later, when we uncrated the kitchen table, I noticed something yellow taped to its bottom. The shirt!

And so the pattern was set. On our next visit home, I secretly placed the shirt under Mom and Dad's mattress. I don't know how long it took for her to find it, but almost two years passed before I discovered it under the base of our living-room floor lamp. The yellow shirt was just what I needed now while refinishing furniture. The walnut stains added character.

In 1975, my husband and I divorced. With my three children, I prepared to move back to Illinois. As I packed, a deep depression overtook me. I wondered if I could make it on my own. I wondered if I would find a job. Unpacking in our new home, I knew I had to get the shirt back to Mother. The next time I visited her, I tucked it in her bottom dresser drawer.

Meanwhile, I found a good job at a radio station. A year later, I discovered the yellow shirt hidden in a rag bag in my cleaning closet. Something new had been added. Embroidered in bright green across the breast pocket were the works "I BELONG TO PAT." Not to be outdone, I got out my own embroidery materials and added an apostrophe and seven more letters. Now the shirt proudly proclaimed, "I BELONG TO PAT'S MOTHER."

But I didn't stop there. I zigzagged all the frayed seams, then had a friend mail the shirt in a fancy box to Mom from Arlington, VA. We enclosed an official-looking letter from "The Institute for the Destitute," announcing that she was the recipient of an award for good deeds. I would have given anything to see Mom's face when she opened the box.

But, of course, she never mentioned it. Two years later, in 1978, I remarried. The day of our wedding, Harold and I put our car in a friend's garage to avoid practical jokers. After the wedding, while my husband drove us to our honeymoon suite, I reached for a pillow in the car to rest my head. It felt lumpy. I unzipped the case and found, wrapped in wedding paper, the yellow shirt. The shirt was Mother's final gift. She had known for three months that she had terminal Lou Gehrig's disease. Mother died the following year at age 57.

I was tempted to send the yellow shirt with her to her grave, but I'm glad I didn't because it is a vivid reminder of the love-filled game she and I played for 16 years. Besides, my older daughter is in college now, majoring in art. And every art student needs a baggy yellow shirt with big pockets.

~ Patricia Lorenz, 'Chicken Soup for the Soul'
~ Contributed by Diane in St. George, Utah




MAKE A DIFFERENCE EACH DAY... JUST CLICK HERE



AT NO COST TO YOU, SPONSORS CONTRIBUTE EVERY TIME YOU "CLICK"
WITH FIVE HUMANITARIAN ORGANIZATIONS FEATURED ON OUR WEBSITE



Yes You Can!
AVOID E-MAIL MISTAKES


Here are four easily avoidable mistakes you should know about to keep your friendships and inbox in tiptop shape.

1. Failing to follow e-mail etiquette. There's no point in belaboring the etiquette issue. We all know we should be polite. But here are a few points to consider:

* Don't write when you're angry. Wait 24 hours. Calm down. Be reasonable. Have someone else edit your e-mail.

* DON'T USE ALL UPPERCASE! That's the e-mail equivalent of yelling. Your recipient won't be appreciative. Go easy on the exclamation points, too. Overuse dulls their effectiveness.

* Use clear subject lines. That will help people decide whether to read the e-mail now or later. We're all busy. Your correspondent will appreciate your thoughtfulness.

2. Thinking you are anonymous. If you are sending nasty missives, you might think no one will be able to figure out that the e-mail came from you. After all, you set up a phony Web address. Think again. E-mail contains invisible information about the sender. That information is in the header. All major e-mail programs can display header information. Here's how:

* In Microsoft Outlook, double click the e-mail. Then click View > Options.
* In Microsoft Outlook Express, click the e-mail. Then click File >
..Properties and select the Details tab.
* In Eudora, double click the message. Then click the Blah Blah button.
* In Netscape, click the message to open it. Then click View >
..Message Source to display the header.

The sender's revealing information is in the sections that begin with "Received:." The originating computer is in the bottom "Received:." That section will have an Internet Protocol (IP) number, such as 124.213.45.11. It can be traced on a number of Web sites. I use InterNIC. The number is probably assigned to the sender's Internet service provider, rather than the sender. But the ISP will be able to identify the sender using that number.

3. Clicking "Send" too fast. Reread every e-mail before you send it! I actually get e-mails from job applicants with misspellings and missing words. And don't depend on the spell-checker. It will catch misspellings. But if you use "four" instead of "for," or "your" for "you're," it won't tell you. It also is not likely to catch any missing words in a sentence that you inadvertently failed to include. So take a minute and reread your text. Don't look like an ignoramus.

4. Forgetting the attachment. This seems obvious, but I can't tell you how many times I've received an e-mail with a missing attachment. Since we all do it occasionally, it shouldn't be a huge deal.

E-mail is almost like talking. We use it so much that we don't really think about it. But there are rules and courtesies, just as there are with talking. And there are other considerations involved in communicating by written word only. Giving them some additional thought could make your e-mail experience more satisfying and your recipients much happier.


~Kim Komando, TechMSN.com

Far Horizons
TIKAL MAYAN PYRAMID


Photo: North Park University /Chicago


The monumental ruins of Tikal with its towering pyramids looms out of the thick Guatemalan jungle canopy like stoic sentinels of ancient mysteries. Tikal was once a wealthy metropolis of 100,000 inhabitants and the seat of power for the great Jaguar clan lords. Today, the site attracts archeologists from all around the globe and the wildlife surrounding the ruins makes it a naturalist's dream. The ruins include more than 3,000 structures extending over six square miles and including palaces, temples, ceremonial platforms, ball courts, terraces, plazas, avenues and steam baths. The ancient Maya began building Tikal around 600 B.C., and for the next 1500 years the area was an important religious, scientific, and political center.

---

LINKS
THAT SHINE

"Stuttering Foundation of America"

What do Bruce Willis, Winston Churchill, Marilyn Monroe, and Carly Simon have in common? They all stutter. In fact, more than three million Americans stutter. The Stuttering Foundation of America has free online resources, services, and support to those who stutter and their families, as well as aid for research into the causes of stuttering.
www.StutteringHelp.org

Fascinating Facts

HOW TO CHOOSE A VACATION (Part 1)
Do you want a remote getaway, a popular destination or to take in a big event? Determine what's important to you by creating a set of objectives for what you want out of the trip. To help you, we've devised 10 criteria for how to choose a vacation. They were chosen from discussions with travel agents, representatives of tourist bureaus and travel publications, personal experiences and reviews of other information. Select the criterion most important to you or a mix of all of them.
1. A wide variety of lodgings in every price range. Lodgings will be one of the biggest line items on your vacation budget. And how you feel about the importance of accommodations may vary from "I only sleep there, who cares?" to "Sheets with less than a 500-thread count depress me." In Orlando, Fla., where Walt Disney World is based, for instance, you can stay at a campground for as little as $25 a night or stay in a four-diamond hotel at rates of up to $1,000 a night.
2. Currency equal to or weaker than your dollar. One of a vacationer's greatest pleasures is to get more for less. Eating at a Brazilian rodizio (unlimited meat roasts and vegetables served at the table) for $7 per person or buying fine Canadian wool at two-thirds the price in the United States makes spending guiltless. Even trips within the United States can give you that "wow, this is cheaper than home!" excitement. For example, cities such as Louisville, Ky., with its Kentucky Center for the Arts and world-renowned Actors Theater of Louisville and, of course, the Kentucky Derby, can be a treat for vacationers. Or stretch your dollar in Las Vegas, where everything from movie theaters to food is subsidized by huge gambling revenues. If you don't gamble, you can luxuriate in fabulous pools, eat like a king and watch the big stars while the guys at the blackjack table are footing half your bill. If that bores you, check the nearby desert or even the Hoover Dam.
3. Easily accessible by air and good roads, trains, area transportation. From Antarctica to the African plains, you can get most anywhere these days, but at what price? The journey may be too strenuous for you (Himalayan adventures are graded by arduousness.). Other destinations are deceptively simple to visit until you arrive. For example, Crans Montana in the Swiss Alps is a short train ride from Geneva. Once you get there, it's a cable car up and down the mountain and a treacherous drive on narrow icy roads to explore nearby France and Italy. U.S. destinations are best if they're destination or "hub" airports, in which airlines use that locale as a staging spot to send travelers on to other cities. An exciting US location with nonstop flights from almost anywhere in the country is Nashville. It's a relatively inexpensive city that offers the Grand Ole Opry and the new Country Music Hall of Fame.
4. Different but on the beaten path. One of the most satisfying vacations you can spend is one that doesn't place you in the middle of 400,000 other tourists but still offers you resort accommodations and plenty of things to do. If you've always wanted to visit Hawaii but don't want to join the masses, consider the island of Kauai. It's the South Pacific's tropical Switzerland, 15 minutes by plane and 110 miles west of Honolulu. A contrasting type of exotic locale is found in the pioneer life of the Black Hawk Hills of Northern Illinois. A good time to visit is in autumn, beginning in Rockford, Ill., where you can enjoy the quintessential all-American road tour into a country unchanged since 1834.
5. Great or interesting cuisine. For price and quantity, Latin America offers incredible deals not just on the food but on accommodations and overall cost. A three-course, fresh fish meal in Honduras, including wine, is $15. For European cuisine, it's a tie between Greek festival foods like skewered lamb and onions and the heavy Portuguese peasant cuisine. Don't forget to order uzo with the Greek food, and finish the Portuguese menu with a beaker of port, and a cream cake from Belem. All for well under $20 per person.
~Adriane G. Berg, MSN Money Central



| | | |
| --- | --- | --- |
| | What is the origin of Father's Day? | Click for Answer |


Laughing It Off
THE CAT MIRACLE DIET

Most diets fail because we are still thinking and eating like people. For those of us who have never had any success dieting, now there is the new Cat Miracle Diet!

DAY ONE:
Breakfast: Open can of expensive gourmet cat food. Any flavor as long as it cost more than $.75 per can — and place 1/4 cup on your plate. Eat 1 bite of food; look around room disdainfully. Knock the rest on the floor. Stare at the wall for awhile before stalking off into the other room.
Lunch: Four blades of grass and one lizard tail. Throw it back up on the cleanest carpet in your house.
Dinner: Catch a moth and play with it until it is almost dead. Eat one wing.
Bedtime snack: Steal one green bean from your spouse's or partner's plate. Bat it around the floor until it goes under the refrigerator. Steal one small piece of chicken and eat half of it. Leave the other half on the sofa. Throw out the remaining gourmet cat food from the can you opened this morning.

DAY TWO:
Breakfast: Pick up the remaining chicken from the sofa. Knock it onto the carpet and bat it under the television set. Chew on the corner of the newspaper as your spouse/partner tries to read it.
Lunch: Break into the fresh French bread that you bought as your part of the dinner party on Saturday. Lick the top of it all over.
Afternoon snack: Catch a large beetle and bring it into the house. Play toss with it until it is mushy and half dead. Allow it to escape under the bed.
Dinner: Open a fresh can of dark-colored gourmet cat food — tuna or beef works well. Eat it voraciously. Walk from your kitchen to the edge of the living room rug and throw up.

DAY THREE:
Breakfast: Drink part of the milk from your spouse's or partner's cereal bowl when no one is looking. Splatter part of it on the closest polished aluminum appliance you can find.
Lunch: Catch a small bird and bring it into the house. Play with it all over the top of your down-filled comforter.
Dinner: Beg and cry until you are given some ice cream or milk in a bowl of your own. Take three laps, and then turn the bowl over on the floor.

FINAL DAY:
Breakfast: Eat 6 bugs, any type, being sure to leave a bunch of legs, wings, and antennae on the bathroom floor.
Lunch: Remove the chicken skin from last night's chicken-to-go leftovers your spouse or partner placed in the trash can. Drag the skin across the floor several times. Chew on it in a corner and then abandon.
Dinner: Open another can of expensive gourmet cat food. Select a flavor that is especially runny, like Chicken and Giblets in Gravy. Lick off all the gravy and leave the actual meat to dry and get hard.
...VOILA! A NEW YOU!

~Contributed by
Jane at The Cat's Meow Online





Untangling the Web

WHAT A SITE!

Your Guide to Health Fraud ...
Quackery, and Intelligent Decisions, plus a free weekly e-mail newsletter from the National Council Against Health Fraud.
www.QuackWatch.org



COMPUTER-EASE

Compressing
Outlook Express Folders ...
To do this, run Outlook Express and choose Tools|Options. When the Options dialog box opens, click the Maintenance tab. Click Clean Up Now. When the Local File Cleanup dialog opens, click Compact. When the operation finishes, click Close.


---

Look at THAT!
LAUNDROMAT LOVE


Photo: Bruce Pyke /Pharos-Tribune

Carolyn Gross and John Oehlert gaze ...
into each other's eyes at the High Street Laundry
in Logansport, Indiana. At this wedding, the pastor strained to be heard above the racket of a change machine, and guests tossed sheets of fabric softener instead of rice. The "Wedding March" played on a cassette amid the swishing sounds of washers and the hum of spinning dryers. The mountain-fresh scent of detergent filled the air. At one point, a laundry cart being pushed by a young woman rattled as it was wheeled past the couple, who stood between two carts decorated with flowers. "We knew each other for about 12 years and this is where it kind of started," Carolyn said. "He used to come in to get the TV Encore listing. He kept asking me out, and I kept telling him no, but he wore me down." ~MSNBC



Joyful Lifestyles: Weekly Insights
IRRATIONAL THINKING (Part 1)
Let's take a look at how irrational thinking often takes the form of Demanding, Can't-standing, Complaining and Blaming. When we believe ABSOLUTES about ourselves, other people, our daily problems, and what we want, we translate our Desires into Needs.
Using absolute words like — should, have to, must, always, never, etc.— places conditions and sets us up for a fall if things don't turn out the way they Should. When we make demands, we view disappointments in our life as catastrophes and dwell on the awfulness of circumstances.
The vast majority of life events are NOT catastrophes, of course, but it's very easy to make catastrophes out of them by what we tell ourselves and others. Most things that we don't like are merely frustrating, unfortunate and sometimes inconvenient ... but rarely catastrophic. When we truly realize that disappointments are, in fact, just disappointments, we gain a clearer picture of reality. We may feel appropriately annoyed, disappointed and frustrated, but we won't be devastated.
Thinking we "can't stand" a situation makes us feel weak and powerless. Yet where is the EVIDENCE that we actually "can't stand" something? We've all handled difficult challenges in the past — relocating, finding a new job, losing a loved one. Chances are we DID handle it. And even if it didn't work out well, we found we could "stand it" and we survived.
(Continued Next Week)
SELF-DISCOVERY:
There's nothing vain about acknowledging strengths to identify the basis of our foundation. Complete the following sentence with as many positive adjectives about yourself as you can. I am proud that I am ________. .

~ Chelle Thompson ~
CLICK BELOW TO SHARE THIS ISSUE
WITH YOUR FRIENDS & FAMILY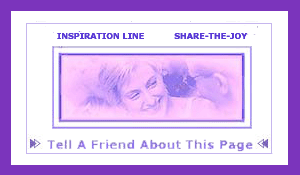 WWW.INSPIRATIONLINE.COM


"The intent of Inspiration Line is to show What Is Possible … By choosing new perspectives,
we can change ourselves from the inside out and improve our relationships, our community and our planet."
Editor . Chelle Thompson ~~~ Associate Editor . Geri Merrill

........................................................
E-mail your motivational, informative or humorous stories for us to share:
Click Here to Submit Articles, Contact Us or Unsubscribe


COPYRIGHT NOTICE: All articles and images shown are believed to be public domain and, therefore, reprintable material.
We make every attempt to credit original authors and websites, and do not intentionally infringe on anyone's copyright.
........................................................

FOR YOUR PROTECTION: All transmissions are virus-free.
Copyright © 2003 Inspiration Line - All Rights Reserved