NOTE: Music may be turned ON/OFF under 'Today's Tune' on left ...



Connecting 50 U.S. States & 101 Countries Worldwide





"The unique personality which is the real life in me,
I cannot gain unless I search for the real life,
the spiritual quality, in others."

~ Felix Adler, Ph.D, Ethical Culture Movement (1851-1933)

December 1, 2003
TODAY'S TUNE
(On/Off)

"Another Day in Paradise"


---

IN THIS
WEEK'S ISSUE:


From the Inside Out...
The Spiritual Side


Yes You Can!...
Enjoy the Holidays
(Part 1)


Far Horizons...
Namibia's Etosha


Links That Shine...
The Orphan Connection


Fascinating Facts...
Separation Anxiety
in Dogs



Laughing It Off...
Help Wanted


Untangling the Web...
What a Site!
&
Computer Ease



Look at That!...
"Welcome Mat"


Joyful Lifestyles...
Live Your Value

---

BE the World
You Want to See!

Having grown up with an alcoholic father, my life did not take a true turn toward evolution until I seriously focused upon my own core issues.

~ Chelle ~


From the Inside Out
THE SPIRITUAL SIDE


"Evolution should not occur. The second law of thermo-dynamics states that energy flows from a state of greater organization to a state of lesser organization. The universe is winding down ... ultimately to an undifferentiated blob. However, organisms have evolved from lower to higher and higher states of organization. Evolution is a miracle because it runs
counter to natural law (called entropy).
In the ordinary course of things, you and I should not exist!"
THE ROAD LESS TRAVELED Part III
Religion & Grace ~M. Scott Peck, M.D. (Click)

...Spiritual evolution is also a miracle:

It is like a force which pushes us to transcend and move forward. The force is called Love. Love is evolution in progress. For spiritual growth is the evolution of consciousness contained within this Love. To be fully conscious is to bring synchronicity between the conscious and unconscious.

Why is so much of ourselves —our beingness— unconscious? I feel this is where we connect to God/Goddess/All-That-Is. God is within. We no longer need to search outside ourselves for God nor do we need to assume we will ultimately unite with God — our unconscious-self, our true-Self that is part of God. In this way, one becomes a co-creator of reality.

We each co-create our own reality. We each have an incredible power, the power of our spiritual-Self. This spiritual power is within our true-Self. Spiritual power is consciousness, the ability to make aware decisions, to live fully conscious, and to recognize the miracles around us.

Self-discovery comes before self-recovery. We are not lost in the universe. This time and space exists for us to travel within it. The human race is making an evolutionary leap. Whether or not we succeed in that leap is your personal responsibility and mine. On this journey of spiritual growth, we are guided by the unimaginable wisdom of God/Goddess/All-That-Is.

Spiritual growth is a journey out of the microcosm into the macrocosm. This journey happens to each person when they stop seeing only what was accepted in childhood as reality — and begin viewing the world as a whole and re-creating the smallness of ideas and values into expanded awareness.

By developing a broader vision, you can challenge what you have been taught. To escape from our microcosmic childhood, we must be skeptical of what we have learned to date. Our actions are based on our understanding of our awareness of reality. You are the one who helped create this condition and it is up to you to change and heal it — to recover from it! In the end, we all heal ourselves by re-creating the outmoded views of reality into one that works for us.

Many people have a "fear of responsibility" toward this choice. Perhaps this stems from their childhood conditioning. Were you told that you couldn't do something "right" or "good enough?" This may have inhibited you to step forward to change your reality at this time in your life. Begin by choosing and finding your own words and concepts behind and beyond what was taught to you.

Are you living out a life of roles and scripts which were handed-down by your parents? Can you find similarities between your choices in life and the choices taken by either or both of your parents? What were your parents exhibiting in their life at the same age you are today? Have you subjugated your true-Self for love and approval from your parents? If so, in what ways? Take a moment to write down your answers to these questions.

The above questions ask you to distinguish if your choices in life have been based on your desires as an adult, or if they stem from your inner child's desire to be accepted by your parents or parental figures. By answering these questions and others, you may discover that many of your scripts were initiated out of love and loyalty to your parents or other adults.

Conscious transformation occurs when changes ensue regarding world views, beliefs, and goals; and when changes happen surrounding motives, values, love, compassion, and support. These changes support an autonomous adult and the transformation of the spiritual side.




~ Barbara Sinor, Ph.D.
www.DrSinor.com

AN INSPIRATIONAL GUIDE FOR THE RECOVERING SOUL
Click for Book Details & Reviews
Keep this insightful book near you, to open at any time for refreshing guidance and immediate inspiration.

(A portion of your purchases here
helps support Inspiration Line programs.)

Yes You Can!
ENJOY THE HOLIDAYS (Part 1)

Yes, it's true! There are ways to make your holiday season simpler and more meaningful. Try something new this year — let go of old patterns and family traditions that do NOT create joy. Here are the first ten of twenty worthwhile tips that can make a big difference in your life:

1. Slow down! Have a family meeting to plan what everyone wants to do. Mark decisions on a family calendar and limit yourself to these activities.

2. If you know a single parent, offer to take his or her children shopping, or to baby-sit while he or she shops.

3. Add up everything you all plan to spend money on this holiday season — from the total, subtract 20 percent and decide together how to share it with someone who truly needs it. Hold down spending. Talk with your family about the power of advertising to promote "wants" over "needs."

4. Honor the oldest adults you know by asking them to tell what Christmas, Hanukkah or other tradition was like when they were young.

5. Count your blessings: make a list of all the joyous things that have happened to your family this year and be thankful.

6. Make an audio or video tape to send to someone who is far away who would love to hear from you.

7. Shop worthwhile charitable organizations online, instead of fighting the mall crowds.

8. Draw names for gifts rather than giving a gift to everyone on your list. Give children one thing they REALLY want instead of many gifts.

9. Make family certificate books with coupons for services you are willing to provide, to be "cashed in" when the recipient needs them within a specified time period.

10. When the family gathers to celebrate Hanukkah, Kwaanza, Christmas or other tradition, sit in a circle and ask each person to begin a sentence with "I am glad that..." The family responds to each statement with, "We are glad!"

(Continued Next Week)

---





VISIT OUR NEW
INTERNATIONAL
MESSAGE BOARD




Our Interactive Message Board now reaches
50 US states and 101 countries!

Be sure to bookmark this link and visit us often!

(Note: It is not required to enter your
e-mail address anywhere in this forum.)





Far Horizons
NAMIBIA'S ETOSHA


Etosha National Park

Etosha National Park in Namibia is one of Southern Africa's finest and most important nature reserves. Etosha, meaning "Great White Place," is dominated by a massive mineral pan. The pan is part of the Kalahari Basin, the floor of which was formed around 1000 million years ago. The water-holes, scattered throughout this area, support the lives of countless game. Be it lions or elephants, giraffes, rhinos,or zebras, almost all African animal species are represented in Etosha. Particularly numerous are the dainty springbok (similar to impala), with at least 30,000 specimen here.


"The Orphan Connection"

The Orphan Connection is seeking stories of orphans who are making a difference. To tell the orphans of the world that there are others like them who have made it, who have seen their dreams come true, and who have accomplished more than they ever dreamed possible. If you know an orphan, light a candle – a candle of hope and give them a special hug. Stop by and visit our site and send us your stories. ~Thank you,

Karin, a German orphan www.OrphanConnect.com


MAKE A DIFFERENCEEACH DAY
AT NO COST TO YOU WITH FIVE HUMANITARIAN ORGANIZATIONS....
JUST CLICK HERE





Fascinating Facts

SEPARATION ANXIETY IN DOGS
Most people are familiar with the concept that dogs are pack animals; you, the dog owner, are often considered the leader of the pack. Unfortunately some dogs, especially those who have had several homes or been through animal shelters, lack the self-confidence to feel safe when their leader isn't around. This can result in destructive behavior. Dogs suffering from separation anxiety may bark hysterically and pace back and forth whenever they're left alone. Their panic may send them scratching at the door and chewing up the rug or other household objects. It can even result in frequent bouts of urination or diarrhea.

If your pet exhibits these behaviors, ASPCA experts recommend gentle, gradual training to rebuild confidence so he no longer fears being left alone. But first, make sure your dog's physical and mental needs are being met. A satisfied, stimulated canine is less likely to be anxious. Does he get in some good play time with you and a minimum 1/2-hour walk several times a day? Are appropriate toys available to satisfy his natural urges to chew? Does your pet have other canine friends? A dog who is emotionally dependent on his owner and leader may benefit from spending time with another pack member. Keep in mind that feline friends can help reduce anxiety, too.

Separation anxiety exists because the dog has overbonded to the owner. Solutions include ignoring the dog 15 to 20 minutes before leaving home and upon return. Having someone else care for the dog while the primary caregiver ignores the dog will help loosen the bond. To desensitize a dog to the signs of leaving, trainers suggest that the owner put on his coat, pick up his bag or briefcase and, instead of leaving, go into the living room to sit down. This exercise can be repeated. To help get your pet used to being alone, trainers suggest that you start by giving your dog his favorite treat and leaving the room; remember to shut the door as you exit. Come back in one minute and praise him for not scratching at the door, pacing or barking. Gradually increase the time you leave him alone. Next, try leaving the house for short periods of time and evaluate his behavior. It's best to take this re-training slow.

You can also ease your pet's time alone by leaving a radio on at normal volume when you leave. The sound helps mask outside noises that could otherwise make your anxious dog even more anxious. Be sure to always leave him his favorite toy. And remember, always leave quietly — in this way you're letting your dog know that being alone is nothing out of the ordinary — and should be stress-free. Please note that separation anxiety can be a severe problem. If you think your pet has a serious problem, consult professional help.

~Cats & Dogs eZINE, Arcamax.com

A local business was looking for office help.

They put a sign in the window saying: "HELP WANTED. Must be able to type, must be good with a computer and must be bilingual. We are an Equal Opportunity Employer."

A short time afterwards, a golden retriever dog trotted up to the window, saw the sign and went inside.

He looked at the receptionist and wagged his tail, then walked over to the sign, looked at it and whined.

Getting the idea, the receptionist got the office manager. The office manager looked at the dog and was surprised, to say the least.

However, the dog looked determined, so he led him into the office. Inside, the dog jumped up on the chair and stared at the manager.

The manager said, "I can't hire you. The sign says you have to be able to type."

The dog jumped down, went to the typewriter and proceeded to type out a perfect letter. He took out the page and trotted over to the manager and gave it to him, then jumped back on the chair.

The manager was stunned, but then told the dog, "The sign says you have to be good with a computer."

The dog jumped down again and went to the computer. The dog proceeded to demonstrate his expertise with various programs and produced a sample spreadsheet and database and presented them to the manager.

By this time the manager was totally dumbfounded! He looked at the dog and said, "I realize that you are a very intelligent dog and have some interesting abilities. However, I still can't give you the job."

The dog jumped down and went to a copy of the sign and put his paw on the part about being an Equal Opportunity Employer.

The manager said, "Yes, but the sign also says that you have to be bilingual."

The dog looked him straight in the face and said, "Meow."

~Contributed by Jane at The Cat's Meow eZine


Untangling the Web


WHAT A SITE!


All Headline News
Continuously updated news and headline links from thousands of news sources. Also offers distribution for web and Internet content.
www.AllHeadlineNews.com


COMPUTER-EASE

Printing, just a little ...
Ever need to print just part of a web page
or e-mail? First, select (highlight) the area
you would like to print. Next, from the
File Menu, select Print. When the printer
dialog box comes up, look for an option
for "Selection", in a "Print Range" frame.
Click Print. (Note: not all printers
or software support this.)

---

Look at THAT!
"WELCOME MAT"


Photo: Michael Kooren /Reuters

Cars circle a UFO landing pad...
on the outskirts of Houten, central Netherlands. The pad is an art piece by Martin Riebeeek in collaboration with the Dutch city and is intended to enable alien visitors to land their UFO's safely in the Netherlands. "Hope is the core of this work. If the landing takes place, THEN Houten is in the center of attention. The expectation and the hope remain, as long as there is no landing anywhere else in the world," Martin says.
~MSNBC
Joyful Lifestyles: Weekly Insights
LIVE YOUR VALUE
One of our wonderful subscribers shares some words of wisdom from motivational author and publisher Ralph Marsten of http://GreatDay.com:
"There is an abundance of value hidden inside of you, more than you could possibly imagine. Yet as long as you continue to follow the same old routine, seeing the same people every day, sitting in front of the TV, never venturing out of your comfort zone, that value will remain hidden and unreachable. The way to uncover your hidden value is to put yourself on the line, to get involved in life. Attempt something challenging, meet new people, stretch your limits, see new places, and subject yourself to new experiences. Challenge and intensity will uncover in you skills, talents, abilities and interests you never knew you had. You are full of wonderful possibilities. Do something with them. The most painful regrets, those which never go away, are regrets for things not done, things never attempted.
"There is a strength in you that has never been used. There are ideas you've formed which have never been articulated. There is a passion in you which has never been allowed to burn. There are possibilities in you which have never been considered. There is wisdom in you which you've never touched. No matter what your age or experience, there are aspects of your life which lie hidden because you have not yet learned to value them. The more you value something, the more you get out of it. That is particularly true when it comes to your own life. What value do you place on your time, your learning, your commitments, your skills? Your values are evidenced not by wishful thinking, but by the actions you take day after day. And your values are evidenced by the results you get. Value your wonderful, creative self. You have more abundance than you could ever want or need, if only you'll value it enough to make the most of it.
"Every day is an opportunity to live, to really live and experience. Grab that opportunity today, and make the most of it. Live the abundance that you already have. Claim the richness of life that is yours even now. Be the passionate, fully alive person you were born to be. Live your unique value and delight in the wonder and beauty of it all."

~ Chelle Thompson, Editor ~

Click to Learn More about
RICHARD CARLSON'S CDs/Cassettes...
"Creating Miracles Every Day"

CLICK BELOW TO SHARE THIS ISSUE
WITH YOUR FRIENDS & FAMILY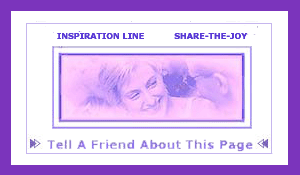 WWW.INSPIRATIONLINE.COM


"The intent of Inspiration Line is to show What Is Possible . By choosing new perspectives,
we can change ourselves from the inside out and improve our relationships, our community and our planet."
Editor . Chelle Thompson ~~~ Associate Editor . Geri Merrill
........................................................
Click Here to UNSUBSCRIBE ~ Editor@InspirationLine.com


COPYRIGHT NOTICE: All articles and images shown are believed to be public domain and, therefore, re-printable material.
We make every attempt to credit original authors and websites, and do not intentionally infringe on anyone's copyright.
........................................................

FOR YOUR PROTECTION: All transmissions are virus-free.
Copyright © 2003 Inspiration Line - All Rights Reserved