FOR YOUR INFORMATION
Music may be turned ON/OFF under 'Today's Tune' on left ...
Many subscribers enjoy printing out Inspiration Line to read offline at their leisure.


Connecting 50 U.S. States & 109 Countries Worldwide






"It is one of those beautiful compensations
of this life that no one can sincerely try
to help another without helping himself."

~ Ralph Waldo Emerson, Author, Poet & Philosopher (1803-1882)

December 22, 2003
TODAY'S TUNE
(On/Off)

"What Child Is This?"
16th Century English Melody
Words by William C. Dix 1865

---

IN THIS
WEEK'S ISSUE:


From the Inside Out...
Never Too Old


Yes You Can!...
Make Clear Choices


Far Horizons...
Chilean Christmas


Links That Shine...
Charity Watchdogs


Just for YOU ...
Discovery of the Week


Fascinating Facts...
Celebrating Kwanzaa



Laughing It Off...
Politically Correct Christmas


Untangling the Web...
What a Site!
&
Computer Ease



Look at That!...
Yo-Ho-Ho, Matey


Joyful Lifestyles...
Finding a Calm Center

---

BE the World
You Want to See!

One of the most wonderful experiences I've known
was the three years that I lived in Japan. There is nothing more transformational than emersing oneself in another culture!

~ Chelle ~


From the Inside Out
NEVER TOO OLD


It didn't look much like Christmas that December 23, 1969. The trees were lush, the countryside awash in green. There was no hint of snow in the sweltering heat. In fact, I was the only thing that "looked like Christmas."

I was perched in the open door of a helicopter hovering about fifty feet over the center of a dusty village in the III Tactical Corps area of Vietnam. Instead of the ubiquitous olive drab that cloaked everything military, I was clad in a bright red Santa suit, complete with hat and white beard.

I had a sack of toys slung over my shoulder replacing the M-16 I usually carried. I wanted to make the entrance into the village square as quickly as possible before the beard turned gray with sweat and dust. I checked the harness of my rappelling gear, gave a thumbs-up to the chopper crew, and jumped out into space. I slid down the rope and made a soft landing in the center of the square. The helicopter departed in a final cloud of dust while I looked around the square.

Dozens of kids were arrayed around me. Interpreters and Vietnamese-language slingers informing them that something joyful and wonderful would happen had summoned them. I could tell from the puzzled looks on their faces though that these kids still weren't too sure that my arrival was the "something joyful and wonderful." My silly "ho-ho-ho" didn't help much either.

The kids kept shrinking farther away from this stranger in red, and I thought my Santa Claus routine would be just another failed attempt to impose western ideas on an eastern culture. I sat down in the middle of the square, wondering how I could let these kids know that Santa was one of the good guys.

My mouth was still fuzzy with dust from my landing in the village, so I opened a butterscotch drop and popped it into my mouth to chase away the cobwebs. Instantly, the kids started inching closer. It took me a minute to realize they were drawn by the sight of food. I peeled the wrapper off another and held it out in my hand.

Slowly, one little girl allowed the allure of the candy to overcome her reluctance. She came forward to take the butterscotch from my hand. She put it in her mouth, and the half-frightened look on her face blossomed into a beautiful flower of a smile.

Then the dam broke and all the kids from all corners of the square were ionized to the magnet of the sweet stuff. They sat on me and touched me and laughed and giggled and smiled. I couldn't peel wrappers off fast enough so I just started throwing the candy into the air. The kids scrambled frantically for it at first, but then returned to their better nature when they realized there would be enough for all of them.

Having captured their attention with the candy, I then broke out some small spiral notebooks and pens. As they marveled over their collective treasures, I went into the crowd of adults in the periphery with my fellow GIs and started handing out food from c-ration packs and from the packages we'd received from home. My mother's chocolate chip cookies were a big hit.

The Vietnamese bowed and gestured and spoke their rapid-fire reactions ... but what I understood best were the smiles.

We handed out Coke and Dr. Pepper and Pepsi and whatever else we'd scrounged for our gift-giving and, after a short while, everyone in the village had been given something in celebration of the birth of a little baby none of them had ever heard of.

We didn't have much peace to spread beyond that precious hour of sanity in the asylum of Vietnam, but we did have an abundance of good will to share.

Yes, I've studied at some great colleges in my life and I've been taught by some of the greatest minds of our time, but I've never learned a lesson quite like the one I did in that tiny village square on that special Christmas in 1969.

Those Vietnamese never heard of Christmas before that day and certainly have never celebrated it since, however I know with utter certainty that they taught me more about the real meaning of Christmas than I ever thought I'd learn.

Christmas is not complicated. It rests in the hearts of people everywhere, all the time. Christmas is pure and it is simple. We can find Christmas ever day, in so very many ways. Christmas is love and when we show it, we get it back. The child born that first Christmas was never too young to teach that, and I pray that none of us are ever too old to learn it.




~ Stephen T. Bank
www.Heartwarmers.com




Yes You Can!
MAKE CLEAR CHOICES

One man tells of driving a long and lonely road, the last 65 miles of it unpaved, in order to watch Hopi Indian ceremonial dances in Arizona. After the dances, he returned to his car only to find that it had a flat tire. He put on the spare and drove to the only service station on the Hopi reservation.

"Do you fix flats?" he inquired of the attendant.

"Yes," came the answer.

"How much do you charge?" he asked.

With a twinkle in his eye, the man replied, "What difference does it make?"

This is what has been called a "Hobson's choice." A Hobson's choice is a situation that forces a person to accept whatever is offered or go without. According to Barbara Berliner's BOOK OF ANSWERS, the phrase was inspired by sixteenth-century entrepreneur Thomas Hobson, who hired out horses in strict rotation at Cambridge University. There was no choosing by the customer — it was strictly Hobson's choice.

But most of the time we really do have a choice, and the choice we make does make a difference. We may not always believe it. We may feel as if we have no choice...we have to do such and such.

But we usually do have a choice. When we realize that most of what we do we do by choice, then we are taking control of our own lives.

Here is an experiment. For the next 48 hours, eliminate the words "I have to" from your vocabulary and substitute the words "I choose to." Don't say, "I have to work late tonight." Instead, say, "I choose to work late." When you choose to do it, you take control of your life. Instead of saying, "I have to stay home," try "I choose to stay home." The way you spend your time is your choice. You set the priorities. You are responsible. You have control.

There is very little in this life we have to do. You and I choose to do certain things because we believe that it will be for the best. When we eliminate "I have to" from our vocabularies, we take control. Try it for two days (after all, it's your choice), and you are sure to feel less helpless and more in charge of your life right away.

In almost every situation, we do have some choice. And the choice we make will make a difference. Take control — for in the end, it's those choices we make that will make our lives happier and more fulfilled.

This reading is found in Steve Goodier's book
A LIFE THAT MAKES A DIFFERENCE
www.LifeSupportSystem.com


Click to Learn More about ZIG ZIGLAR'S CD/Cassette Set...
"How to Stay Motivated"


VISIT OUR
INTERNATIONAL
MESSAGE BOARD




Our Interactive Message Board now reaches
50 US states and 108 countries!


Bookmark the above link and visit us often!

(Note: It is not required to enter your
e-mail address anywhere in this forum.)


Far Horizons
CHILEAN CHRISTMAS

Chile borders the South Pacific Ocean and, in the southernmost part, touches the South Atlantic Ocean. Its neighbors are Argentina and Boliva to the east and Peru to the north. On "Noche Buena" the children here keep a watch for "Viejo Pascuero," or Old Man Christmas. He looks very much like Santa Claus and he also arrives with a team of reindeer which is quite unusual since it's summer in South America during the month of December. The chimneys on the homes are quite small in this warm climate, therefore Viejo Pascuero climbs through the window with his gifts. In some areas, Viejo Pascuero is seen as a local rancher and is often in the company of a llama. and Following the midnight "Misa del Gallo," or Mass of the Rooster, the Christmas Eve meal often includes azuela de ave, a chicken soup filled with potatoes, onions and corn on the cob. The meal on Christmas Day usually includes turkey, seafood, freshly grown vegetables and salads, along with Chilean wine for which the country is famous. Deserts always include "Pan de Pascua," a sweet Christmas bread.


"Charity Watchdogs"

We all need to beware of charity cons during the holiday season. For a wide range of bonafide fundraising organizations and tips on giving wisely, go to the American Institute of Philanthropy at CharityWatch.org.

You can also check with the

Better Business Bureau at Give.org

www.CharityWatch.org
www.Give.org


.
LISTEN TO OUR MUSIC

Just for YOU ...
DISCOVERY OF THE WEEK

This holiday season, give a gift of healing ... holistic healing:


For the holidays, when you buy a Self-Healing Expressions e-mail course, you can have
the same course sent to a friend, colleague, or loved one as a gift from you — at no additional cost! Self-Healing Expressions provides holistic email courses on topics
such as Dreams for Healing, Romantic Resume, Writing for Life, Grief Healing,
Pet Loss, More Power to You, The Healing Power of Food, Laughter for the
Healing Heart, Healing the Environment, Holistic Prayers and more...........................
ENTER HERE TO GIVE A HEALING GIFT
Sign-up for this 2 for 1 offer today and enjoy a transformational course of hope and healing with a friend!


Fascinating Facts

CELEBRATING KWANZAA
As an African American and Pan-African holiday celebrated by millions throughout the world African community, Kwanzaa brings a cultural message which speaks to the best of what it means to be African and human in the fullest sense. Kwanzaa is neither political nor religious and despite some misconceptions, is not a substitute for Christmas. Kwanzaa is a spiritual celebration of the oneness and goodness of life.
The seven-day festival begins December 26th, ending on New Year's Day, and is centered around seven principles: Unity, Self-determination, Collective Work and Responsibility, Cooperative Economics, Purpose, Creativity and Faith. The festival's roots lie in African first-fruit harvest celebrations, from which it takes its name, with the word Kwanzaa from the Swahili phrase "matunda ya kwanzaa", which means "first fruits". The days leading up to Kwanzaa are spent decorating the house with black, red and green paper decorations and hanging handmade ornaments on an evergreen Kwanzaa Bush.
For the next 7 nights the family gathers to light the seven-candle holder or "Kinara". The first night one of the children is asked to light the central candle, the black one symbolizing unity, after which they are told the meaning of the word. The next night someone lights the red one (self-determination) and so on for the next seven nights. Part of this holiday is spent teaching children about their heritage. A ceremonial table is set up with an ear of corn symbolizing each of the children and a carved and decorated unity cup, which is used for the toasts made each evening. December 31st is the night for the giving of gifts to the children, which might be a book and a heritage symbol, such as an African artifact.
The seven day celebration ends with a feast, "Karumu", which has African-American foods, and plenty of music. Once everyone has finished eating, they all rise, recommit themselves to the seven principles of Kwanzaa and bid everyone happiness, and that at the end of this year they all come together in larger numbers, with greater achievement, and a higher level of human life.

~ www.OfficialKwanzaaWebsite.org


Laughing It Off
POLITICALLY CORRECT CHRISTMAS

Twas the night before Christmas and Santa's a wreck...
How to live in a world that's politically correct?
His workers no longer would answer to "Elves",
"Vertically Challenged" they were calling themselves.

And labor conditions at the North Pole,
were alleged by the union to stifle the soul.
Four reindeer had vanished without much propriety,
released to the wilds by the Humane Society.

And equal employment had made it quite clear,
that Santa had better not use just reindeer.
So Dancer and Donner, Comet and Cupid,
were replaced with 4 pigs, and you know that looked stupid!

The runners were carefully removed from his sleigh;
the ruts were deemed dangerous by the E.P.A.
His pipe's second-hand smoke had his workers quite frightened.
and his fur-trimmed red suit was called "Unenlightened."

And as for gifts...why, Santa never had the notion,
that making a choice could cause such commotion.
No candy or sweets...they were bad for the tooth.
Nothing that seemed to embellish the truth.

And fairytales...while not yet forbidden,
were like Ken and Barbie, better off hidden,
for they raised the hackles of those psychological,
who claimed the only good gift was one ecological.

No baseball, no football...someone might get hurt,
besides — playing sports exposed kids to dirt.
Dolls were said to be sexist and should be passé.
And Nintendo would rot your entire brain away.

So Santa stood there, disheveled and perplexed,
he just couldn't figure out what to do next.
He tried to be merry he tried to be gay,
but you must admit he was having a bad day.

His sack was quite empty, it was flat on the ground,
nothing fully acceptable was anywhere to be found.
Something special was needed, a gift that he might,
give to us all, offending neither left nor the right.

A gift that would satisfy — with no indecision,
each group of people in every religion.
So here is that gift, it's price beyond worth...
"MAY YOU AND YOUR LOVED ONES, ENJOY PEACE ON EARTH"

~From the Internet


Untangling the Web


WHAT A SITE!


Need some help with holiday shopping?
A cheerful place for the festive season
where you can swap gift ideas, find humorous stories and visit links to unique shopping sites from around the world can be found at www.HappyChristmas.com


And at another site...
ChristmasLifetips.com features a section
with free holiday tips from the best Gurus in the world to make life better and wiser with their content. Lifetips.com is the world's first Knowledge Search Engine that offers
58,000 Guru tips, articles and big brain
tests along with links to 100,000+ web sites.



COMPUTER-EASE

Spruce up your holiday emails...
with Outlook Express Stationery. To see how this works, run Outlook Express and click New Mail. Now choose Format| Apply Stationery and select the type of stationery you'd like to try If you'd like to get some additional stationery,
you can go to www.Thunder Cloud.net where you will find free stationery and screensaver downloads. The artwork you will find there is quite impressive.



---

Look at THAT!
YO-HO-HO, MATEY


Photo: Garriage Ho /Reuters

Sixty Santa Clauses ...
and a Partridge in a Pear Tree!
Sixty Santas from the U.S. and Canada travel onboard a Star Ferry during a cruise on Hong Kong Harbour. The Santa volunteers are on an annual goodwill world tour which
includes stops in Beijing, Singapore and Bangkok, giving Christmas gifts to children. ~Reuters
Joyful Lifestyles: Weekly Insights
FINDING A CALM CENTER
Most of us know that being calm, centered and positive in our lives is beneficial. Yet learning about centering is not enough, experiencing being centered is what makes it come alive. Creating an environment in which you can take a short break and breathe, to ground yourself whenever you need to, is a great way to begin. By finding an approach or two that works well for you, you'll be on your way to more centered living after reading this article by Hope Langer, CPCC, MS, a Certified Professional Co-active Coach:
"Centering brings us back to ourselves. It allows us to hear our inner voice more clearly, for some, even to FIND our inner voice. We can look inside and know what is most important right in that moment. Being centered is soothing, calming, and nurturing. Centering ourselves is like exercising or eating a healthy diet — we wish we could magically acquire the discipline to do it regularly, but it takes intention and focus. To be effective, centering has to be extremely appealing. Otherwise, odds are we won't do it! We know about many things that are good for us, and somehow we manage not to do most of them — like taking strongtasting vitamins, developing an exercise routine or a new eating regimen.
"If we want some space and time for ourselves, how do we do it? One method is to make this "task" compelling. What would make being centered compelling ? Having fun? Having a sense of calm or space? Being in the woods? Having time to think? Being relaxed with others? Reading for pleasure? Enjoying a good cup of tea or coffee? Treating yourself to a luxurious bath, manicure, massage? Structures have an important role in helping people remember what they want to do. You might link your new behavior, centering, to something that you already do every day: Every time the phone rings, let it ring three times, take three deep breaths, and center. Every time you park your car, stay in the car for two minutes and center. Every trip to the kitchen, to a co-worker's office, and to the bathroom, are opportunities to center. Take timeout for you, even five or ten minutes; getting centered doesn't have to be about discipline or reining in that zany free spirit of yours. You will discover that taking care of yourself can be delightful, easy, fun, and (gasp) effective!
"Being centered is holding on to what matters, and gracefully letting go of the rest. Here's an easy and quick way to center in just a couple of minutes: Take a sitting or standing position. Make sure both feet are completely on the ground. Notice the connection of your feet to the earth. Notice what your intention is for the time you are in this space. Close your eyes. Notice your breathing. When you inhale, breathe down into your abdomen, and beyond. See if you can get your breath to reach the tips of your toes. Keep breathing and noticing your breathing. When you exhale, imagine all the tension in your body being carried out of your body by your breath. Notice again your connection to the earth and how grounded you are in this moment. Let go of any distractions as quickly as they enter your consciousness. Notice them and let them go, notice and let go, notice and let go. Consciously choosing to center yourself, even for a few moments, is a powerful and positive step toward increased calm in your life."

~ Chelle Thompson, Editor ~
CLICK BELOW TO SHARE THIS ISSUE
WITH YOUR FRIENDS & FAMILY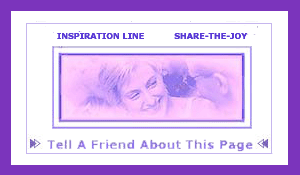 WWW.INSPIRATIONLINE.COM


"The intent of Inspiration Line is to show What Is Possible . By choosing new perspectives,
we can change ourselves from the inside out and improve our relationships, our community and our planet."
Editor . Chelle Thompson ~~~ Associate Editor . Geri Merrill
........................................................
Click Here to UNSUBSCRIBE ~ Editor@InspirationLine.com


COPYRIGHT NOTICE: All articles and images shown are believed to be public domain and, therefore, re-printable material.
We make every attempt to credit original authors and websites, and do not intentionally infringe on anyone's copyright.
Where a source is available, it has been stated. If you believe a mistake has been made or know the source of
an unattributed article or image, please write to: Editor@InspirationLine.com and a correction will be made.
........................................................

FOR YOUR PROTECTION: All transmissions are virus-free.
Copyright © 2003 Inspiration Line - All Rights Reserved