SPECIAL NOTE: Music may be turned ON/OFF under 'Today's Tune' on left ...



Connecting 67 Countries around the Globe





"If you are distressed by anything external,
the pain is not due to the thing itself, but to
your own estimate of it; and this you have
the power to revoke at any moment."

~Marcus Aurelius, Roman emperor (121-180)


June 23, 2003

TODAY'S TUNE
(On/Off)

"Bridge Over
Troubled Water"


---

IN THIS
WEEK'S ISSUE:


From the Inside Out...
Getting along with
Problem People

Yes You Can!...
See the
Warning Signs

Far Horizons...
Royal
Chitwan Park

Links That Shine...
Donate-A-Car.com

Fascinating Facts...
How to Choose
a Vacation (2)


Laughing It Off...
When I'm an
Old Lady


Untangling the Web...
What a Site!
Computer Ease


Look at That!...
Serving Up
Blossoms

Joyful Lifestyles...
Irrational
Thinking (2)




BE the World
You Want to See!

In my own life I've practiced stepping back a bit, emotionally, from difficult situations so that I could regain clarity of perspective. It's quite a miraculous feeling to recognize that we don't have to be victims of circumstance because the very freedom we seek is within each of us.

~ Chelle ~




From the Inside Out
GETTING ALONG WITH
DIFFICULT PEOPLE

There was a time in my life when if someone asked, "Are you angry with me?" I replied, "No-o-o-o." They knew it wasn't true, I knew it wasn't true, and the matter stayed unresolved. Because I didn't like taking issue with a difficult situation involving a difficult person, we both missed an opportunity to grow together through the experience.

Our reluctance to deal with difficult people, and/or difficult situations, results in our staying stuck. What we resist we get to keep! That's how it works. Companies dissolve because management forgets to communicate with the hourly paid workers. Couples separate because they lack communication skills, or the willingness to work their way through a painful crisis. Why not take a deep breath and get the situation resolved right now?.

When we are dealing with problem people it's hard to look at them, the loathsome ones, and say in our minds all the good things we are supposed to say. We are advised to forgive when it's so much easier to bear a grudge. If we forgave, we would have to give up the feeling of being a victim. We would have to give up our favorite stories. It would be hard to do. We've worked on them a long time, perfecting them, getting the sequence of events in the right order, omitting nothing.

What can we do about a difficult people? We can't change them. Can we talk to them? "But they have been hateful to me. Why can't I change them?" "Because, my dear, the only person you can change is yourself." "Can we talk to them?" "Yes, we can." However, we must not blame them, or become angered by their resistance. Each one of us deals with our own reality. We cannot force another person to communicate with us if they are determined not to do so. We cannot reach another person if they are determined to remain unreachable. It just means they want to stay in their playpen for now. They have a right to do that if they want to.

Many of us have been in situations where we had to deal with problem people every day. We wished we had a genie in a bottle who would help us escape, or make them disappear! What can we do about the difficult people in our lives? We can work out a plan of action and maintain a calm attitude; or wallow in our self pity and sink deeper and deeper into it. Just as the song says, "I never promised you a rose garden," — well, life isn't all roses, in fact, when we have problem people or situations in our lives, life can seem really awful.

When we are faced with a situation that we would like to run away from, we tend to make poor decisions. When we are faced with a difficult person or problem, it is important that the decisions we make and actions we take must not be out of panic and anger, but out of quietness and an inward look for divine guidance.

We tend to become consumed by our problems. We dwell on the ugliness of the person who is giving us so much trouble, and lose sight of the fact that every problem person provides us with an opportunity to practice what we preach. There is a solution to every difficult situation. We forget that this too shall pass.

We cannot keep running from the people who are like a scratchy label on a new garment, and we can be sure that the universe will always provide us with more and more of their clones, until we learn to solve the problem of getting along with difficult people.

So, if this is a life pattern for us, we can ask ourselves why we keep attracting this type of person, or this kind of situation into our experience. At one time that kind of statement used to drive me crazy. When I heard it I would say to myself, "I don't want awful people in my life; I don't like being in difficult situations. It's absolutely untrue that I attracted them!" Later I learned that when I saw them as an opportunity for self-understanding, my attitude toward them changed. They either became my friends or went out of my life. The situations became less frequent, or much improved. The others really hadn't changed that much. I had simply changed my place in consciousness. I didn't have to take a ship to Australia, or move to Alaska. All I had to do was to change my attitude.

When we use universal principles in solving a problem, it is solved in the most wonderful way. Divine Mind, God, has this loving way which allows us to grow through everyday situations, and to experience joy when we finally understand that it was all a cosmic puzzle for us to solve.

~ This article is excerpted from "Getting It Right This Time"
by Dr. Delia Sellers, editor of "Abundant Living," a monthly publication
dedicated to enlightenment and spiritual growth. Visit her website: Abundant Living


MAKE A DIFFERENCE EACH DAY... JUST CLICK HERE



AT NO COST TO YOU, SPONSORS CONTRIBUTE EVERY TIME YOU "CLICK"
WITH FIVE HUMANITARIAN ORGANIZATIONS FEATURED ON OUR WEBSITE



Yes You Can!
SEE THE WARNING SIGNS


We know that what we eat affects how we feel, but we often ignore how our diets affect typical problems, such as dry or brittle hair, chipped nails, or bloodshot eyes. Did you know that dry skin might easily be remedied with a handful of nuts? Or that shiny hair is as much a sign of your diet as your shampoo? Consequently, the symptoms of a marginal diet go unnoticed or are thought to be "all in the mind." The following warning signs of a bad diet will help you assess your dietary intake and decide what, if anything, needs improvement.

Turn Around a Bad-Hair Day — The signs: dry, lackluster hair
What's missing: protein, folic acid, the vitamins B-6 and B-12, iron, vitamin C, and water
What's going on: These nutrients help build a healthy blood supply, which carries oxygen to the hair and scalp and removes waste products. Poor intake results in a reduction of the number of red blood cells, which literally suffocates the hair and scalp. Vitamin C aids hair growth; poor intake results in hair that tangles or breaks easily.
What you can do: Pack a spinach, Caesar, or lentil salad in your picnic basket or brown-bag lunch for iron and folic acid; a piece of fruit for vitamin C; and a roast-beef sandwich or a piece of cold chicken to boost iron, protein, and the vitamins B-6 and B-12. Drink at least eight glasses of water on warm summer days — even more if you exercise regularly.

Have Healthy Nails Again — The signs: slow growing, chipped nails.
What's missing: protein; vitamins E, K and C; iron; selenium; zinc
What's going on: Nail growth and proper circulation to the nail bed require ample amounts of these nutrients.
What you can do: Use whole-grain breads for summer sandwiches; munch on at least five fruits and vegetables each day; and include several servings daily of the iron-rich foods mentioned above.

Feed Your Skin From Within — The signs: dull, dry skin
What's missing: protein, folic acid and other B vitamins, copper, iron, water
What's going on: The skin relies on the bloodstream to supply oxygen and nutrients and to remove the waste products of cellular metabolism. An inadequate supply of one or more of these nutrients cuts off the skin's nutrient supply, while allowing toxic waste products to accumulate.
What you can do: Remember your whole-grain breads and cereals; fruits and vegetables; iron-rich foods; and water. Drink extra water if you're quenching your thirst with iced tea or coffee, since these beverages act as diuretics.

Slow Skin Aging — The signs: sun-damage, sagging skin, easy bruising
What's missing: antioxidants: vitamins C and E, beta carotene, selenium
What's going on: These nutrients slow the rate of sun-induced aging of the skin by blocking free-radical damage generated by summer sunlight. Vitamin C also is essential for collagen formation, the "glue" that holds the body's cells together. Poor collagen formation results in frequent bruising, loss of skin elasticity, delayed wound healing, and reduced production of the skin's lubricating oils.
What you can do: Include orange juice or cantaloupe at breakfast and two other vitamin C-rich snacks during the day, such as kiwi, broccoli, or strawberries. For beta carotene, mix spinach into your scrambled eggs or snack on baby carrots. To obtain the 100 IU of vitamin E, take a supplement.

Smooth and Soft Again — The signs: flaky, itchy, or rough skin
What's missing: linoleic acid
What's going on: Linoleic acid is an essential oil that helps maintain smooth, moist skin; poor intake causes dry, scaly skin.
What you can do: Add a tablespoon of linoleic acid-rich foods, such as safflower oil, nuts and seeds, to the daily diet.

Want to Have Bright Eyes? —
The signs: vision loss caused by cataracts or macular degeneration
What's missing: the antioxidants: vitamins C and E, beta carotene
What's going on: The eye's lens is bombarded by free radicals from sunlight. A diet rich in antioxidant nutrients protects against the formation and progression of age-related vision loss by counteracting the damaging effects of free radicals.
What you can do: At least three servings or more daily of vitamin C-rich foods, such as citrus fruits, Brussels sprouts and cabbage, is all it takes to protect your eyes.

~Elizabeth Somer is a registered dietitian and author of
Food & Mood and The Essential Guide to Vitamins & Minerals
Health.MSN.com

Far Horizons
ROYAL CHITWAN PARK

At the foot of the Himalayas, Royal Chitwan National Park is one of the few undisturbed vestiges of the Terai region in the southern part of Nepal. Don't miss a chance to see endangered wildlife like the Royal Bengal Tiger and the single-horned Asiatic rhinoceros. Many rare species such as tree fern and several rare orchids and other endangered mammals such as wild elephant, gaur, striped hyena, sloth bear and Gangetic dolphin occur here. You can take a jungle walk, a Jeep drive or travel by elephant. On elephant back you'll feel like a maharaja of olden times on jungle safari and there are more chances to see the rhinos and other animals which are hidden behind the tall grasses.

---

LINKS
THAT SHINE

"Donate-A-Car"

This is America's largest and most trusted car donation center. Thanks to the public's generous support, they have processed over 400,000 car donations for hundreds of charities since 1992.
www.DonateACar.com



CLICK FOR LINKS

Fascinating Facts

HOW TO CHOOSE A VACATION (Part 2)
Here's part two of our list of 10 criteria for choosing a vacation. Choose the ones most important to you or a mix of all of them.
6. Fascinating sightseeing, both day and evening. Surveys show that we prefer and take shorter, more frequent vacations. That means we want every minute to count. Whether playing tennis at midnight or sitting in a smoky cabaret, it's important that the facilities be open. For round-the-clock activity, few U.S. destinations beat San Antonio, home to the Alamo, the Riverwalk, and one of the nation's great Cinco de Mayo celebrations. After their visit, your kids might think that Sam Houston was the first president of the United States but at least they'll learn some Mexican-American history.
7. Opportunity for unusual cultural/adventure experiences. If the purpose of travel is to momentarily peek into the culture of others, you must check out the travel services that cater to "agenda" travelers. Anything from volunteer work to mountain climbing to learning a language abroad is available. Perhaps, for example, you'd like to experience Russia. For a first visit, you're better off with a semi-escorted trip to Moscow and St. Petersburg. Most leave every Wednesday and return a week later, at moderate prices. A very different peek into the hearts and minds of a people can be found in the Waterfowl Festival in Easton, Md. The signposts are in the shape of carved ducks. Art exhibits, carvings, bird-call contests and more honor the miracle of migration, a natural ritual just as much a part of the fall as the changing of the leaves.
8. Good for both escorted and independent touring. As much as your choice in lodgings, the degree to which you are helped with travel plans -- before and during the trip — are a matter of preference. Getting on and off a bus at the pace of a group can be deadly if you want to take your time. A popular compromise is an independently booked flight, a rental car and a few local sightseeing excursions with a tour guide. However, some areas that attract knowledgeable older travelers offer wonderful escorted itineraries that give you an independent feeling.
Affinity group tours may especially make sense. Horticulturists will thrill at Nemours, near Wilmington, Del. A chateau there was built in 1910 by Alfred DuPont and named for his great-grandfather, a prominent economist and political figure during the reign of Louis XVI. (He was also an early promoter of France's selling Louisiana to the United States.) Soon after the DuPont family fled to America in 1800, they became its richest immigrants. Alfred patterned Nemours after Versailles, with 102 rooms and the full board of carved ceilings, inlaid floors and priceless antiques. The mansion is on the grounds of the Alfred I. DuPont Hospital for Children.
9. Things to do and see that are free. On vacation, once transportation and hotels are paid for, you may not have much money left. That shouldn't stop you. Museum passes, long walks and the surprise festival are the experiences that make the vacation. For Americans, the sights you get on the open road have always been a lure. Consider parks like Shenandoah National Park in Virginia and Great Smoky Mountains National Park in North Carolina and Tennessee. Joining the two is the famed Blue Ridge Parkway. Or, of course, there are also such natural masterpieces as Yosemite in California Yellowstone in Wyoming, Grand Canyon in Arizona, or Olympic National Park in Washington state. Many national parks and monuments are free. Some like Yellowstone and Yosemite have fees. Perhaps the world champion of free sightseeing is our nation's capital. Even if you've been there before, start with the mall area. Surrounding it are the Smithsonian Institution, the National Gallery of Art and many other world-class museums. It's easy to spend a month here for next to nothing in sightseeing costs.
10. Other interesting areas within an hour's drive. Oddly enough, even the most sedentary of us tend to get restless on vacation. A great experience can be to settle into a place, then leave it for a riveting few hours — a vacation from the vacation. Cape Cod, Mass., is 70 miles long with dunes, white beaches and art colonies. Its summer cuisine, casual chic and families with sand pails define a summer decompression chamber. Meanwhile, the very scenic Mt. Hood National Forest in northern Oregon is just a few hours' ride from Portland. For a bit more drama, the Mt. St. Helens National Volcanic Monument is a day-trip away from the population centers of Seattle and Portland, Ore.




Laughing It Off
WHEN I'M AN OLD LADY

When I'm an old lady, I'll live with my kids,
and make them so happy, just as they did.

I want to pay back all the joy they've provided,
returning each deed. Oh, they'll be so excited.


I'll write on the wall with reds, whites and blues,
and bounce on the furniture wearing my shoes.

I'll drink from the carton and then leave it out.
I'll stuff all the toilets, and oh, how they'll shout.

When they're on the phone and just out of reach,
I'll get into things like sugar and bleach,

Oh, they'll snap their fingers and then shake their head,
and when that is done I'll hide under the bed.

When they cook dinner and call me to meals,
I'll not eat my green beans or salads congealed.

I'll gag on my okra, spill milk on the table
and when they get angry, run fast as I'm able.

I'll sit close to the TV, through the channels I'll click,
I'll cross both my eyes to see if they stick.

I'll take off my socks and throw one away,
And play in the mud until the end of the day.

And later in bed, I'll lay back and sigh,
and thank God in prayer and then close my eyes

And my kids will look down with a smile slowly creeping,
and say with a groan. "She's so sweet when she's sleeping."

By Joanne Bailey Baxter, Lorain, Ohio ©April 1991
Look on the bright side of getting older in this amusing book:
1,003 Great Things About Getting Older





Untangling the Web

WHAT A SITE!

Online guide to offbeat attractions ...
chock-full of odd and hilarious travel destinations, ready for you to explore. Technology breakthroughs, and a consuming need to visit every attraction in the USA, led to the formation of the Roadside America Project.
www.RoadsideAmerica.com




COMPUTER-EASE

Froogle is a new service ...
that helps you locate information about products for sale. There are two ways to use Froogle: you can go to Google and then click the "Froogle" link on the Advanced Search page, or you can navigate directly to http://www.Google.com/Froogle


---

Look at THAT!
SERVING UP BLOSSOMS


Photo: Joerg Koch /AFP


A woman protects herself from the sun ...
with a colorful umbrella as she walks past a giant fork and knife in a field of yellow rapeseed at the Adlersberg monastery near Regensburg, Germany. The oversized flatware was erected in a field of brilliant yellow for a Rapeseed Blossom Festival. ~MSNBC


Joyful Lifestyles: Weekly Insights
IRRATIONAL THINKING (Part 2)
Last week we discussed the pitfalls of using absolutes to describe the events in our lives. If we awfulize or catastrophize the small stuff, what happens to us in an actual crisis? If we cry wolf over every disappointment and don't flex our inner strengths to resolve temporary setbacks, what are we stockpiling for a rainy day?
Though most of us would have a proactive attitude about basic survival in a life-threatening emergency, we seem to be much more passive about happiness. Personally, my goal is to get to a point where my happiness instinct is as strong and natural as my survival instinct. For as we have learned, our decision to be happy is actually our decision to STOP BEING UNHAPPY. In other words: "Work like you don't need the money; Dance like no one's watching; And love like you've never been hurt."
If we are to lessen our strong emotional upsets, we'll need to stop demanding and can't-standing, complaining and blaming. Instead we'll need to look at negative situations in a more rational, realistic way ... by creating PERCEPTUAL ALTERNATIVES.
* We can re-think our demands and see desires as strong preferences, not must have's.
* We need to convince ourselves that we CAN stand it when our wishes are violated.
* We can recognize that our "catastrophes" are, in fact, just disappointments. It's not awful when life throws us a curve, it's just unfortunate and perhaps inconvenient.
* We need to accept ourselves and others as worthwhile and learn to rate behavior, not personal worth. Remember that it is OUR unhealed wounds that make it difficult to see life clearly. As the writer, Anais Nin writes, "We don't see things as they are. We see things as WE are." Intellectual and emotional myopia, or our inability to see beyond ourselves, is part of the human condition. We live inside our own head, and our perceptions are skewed by the limitations of our personal experiences. If we were totally evolved, we would be capable of seeing through the eyes of others, rather than seeing solely through our own. (Continued Next Week.)
SELF-DISCOVERY:
Self-defeating thoughts stem from our demands, shoulds and musts. Demands we place on ourselves, others or life itself are the root of our irrational beliefs. Following are some demands people commonly make. Let's call them "The Dirty Dozen." On a scale from 1-5, rate how these beliefs apply to you — 1. Very Seldom; 2. Seldom; 3. Sometimes; 4. Often; 5. Very often:
1. I must be perfect and never make a mistake.
2. I should always be in control.
3. I must succeed; I can't stand failure.
4. I should please and gain approval.
5. I just can't handle losing; losing is awful.
6. Life must be fair.
7. People should give me my own way.
8. I must be right.
9. Life should be easy.
10. Others should appreciate the things I do for them.
11. Some people are inferior: "THEY should keep their place."
12. I am a victim of my past or present circumstances.



~ Chelle Thompson ~
CLICK BELOW TO SHARE THIS ISSUE
WITH YOUR FRIENDS & FAMILY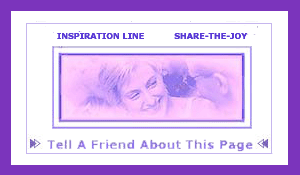 WWW.INSPIRATIONLINE.COM


"The intent of Inspiration Line is to show What Is Possible … By choosing new perspectives,
we can change ourselves from the inside out and improve our relationships, our community and our planet."
Editor . Chelle Thompson ~~~ Associate Editor . Geri Merrill

........................................................
E-mail your motivational, informative or humorous stories for us to share:
Click Here to Submit Articles, Contact Us or Unsubscribe


COPYRIGHT NOTICE: All articles and images shown are believed to be public domain and, therefore, reprintable material.
We make every attempt to credit original authors and websites, and do not intentionally infringe on anyone's copyright.
........................................................

FOR YOUR PROTECTION: All transmissions are virus-free.
Copyright © 2003 Inspiration Line - All Rights Reserved