"You Have It Within YOU"



"Love and happiness remind me of sticky peanut
butter. When you spread them around, you
can't help but end up getting some on yourself!

~Marcia Jordan, Hugs & Hope Club

February 24, 2003
Today's Tune (on/off):

"What the World Needs Now"

IN THIS
WEEK'S ISSUE:

From the Inside Out...
Hugs, Hope &
Peanut Butter


Yes You Can!...
Write Off Vacations


Far Horizons...
Gripsholm Castle




Links That Shine...
To Be a Blessing


Fascinating Facts...
Indian Spice
for Alzheimer's?



Laughing It Off...
P.C. Phrases for Students



Untangling the Web...
What a Site!
Computer Ease



Look at That!...
The Sound of Veggies


Joyful Lifestyles...
Our Behavior Matters

---




BE the World
You Want to See!

When we step out of our 'little selves' and reach out to others, it's then that our own lives begin to SHINE.

~ Chelle ~


From the Inside Out
HUGS, HOPE & PEANUT BUTTER

When my little grandson received third degree burns, I learned firsthand about feeling helpless when a little one is suffering and you can't take away the pain. This experience helps me to empathize with parents of critically ill children.

The mother of an 11-year-old child dying from brain cancer once told me that she felt like running into the street screaming, "My child is sick. Won't somebody help me?" So many parents desperately search for SOMEONE to care and to help them through the ordeal of watching their helpless child suffer.

I decided to BE that someone and do as much as I could. It's amazing how much I CAN do, even though I'm disabled. The disability has given me the time that most people can't spare. And I know what it's like to be sick, frustrated, and afraid. So I use my situation to be a blessing to others.

In 1998, due to complications of an auto-immune disease, I lost my eyesight. When I regained some vision, I was no longer able to work. Suddenly, with so much time on my hands, I could have chosen to be depressed about life being empty and without purpose. Instead I followed my inner urging to let God lead me forward. Gradually this path allowed me to create the Hugs and Hope Club for Sick Children..

My disability was a new beginning for me. The web site has received hundreds of e-mails from parents, reaching out for help and begging to post their child's story. Though suffering parents may know mentally that God cares about them, during their time of struggle they sometimes need a real live person to SHOW that love to them.

That's what the club's volunteer "hug-givers and hope restorers" do. They mail out hundreds of packages of "happy mail" to the kids and provide much needed support to their parents.

The Hugs and Hope web site features children from all over the world and now receives hundreds of hits each day. It also features a chat room so that families of children who need help regaining their health may communicate with each other, sharing ideas, providing encouragement, and contacting organizations and individuals to help families of children such as Nathan.

Nathan and his little brother PJ have the fatal Batten's Disease. Their parents must raise the $100,000 they need each month for medical treatment to save their boys. After their story was posted on our web site, musicians volunteered to do a big benefit that helped to raise money for the family. We wrote to television stations and, as a result, the boys were featured on the show "48 HOURS."

I read somewhere, "pain is inevitable, but misery is optional." Many Hugs and Hope volunteers suffer with serious illnesses or other problems. Yet, by focusing on this vision that is larger than they are, they wind up blessing people. Many of the moms and dads suffer from depression. The support they get from Hugs and Hope volunteers has literally saved their lives.

As we focus on uplifting others, we experience peace and happiness. One person CAN make a difference in this world. This work of love is making a difference, one smile at a time.

~Marsha Jordan````````


ABOUT THE AUTHOR:
Marsha Jordan, selected "Angel of the month" by HerPlanet.com, was named one of The Phenomenal Women of the Web. She grew up in a suburb of Chicago. Now a disabled grandma, she lives in the North woods of Wisconsin with her husband of 26 years and their toy poodle, King Louie, who rules the household with an iron paw. Through her Hugs and Hope Club, she shares a message of hope and love. She's been published in 29 online newsletters and e-zines including Heart Warmers, Power to Share, and Warm Fuzzy Stories. www.HugsAndHope.org

~ Contributed by
Honey Judith Rubin
To Be a Blessing
Yes You Can!
WRITE OFF VACATIONS

The Internal Revenue Service concedes that you're entitled to deduct expenses for taking a business trip or attending a business convention. While such trips must benefit or advance your business to qualify as a tax deduction, there's no reason why the trip or convention couldn't coincide with your vacation. Why do you think that most large conventions are held in cities like New York, Palm Springs and Miami?

Convention and business travel expenses are deductible to both employees and the self-employed. Such expenses would include convention costs, hotels, meals and entertainment, and travel expenses to and from the convention. If a business purpose can be established, the expenses of your spouse may also be deductible. The business conventions or seminars must specifically relate to your business or profession.

The amount of time you spend on business will be a factor in answering the question of whether the trip was mostly for fun or work. For example, if you spend 5 days conducting business and 3 days sightseeing, the trip will be considered primarily for business and all of your transportation will be deductible. Alternatively, if you conducted business for 2 days and enjoyed the sights for the remaining 6 days, the trip would be considered primarily personal and no transportation expenses would be allowed.


Even if the trip is mostly personal, any expenses you incur that are mostly business-related — meals, lodging or incidental expenses, for example — can be deducted. Alternatively, if the trip was primarily for pleasure, none of the transportation expenses will be deductible. In all other cases, all travel expenses must be allocated between business and personal expenses (with travel days counting as business days).

Further restrictions are imposed on foreign conventions. Three factors are considered in determining the reasonableness of the convention location:
The purpose of the meeting and the activities taking place at the meeting;
The purpose and activities of the sponsoring organization or group;
The residence of the active members of the group and where prior or future meetings will be held.

While there is no limit on the number of foreign conventions/vacations you can attend and deduct on your taxes, the rules change if you try to do it on CRUISE SHIPS. Uncle Sam has a hard time understanding how serious conventions are when held aboard luxury cruise liners, UNLESS: The meeting is directly related to your trade or business; The cruise ship is U.S. registered; All ports of call are located in the US or its possessions. Even then, the maximum deduction is $2,000 for each taxpayer and you must attach two written statements to your return. The first statement, signed by you, must include information as to the number of days that were devoted to scheduled business activities. The other, signed by a representative of the sponsoring organization, must include a schedule of the business activities each day, and the number of hours you were in attendance.


Remember that the key to deducting your vacation as a business expense is prior planning. Make sure that you can substantiate your business purpose for the trip and your expenses. I have found that perhaps the easiest way to maintain a record to prove you really did work on that trip to Tahiti is to keep a diary or account book of such expenses.


~Jeff Schnepper
MSN MoneyCentral

Far Horizons
GRIPSHOLM CASTLE

Built on an island in the late 1530s in Lake Mdlaren, Gripsholm Castle is one of the best-preserved in Sweden. Called "the red fairy tale castle" by historians, this fortress is a 5-minute walk from the center of Mariefred, an idyllic small town known for its vintage narrow-gauge railroad. During the reign of the 18th-Century actor-king Gustavus III, a theater was built at the impressive castle which boasts not only many stories and mysteries but a royal portrait collection.


LINKS
THAT SHINE

"TO BE A BLESSING"

An exciting and joyful work-in-progress covering heartwarming stories of miracles and blessings that touch the heart and expand our view of life's possibilities. This web site is about the wonderful things that happen in life — small acts of kindness that make a big difference, life saving and/or life changing events — amazing events that cannot be explained away, something that brings such gladness that you must tell others about it.

www.ToBeABlessing.com

Fascinating Facts

INDIAN SPICE FOR ALZHEIMER'S?
The British are investigating the possible connection between curcumin and treatment for Alzheimer's disease and they aren't alone in this effort. Researchers in the United States have been pursuing clues to the effects of curcumin, a compound found in the spice turmeric that is responsible for the yellow color of Indian curry and American mustard. Studies show that elderly villagers in India appear to have the lowest rate of Alzheimer's disease in the world. Researchers speculate that curcumin, which has powerful antioxidant and anti-inflammatory properties might play a role, because Indians eat turmeric with almost every meal.
In a recent study at the University of California at Los Angeles, scientists fed curcumin to rats prone to accumulate beta-amyloid plaque in their brains — the abnormality associated with Alzheimer's disease in humans. Curcumin blocked the accumulation of beta-amaloid plaque and also appeared to reduce inflammation related to Alzheimer's disease in neurologic tissue. The rats fed curcumin also performed better on memory tests than rats on normal diets.
The UCLA study isn't the only one that suggests that curcumin might prove helpful for treatment and prevention of Alzheimer's. Researchers at the University of Illinois have also found that it helps prevent plaque formation. And preliminary studies at Vanderbilt University suggest that curcumin may block the progression of multiple sclerosis. Mice with an MS-like illness showed little or no signs of disease after being injected with curcumin, while their untreated counter parts went on to severe paralysis. New research from Japan also suggests that turmeric may help prevent colitis, an inflammation of the colon.
My friend Paul Schulick of New Chapter, Inc., who brought me up to speed on the latest curcumin research, tells me that only low dose curcumin reduced plaque in the Alzheimer's disease studies. This is good news since it suggests that curcumin is most effective at doses well below pharmaceutical strength. Schulick also emphasizes that turmeric contains many other compounds besides curcumin and points out that people in India consume the whole spice not an isolated element. Turmeric appears to have significant anti-inflammatory and cancer-protective effects as well, so I think it is good to find ways to include it in our diets.
~Dr. Andrew Weil, M.D.
Yahoo Health.com


Laughing It Off
P.C. PHRASES FOR STUDENTS

1. No one fails a class any more, he's merely "passing impaired."

2. You don't have detention, you're just one of the "exit delayed."

3. Your bedroom isn't cluttered, it's just "passage restrictive."

4. These days, a student isn't lazy. He's "energetically declined."

5. Your locker isn't overflowing with junk, it's just "closure prohibitive."

6. Kids don't get grounded any more. They merely "hit social speed bumps."

7. Your homework isn't missing, it's just having an "out-of-notebook experience."

8. You're not sleeping in class, you're "rationing consciousness."

9. You're not late, you just have a "rescheduled arrival time."

10. You're not having a bad hair day, you're suffering from "rebellious follicle syndrome."

11. You don't have smelly gym socks, you have "odor-retentive athletic footwear."

12. No one's tall anymore. He's "vertically enhanced."

13. You're not shy. You're "conversationally selective."

14. You don't talk a lot. You're just "abundantly verbal."

15. You weren't passing notes in class. You were "participating in the discreet exchange of penned meditations."

16. It's not called gossip any more. It's "the speedy transmission of near-factual information."

17. The food at the school cafeteria isn't awful. It's "digestively challenged."

~Send4Fun.com





Untangling the Web

WHAT A SITE!

Convert just about anything ...
to anything else — Temperature, distance,
speed, volume, power, finance, cooking, etc..
Online Conversion



COMPUTER-EASE

Going Home In Explorer 6:
When you want to go to your home page in Explorer, you can click the Home button in the toolbar or you can press Alt + Home. There is one more way — type two periods into the Address Bar and then press Enter.


Look at THAT!
THE SOUND OF VEGGIES


Photo: "Carrot Flutes" /REUTERS
To learn more click: Tasteful Music


The First Vienna Vegetable Orchestra
says it cooks up a storm with its carrot flutes, leek violins, celery bongos and aubergine cymbals. Supported by the occasional use of kitchen utensils such as spoons and food processors, the orchestra has been a hit in its hometown Vienna. Before each performance, the band tours local markets to find fresh vegetables of just the right caliber and quality. The gurkophone is one of their classics, made from a hollowed cucumber, a pepper and a carrot. Once the instruments are worn out, the musicians, and a conductor who doubles as cook, toss each one into a stewpot to make soup — to be enjoyed by the audience after the concert. ~REUTERS
Joyful Lifestyles: Weekly Insights
OUR BEHAVIOR MATTERS (Part 1)
Helene C. Parker, Ph.D., is a well-known psychotherapist who specializes in relationship therapy. She has received many awards for her work and is a warm, dynamic, professional speaker.
The following lists, contributed today by www.InnerSelf.com, are excerpted from
"If This Is Love, Why Am I So Lonely?" by Helene C. Parker with Doreen L. Virtue.
Twenty Behaviors
That RUIN Relationships:
1. Tell your partner what to do.
2. Act like your partner's child.
3. Act as if you were your partner's parent.
4. Attack the partner rather than the issue.
5. Blame your partner.
6. Reply before you understand what was said.
7. Be hysterical.
8. Be hostile.
9. Use demeaning words and abusive behavior.
10. Treat your partner as a possession.
11. Avoid eye contact while your partner is talking.
12. Interrupt frequently while your partner is talking.
13. Criticize your partner, especially in public.
14. Ignore your own personal hygiene.
15. Take your stress out on your partner.
16. Don't tell your partner about your boundaries.
17. Expect your partner to read your mind.
18. Lie, deceive, and break promises to your partner.
19. Have an affair.
20. Discourage your partner from having any hobbies, outside interests, or friends.




Twenty Behaviors
That NURTURE Relationships:
1. Tell your partner what you want.
2. Take responsibility for meeting your own needs and wants.
3. Allow your partner to be responsible for meeting their own needs and wants.
4. Attack the issue, not the person.
5. Take responsibility for making or negotiating necessary changes.
6. Ask questions to be certain you understood what your partner has said.
7. Stay calm.
8. Express anger respectfully.
9. Avoid abuse; consider counseling if abuse is pervasive in the relationship.
10. Respect your partner's individuality.
11. Use active listening skills.
12. Allow your partner to complete his or her thought before replying.
13. Choose a private time to communicate and negotiate.
14. Show respect for yourself and your partner by taking care of your hygiene.
15. Confront and resolve your problems at the source.
16. Teach your partner, from the beginning, about your limits and expectations.
17. Tell your partner what you want, and negotiate solutions.
18. Be honest and keep your promises.
19. Discuss your wants with your partner.
20. Support and encourage your partner to state and negotiate his or her own needs and wants.
We can never sit and wait for the people around us to make changes.
One of my favorite sayings is, "If it's going to be, it's up to ME."




IF THIS IS LOVE, WHY AM I SO LONELY?
By Helene C. Parker, Ph.D. & Doreen L. Virtue
Click for Details and to Read Reviews

(A portion of your purchases here helps
support Inspiration Line programs.)
CLICK BELOW TO SHARE THIS ISSUE
WITH YOUR FRIENDS & FAMILY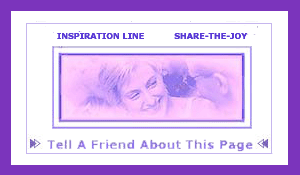 Click for FREE SUBSCRIPTION
WWW.INSPIRATIONLINE.COM
"The intent of Inspiration Line is to show What Is Possible … By choosing new perspectives,
we can change ourselves from the inside out and improve our relationships, our community and our planet."
Editor . Chelle Thompson ~~~ Associate Editor . Geri Merrill
........................................................
E-mail your motivational, informative or humorous stories for us to share:
Editor@InspirationLine.com

COPYRIGHT NOTICE: We make every attempt to credit articles to original authors
and websites, and do not intentionally infringe on anyone's copyrighted material.
........................................................
Copyright © 2003 Inspiration Line - All Rights Reserved