"You Have It Within YOU"



"Ninety percent of the world's woe comes from people not
knowing themselves, their abilities, their frailties, and
even their real virtues. Most of us go almost all the way
through life as complete strangers to ourselves."

~Sydney J. Harris, American Journalist (1917-1986)



March 24, 2003
Today's Tune (on/off):

"Yesterday"

IN THIS
WEEK'S ISSUE:

From the Inside Out...
Your Life Map (1)


Yes You Can!...
Take Care of
Your Family

Far Horizons...
Los Pueblos Blancos

Links That Shine...
Health Scout News

Fascinating Facts...
Music to Our
Fears (1)


Laughing It Off...
Homecooked
Humor


Untangling the Web...
What a Site!
Computer Ease


Look at That!...
Europe on Ice

Joyful Lifestyles...
More on the
Kindness Challenge

---

From the Inside Out
YOUR LIFE MAP (Part 1)


One way we can search for spiritual direction
is to draw a Life Map. Few of us can take the time to reflect on our life by writing an entire autobiography, but drawing a Life Map can render many of the same benefits. I still remember the feeling of astonishment I had when I drew my first Life Map, and I saw my whole life represented on one large piece of paper. I was amazed at how patterns emerged, how I could begin to see some design and direction in what had often seemed to be a confused, winding path filled with detours, successes and failures. After drawing a Life Map of my past I drew a Life Map of my future, which helped me become more conscious of my dreams and aspirations.

A Life Map helps us answer a deeper question: Who am I and why am I on this journey? It provides us with a spiritual perspective on our life's path. This map is both a historical record and a creative tool for visioning the future. Perhaps the most important thing we use a map for is to help us plan where we are going — to map our future. The Life Map is a tool for conscious living, a way to create the life you were born to live.

The defining structure of the Life Map is the Lifeline, which represents the path your life has taken or will take. It can be expressed as a straight line, a series of steps, a spiral or any freeform design you choose. You can show the ups and downs of your life, the forks in the road (major decisions) and the roads not taken (someone you didn't marry, a job you didn't take). You can use symbols, pictures, and words to mark important events. You can visualize your map as a landscape or use other images and metaphors. Color can be used to differentiate phases of your life. Maps have words and symbols. You can label things, make little drawings, or use symbols such as storm clouds, lightning, a broken heart, a mountain, a bridge, a house, etc.

Take time to visualize your map. Remember as you visualize your past that there is no right or wrong way to look at your life. You have been telling yourself a certain story about your life up to this point, and by drawing your map you have the chance to become more aware of your story, and to rewrite it if you wish. The stories we tell about our life become our truth. They give our life the meaning, or lack of meaning that it has; they create our identity. After drawing your map you might take some time to meditate on your Life Map and write down some of your feelings and insights.

Until we take the time to become consciously aware of our stories, we continue to repeat the distorted stories we have heard others tell about us — stories that prevent us from being who we are really meant to be. When anxious or depressed clients come into my office, I help them become more aware of their stories. I remind them that they can take back the power to write their own stories and become the authors of their own lives. They begin to write stories of their future that inspire them to live more authentic and adventurous lives.

When you visualize your Life Map, remember that your story is also the story of all humanity. Your life partakes of all the great myths and legends. You can envision your life as a great adventure. What is it that has motivated you throughout your life? What is the secret quest you are on? When you were a young boy or girl you had not yet lost the sense of life as a glorious adventure. Whether you are trying to earn a degree, pay your bills, raise a family, start a business, adjust to a major life change brought about by illness, divorce or job loss, remember that you are on a spiritual quest. With this awareness you can transform the mundane into the transcendent. Your life matters to the cosmos.

This is the hero's journey — to return to the wellspring of consciousness and find out what it means to be truly human. Instead of merely copying stories we have heard, we need to write our own story. Each of us deserves to be the author of our own life.

Somewhere in your Life Map, where you may least expect it, you will find a hidden treasure. In fairy tales and myths the hero or heroine often finds the treasure in a place that is desolate and dark, a region of danger and difficulty where few dare to venture. This place is our shadow, the darker side of our self — the place where we have thrown all the wounded parts of our self that did not meet with approval from parents, peers, and society.

Continued Next Week: Drawing your FUTURE life map ....



~ Robert Gerzon, Author
"Finding Serenity in the Age of Anxiety"
Printed with author's permission
www.Gerzon.com
Yes You Can!
TAKE CARE OF YOUR FAMILY


Recently, a client of mine wrote, "We sit down to a family dinner each night and usually, our "TV Dinner" is the evening news. I know that some news stories can be disturbing, but my daughters are only 5 and 3 and really don't understand enough about the news to be upset by it. My husband and I enjoy our regular news program, but I'm not sure that it is appropriate viewing for our daughters. What do you recommend?"

Dinner is a wonderful opportunity for creating warm attachments, lasting traditions, and meaningful family interactions. Dan Rather, Tom Brokaw, and Peter Jennings, however, are not members of your family, nor do they belong at your dinner table.

Exposure to frightening events seen on TV may, inadvertently, cause your children (or anyone) to become "virtual victims."

People do not have to eyewitness an upsetting event to be affected by it. News images resonate, and can result in nightmares, separation anxieties, or other long-lasting fears.

Even more importantly, TV news can shape and create a child's (or anyone's) view of the world as a cruel and dangerous place. After viewing news, studies have found that young children feel increasingly vulnerable and nervous.

This nervousness and anxiety, sometimes characterized by a sinking feeling that "something's going to happen," can interfere with a child's (or anyone's) play, eating, and sleeping.


~ Dr. Helen Boehm, Family.MSN.com





---

PLEASE REMEMBER ...
A portion of all purchases that you
make with Amazon.com FROM OUR WEBSITE
will help support Inspiration Line programs.
Simply Click Books:


Far Horizons
LOS PUEBLOS BLANCOS

There is a cluster of quaint little towns near Managua which the Nicaraguans fondly call Los Pueblos Blancos "The white towns", named for their whitewashed adobe buildings. The jewel of these pueblos is Catarina, which borders on the deep crater of the Apoyo Lagoon with splendid panoramic views. Each of the towns has its own talent. While in Catarina it's plants and flowers, in San Juan de Oriente it's clay vessels. Although Diriá and Diriomo are called "The Towns of Sorcery" because of the legends about ghosts and witches, their residents specialize in preparing homemade sweets.

LINKS
THAT SHINE

"HEALTH SCOUT NEWS "

Each weekday, award-winning reporters produce
up to 20 articles covering the latest health news. Health Scout's editors flag each article for its relevance to about 800 health topics,
from Alcohol to Zoloft.
www.HealthScoutNews.com


Fascinating Facts

MUSIC TO OUR FEARS
Music can excite or soothe us, but does it have the power to heal? A growing number of physicians and music therapists are using techniques to help their patients recover from illnesses of all kinds, and the current "sound healing" movement suggests that the traditional incantations and rituals of ancient cultures have value to our health today.
"Our ancestors intuitively embraced sound as the very essence of the life force and wove it into the fabric of their creation myths," writes Dr. Mitchell L. Gaynor, an oncologist at the Strange-Cornell Cancer Prevention Center, affiliated with New York Hospital, in his book, "Sounds of Healing." He believes that the therapeutic powers of sound, voice and music are wellsprings waiting to be tapped by modern medicine.
Although trained in conventional medical schools, Gaynor has been using chanting, music and even Tibetan quartz crystal bowls to treat his patients for more than 10 years, with remarkable results. "Whether we invoke OM or chant simple songs — of joy, anger or sadness — we celebrate the link forged through generations of humankind, a link that connects us to our earliest ancestors." The use of music and sound to heal probably goes back to the dawn of human history. One need only think of the biblical story of David playing his harp to lift King Saul's depression, or the ancient Greek followers of Pythagoras, who sang chants in unison as cures for mental and physical distress.

The modern idea of music as therapy in the United States, however, dates back only to World War I, when it became popular for musicians to travel to veterans' hospitals to play for the emotionally and physically wounded. Today it is used in many health care settings, such as heart care, surgery, post-anesthesia recovery, and neonatal intensive care units. Now a new generation of "sound healers" is reviving ancient practices like "toning" and sacred sounds of Sufi mystics and Pythagoreans by means of tuning forks.
Sounds can nurture wellness and peace, but also soothe grief and anxiety, says Gina Sala, a voice coach, teacher and co-director of the Sound Healers of Washington. The American Music Therapy Association reports reaching thousands of people in 25 locations with their New York City Music Therapy Relief Project — using everything from drum circles to song-writing workshops, giving voice to grief and anxiety.

~Francesca Lyman, MSNBCNews


Laughing It Off
HOMECOOKED HUMOR

Several years ago at a family dinner I noticed that my little 5-year old grandson was not eating the fried chicken I had prepared. His aunt noticed this too and asked him, why. He replied, "It has sticks in it!" We all laughed because it was obvious that he was accustomed to eating chicken nuggets. -Unknown

My second favorite household chore is ironing. My first being hitting my head on the top bunk bed until I faint. -Erma Bombeck

When my three-year-old son opened the birthday gift from his grandmother and found a water pistol. He squealed with delight and headed for the nearest sink. I was not so pleased. I turned to Mom and said, "I'm surprised at you. Don't you remember how we used to drive you crazy with water guns?" Mom smiled and then replied, "I remember." -Unknown

I think men who have a pierced ear are better prepared for marriage. They've experienced pain and bought jewelry. -Rita Rudner

I love kids letters about misinterpreting the Lord's Prayer. When my twin daughters were young, I taught them to say this prayer before going to bed. As I listened outside their door, I could hear them say, "Give us this steak and daily bread, and forgive us our mattresses." My husband and I always had a good laugh over this and the memory still remains in my heart.-Unknown


Raising teenagers is like nailing jello to a tree. -Unknown


People are always asking couples whose marriages have endured at least a quarter of a century for their secret for success. Actually, it is no secret at all. I am a forgiving woman. Long ago, I forgave my husband for not being Paul Newman. -Erma Bombeck

I bought my wife a new car. She called and said, "There's water in the carburetor." I said, "Where's the car?" She said, "In the lake." -Henny Youngman

One day my housework-challenged husband decided to wash his sweatshirt. Seconds after he stepped into the laundry room, he shouted to me, "What setting do I use on the washing machine?" "It depends," I replied. "What does it say on your shirt? He yelled back, "University of Texas." -Unknown

~TopGreetings.com





Untangling the Web

WHAT A SITE!

Online cookware superstore.
Shop... By Brand, By Material, By Shape.
Factory direct prices and discounted closeouts.
.www.PotsandPans.com




COMPUTER-EASE

Instead of plodding through text,
to locate information you need at a web site, just press Ctrl + F and type in the word or phrase that you need to locate. Press Enter to start the page search. This works in Explorer 6, Netscape 6 & 7, and Opera 6..

---

Look at THAT!
EUROPE ON ICE


Photo: Francois Lenoiri /REUTERS


A young visitor looks at a sculpture of ice representing a Celtic Cross at the World Ice Carving Championship 2003 near Genk in the eastern part of Belgium. About 12 sculptures around the theme "Europe in Ice" were exhibited this past December.
~REUTERS
Joyful Lifestyles: Weekly Insights
MORE ON THE KINDNESS CHALLENGE
My dear friend Marilyn Starnes in North Carolina recently returned from a second grief counseling mission to Nicaragua, where she established a widows' group in a village there last October. In turn, these widows are now reaching out to others who are hurting in neighboring areas. Marilyn is a person who has given "feet" to her dreams and she shares with us the following wise words by Ralph Marston.
"Spread Your Kindness"
"Live as though every positive thing you do will start a chain reaction, the culmination of which is so beneficial you cannot even imagine. Live as though even the smallest kindness, passed along from one person to another, can change the world for the better.
Live as though every good thing you do is multiplied many times over before surely and eventually returning to you. For that is indeed the way life can work.
You have a far greater influence than it may seem over people and events, even those far removed from you. Because the way you act toward others gets passed along in ever-increasing numbers.
Think about how you do it yourself. If someone has been kind and considerate to you, you're far more likely to act with kindness toward others, and many of them will do the same.
If in one hour you were to spread kindness to just three people, and each of them did the same, and the process continued to repeat itself, the results would be astounding. It would take less than 24 hours for that kindness to be spread to every person in the world.
Spread your kindness and consideration freely and respectfully to others. And the positive benefits will go farther than you can possibly imagine. ~ Ralph Marston
That pretty much sums up the opportunities which continually stand before us ...
now all we need to do is get our feet moving through the doors.
~ Chelle Thompson ~
CLICK BELOW TO SHARE THIS ISSUE
WITH YOUR FRIENDS & FAMILY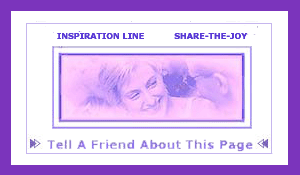 "The intent of Inspiration Line is to show What Is Possible … By choosing new perspectives,
we can change ourselves from the inside out and improve our relationships, our community and our planet."
Editor . Chelle Thompson ~~~ Associate Editor . Geri Merrill
........................................................
E-mail your motivational, informative or humorous stories for us to share:
Editor@InspirationLine.com

COPYRIGHT NOTICE: We make every attempt to credit articles to original authors
and websites, and do not intentionally infringe on anyone's copyrighted material.
........................................................
Copyright © 2003 Inspiration Line - All Rights Reserved