*Music may be turned ON/OFF under 'Today's Tune' on left ...




Connecting 50 U.S. States & 99 Countries Worldwide





"To desire and strive to be of some service to the world, to aim at doing something which shall really increase the happiness and welfare and virtue of humankind — this is a choice which is possible for all of us; and surely it is a good haven to sail for."

~ Henry Van Dyke, American Educator & Author (1852–1933)


November 24, 2003
TODAY'S TUNE
(On/Off)

"Thankful People"
(George J. Elvey, 1858)


---

IN THIS
WEEK'S ISSUE:

From the Inside Out...
When We Give Thanks

Yes You Can!...
Align with Feng Shui (2)

Far Horizons...
Classic Dubrovnik

Links That Shine...
Medical Abbreviations

Just for YOU ...
Discovery of the Week

Fascinating Facts...
Breast Cancer & Miso Soup


Laughing It Off...
I Don't Wanna!

Untangling the Web...
What a Site!
Computer Ease


Look at That!...
Poetry in Motion?

Joyful Lifestyles...
Un-Thanked People

From the Inside Out
WHEN WE
GIVE THANKS...

We always celebrated Dad's November birthday on Thanksgiving Day, even after he entered a nursing home.

As years went on, these events took on a double meaning for me —- a traditional birthday party for Dad, and a personal thanking for all he had been to me in my life.

When we knew that it might be his last birthday, the whole family decided to rearrange Thanksgiving plans and come together for a huge Grandpa Simon birthday celebration at the nursing home.

It was a crowded party with lots of noise and abundant food. Dad was having the time of his life. He was a marvelous storyteller, and here was the biggest captive audience he'd ever had. The party crackled around him.

During a quiet moment, I announced that it was now Dad's turn to listen to some stories for a change. I wanted everyone to tell Grandpa Simon what we loved about him.

The room became still, and even Dad was quiet as his family crowded around him, like subjects around the throne.

One after another, people told stories from their hearts, while Dad listened with wet, flashing blue eyes. People recalled all kinds of lost memories — stories about when they were little, stories about when Dad was young, stories that are shared family treasures.

Then someone told the story of Mother and the vase...

My mother was a short stocky woman, who always bent over the table to read the newspaper. Leaning her elbows on the table to support her chin, her body made a perfect right angle.

One night, Dad placed her precious gold-plated vase, a family heirloom, right on her fanny at her body's angle. She couldn't move, couldn't stop from laughing, and screamed for help through her tears, while the vase teetered precariously. We all rolled on the floor laughing until Dad finally rescued the vase.

The stories flowed. Each one seemed to trigger the memory of two more.

Even the littlest grandchildren couldn't wait to tell Dad why they loved him. For a man who had been kind to so many hundreds of people in his life, here was our chance to celebrate him.

A few months later, at Dad's memorial service, we more fully realized what we had given Dad that night. Those were the stories people normally tell at a funeral, after a loved one is no longer around to hear the words. They are told, then, full of tears, with the hope that the departed will somehow hear the outpouring of love.

But we had given those loving memories to Dad in life, told through laughter, accompanied by hugs and joy. He had them to hold and roll over in his mind during his last months and days.

Words do matter, and they are enough. We just need to say them, to speak them publicly to the ones we love, for everyone else to hear.

That's the way to give back love, and our chance to celebrate a person in life.



~ By Sidney B. Simon
"Chicken Soup for the Soul"


Reprinted from:
www.InspirationalStories.com

MAKE A DIFFERENCE EACH DAY... JUST CLICK HERE

AT NO COST TO YOU, SPONSORS CONTRIBUTE EVERY TIME YOU"CLICK"
WITH HUMANITARIAN ORGANIZATIONS FEATURED ON OUR WEBSITE
Yes You Can!
ALIGN WITH FENG SHUI (Part 2)

What creates results in Feng Shui is the positive management of "chi," the flow of energy in an environment. Here are the next four tools for putting chi to work for you in your life.

TOOL NUMBER TWO — Your Front Door:
Energy moves through your home or office through your front door. Think of your home, office, or garden as a body, with the door being the mouth. The chi energy is the food and air traveling into the body keeping it alive and vital. A mouth is essential for energy intake.

You can have immediate impact on the sense of positive energy in your life by concentrating on your front door. It can be the single greatest influence on the energy of your space. If you're working with space for your business, car, website, or garden, the entrance is treated the same as for a home.

TOOL NUMBER THREE — Blocks to Energy, Prosperity & Health:
The next greatest negative influence on the energy of your space can be clutter. If positive energy is flowing into your house, clutter will slow it down or absorb it. So after evaluating your house number and how to use it to create balance, and making any minor adjustments to the front door and entry to your home or office, walk around and look for clutter.

What's clutter? Clutter is an accumulation of STUFF. It represents stuck energy. It creates a restriction of flow. This daily visual affirmation of things undone or clustering can eventually manifest into depression, chaos, and exhaustion. It costs time and money because it drains you of your precious energies. The more things you have the more you are in service to it.

1. Physical Clutter - We live in a physical and energetic universe. If you want the laws of manifestation to work in your life it's good to make space in your life for goodness to come in. Literally see yourself removing physical clutter and picking the rocks from your stream of life "chi" as you clean a closet. Ask yourself, "Do I use, need, or love this?" If not, let it go to make room for new energy in your life.

2. Emotional Clutter - Clutter just isn't physical stuff, it's also mental clutter in our minds like to do lists and memories, regrets, and other negative emotions. Ask yourself, "Do I anger easily? Do I hold grudges? How long do I hang onto negative events in my day?" Identify when you are swept up in negative emotion and choose something different. Any negative emotion can jam up the flow of prosperity in your life.

3. Negative Beliefs About Your Self or the World - This is a huge one, and sometimes the hardest to identify. Not only is it a "block" but also it many times provides emotional protection and safety for you. It can be a double-edged sword indeed. Ask, "What do I believe to be true about my self that holds me back from where I want to be? What higher purpose is served for that belief?" Again, work with your coach to get to the bottom of the beliefs that limit you. Limited beliefs = limited success.

The golden rule of clutter is... if you don't use it, love it, or need it, get rid of it! Find useful ways to recycle those energies for positive results elsewhere. Donate clothes or sell them at a consignment shop, you can do the same with household items in good condition.


TOOL NUMBER FOUR — Mirrors:
Mirrors reflect energy-good or bad. If you put mirrors in your office, it doubles the work. Put mirrors where you want to energize the area, not magnify negative thoughts or work. If you enjoy working out —- running on a treadmill, pumping iron, dancing, or riding a stationary bike —- never ever do it in front of a mirror. Wall-to-wall mirrors may be common in virtually every gym and dance studio, but Canadian researchers have determined that looking at oneself in a mirror while exercising creates feelings of discouragement, reports Reuters. It can even make you feel more tired.

The study - Researchers at McMaster University in Hamilton, Ontario surveyed 58 women with an average age of 22 who typically exercised less than 15 minutes a week. Each took turns working out on stationary bicycles in front of a mirror and then with the mirror hidden by a curtain.

The results - No matter what the women thought of their bodies, when they worked out for 20 minutes in front of a mirror, they felt worse or at least no better and less at peace with themselves. When they exercised without seeing themselves in a mirror, they felt calmer, more positive, and more revitalized at the end of the session.

Why? "The mirrors make women more self-aware, they think of their shortcomings," lead study author Kathleen Martin Ginis told Reuters. "Things like: 'I look fat, I should be more active.' When women are more introspective, they might feel 'I'm not that great' unfortunately." While Ginis is not advocating that every gym rip out the mirrors, she does advise gyms to create a place without mirrors just for novices. "For beginner exercisers, mirrors can be daunting," she told Reuters. And to those who are considering starting an exercise program, Ginis advises choosing an exercise that can be done without a mirror, such as walking or hiking. The study findings were published in the journal Health Psychology.

TOOL NUMBER FIVE — Confusing or Choosing? Consider This!
A Feng Shui book or coach should provide adequate answers to the following questions — if not, you may want to consider other sources:

· What school of Feng Shui do they practice? With whom did they study? What is the teacher's background or philosophy?

· Is there scientific basis to aspects of the type of Feng Shui they practice or is it all mystery?

· What results does this type of Feng Shui bring to people? (Get real life examples. Don't accept that they cannot discuss client's personal life, they can tell you about clients without violating their privacy.)

· What code of ethics do they follow? What professional associations or certifications do they have?

· What training do they have in architecture, art, design, decorating, healing, gardening, eco-effectiveness, or environmental protection?

· We live in a multicultural society; practices from closed societies are rapidly losing relevance. Does this approach integrate cultural values from your background and from modern life? Is this approach respectful to differences in lifestyle, age, and ethnicity?

It is important that we update our homes in a conscious manner to reflect our newest selves and the newest vision we have for our lives. It is not important that we go out and spend a lot of money and stress ourselves out over making changes and learning new things we find confusing.

Feng Shui can be gentle and supportive of the results you seek to create in your life. If you encounter a book or guide on Feng Shui that makes you feel you have a huge to do list or complicated rules, that approach may not be for you. It certainly won't be commonsense would it?


~Feng Shui the Commonsense Way™
Five Tools to Turn Your Dreams into Reality by Dana Mayer ©2003
http://eCircleU.com - A Conversation Can Change Your Life



Far Horizons
CLASSIC DUBROVNIK



Croatia's Beautiful City of Dubrovnik

Medieval Dubrovnik, formerly the Republic of Ragusa, was one of several walled cities established in the 7th century to guard the coastal approaches. Its fortification was completed in the 13th century and has remained relatively unchanged. The city walls are in excellent condition and today prevent invasion by automobiles. Within the walls, the lovely sleek lines of Venetian-style buildings complement a wealth of ancient stone architecture. Nearby islands feature beautiful beaches as well as intriguing ancient ruins. The golden age of the Dubrovnik Republic was brought by seaborne trade in the 15th and 16th century. From the entrance to the Adriatic Sea, Dubrovnik is the first port protected by islands on the maritime route to the West. Though it has only recently re-emerged as an independent nation, Croatia is by no means a new country. There were settlements along the Dalmatian Coast before recorded time. When Slavic people migrated here in the 6th century, they converted to Catholicism and adopted the local Latin alphabet. The region eventually became part of the powerful Kingdom of Croatia.


VISIT OUR NEW
INTERNATIONAL
MESSAGE BOARD




We now have an Interactive
Message Board where you can exchange ideas
and get to know each other.


Bookmark the above link and visit us often!

(Note: It is not required to enter your
e-mail address anywhere in this forum.)

---




Click to Learn More about
ZIG ZIGLAR'S CD/Cassette Set...
"How to Stay Motivated"




---


LINKS THAT SHINE

"Medical Abbreviations Dictionary"

This site provides a dictionary of over 70,000 medical, pharmaceutical, biomedical & healthcare acronyms and abbreviations. Plus medical news and searches for the medical, pharmaceutical or healthcare professional. Updated daily. Searchable by abbreviation or by definition. Abides by the HON code of ethical principles for medical web sites.
www.Medilexicon.com


Just for YOU...
DISCOVERY OF THE WEEK
Fascinating Facts

BREAST CANCER & MISO SOUP
The risk of developing breast cancer was nearly halved among Japanese women who had miso soup at least three times a day compared with those who had one or less bowl of the traditional soya-based dish per day. A team of Japanese researchers concluded that "frequent miso soup and isoflavone consumption was associated with a reduced risk of breast cancer," in the study published in the US-based Journal of the National Cancer Institute. Miso is pureed steamed soybeans, mixed with salt and other fermenting agents.
The research team at Japan's National Cancer Center, tracked 21,852 Japanese women, aged 40 to 59 years old, across Japan over 10 years from 1990, and studied their consumption of soyabean products, such as miso soup and tofu. "Consumption of miso soup and isoflavones ... was inversely associated with the risk of breast cancer," said Seiichiro Yamamoto, leading author of the study. Laboratory studies have already shown that isoflavones, a group of compounds that the soyabean contains in abundance, inhibit breast cancer. Until now, however, various epidemiological studies had shown inconsistent associations between the breast cancer risk and consumption of soyabean and isoflavones.
Researchers also believe frequent miso soup consumption may reduce the risk of prostate cancer among men. But Yamamoto cautioned that miso is no miracle food, as it contains a lot of salt, which can cause stomach cancer and high blood pressure, among other diseases. He added, though, a balanced diet containing a lot of soyabeans "is healthy overall" and was believed to reduce the risk of developing cancer. "Very generally speaking there is a perception that the traditional Japanese diet is healthy. We will study what part of it had what kind of effect on people. Some were good, some were bad," Yamamoto said.

~Hiroshi Hiyama, AFP, Health at Discovery.com


Laughing It Off
I DON'T WANNA ...

I don't wanna do the dishes, I don't wanna do the wash...
I sprinkled clothes a week ago
And now my iron is lost!!

I don't wanna rattle pots, I don't wanna rattle pans...
I see the mail light flashin' and
I wanna chat with friends!!

The tables need some dustin' and the floor could sure be mopped,
But I know if I get started,
There'll be no place to stop.

The closets are so full, things are falling off the shelves...
I wish for cleaning fairies
And magic little elves.

They could sprinkle fairy dust and twitch their little nose...
The windows would be sparkling,
I would have no dirty clothes

Oh, I know that I'm just dreamin', my head is in the sky...
I must cook that meat that's greying
And bake that apple pie.

The Hubby needs a bath, Doggy needs attention...
Oh... the other way around,
I mean, my brain is in suspension.

I am runnin' round in circles, I am gettin' nothin' done...
I keep thinking of my web—
I am missing all the fun!

Well, I know I'm not addicted, though I hear that all the time,
But I guess this stuff can wait on me
'CAUSE TODAY I'LL BE ONLINE!

~from: Sunysmile Graphic from www.klip7.cl





Untangling the Web

WHAT A SITE!


How to Carve a Turkey ...
Martha's instructions and pictures of the process.
Turkey Carving 101

Ingredient Substitutions...
Food professionals give helpful ingredient substitutions, favorite Internet links and other
food substitution resources they find useful.
Univ. of Nebraska Food Reflections


COMPUTER-EASE

Scrolling up ...
To scroll toward the beginning of a document in large increments, simply press PAGE UP.

---

Look at THAT!
POETRY IN MOTION?



Photo: Allen Fredrickson /REUTERS

Encompassing verse from over 500 years, a collection of poetry, entitled "Doggerel: Poems about Dogs", celebrates the bark of dogs and the wag of their tails. Other titles like "Most Loyal and Noble Companion", "Puppy Love", "Have Leash Will Walk", and "The Thrill of the Hunt" are categories for poems by, among others, Lord Byron, W.H. Auden, Dylan Thomas and William Wordsworth. Verse celebrating the virtue of particular breeds are found in Paul Muldoon's "Beagles" and James Merrill's "My Father's Irish Setters." ~Yahoo Oddly Enough

Joyful Lifestyles: Weekly Insights
UN-THANKED PEOPLE
Once again our dear friend Steve Goodier at www.LifeSupportSystem.com writes a thought-provoking piece about the importance of the simple "Thank You". The following reading is found in Steve's popular book ONE MINUTE CAN CHANGE A LIFE —- Sixty-second Readings of Hope and Encouragement. You can order it now with FREE shipping and FREE gift-wrapping by clicking on the above title.
"When William Stidger taught at Boston University, he once reflected upon the great number of un-thanked people in his life. Those who had helped nurture him, inspire him or who cared enough about him to leave a lasting impression. One was a schoolteacher he'd not heard of in many years. But he remembered that she had gone out of her way to put a love of verse in him, and Will had loved poetry all his life. He wrote a letter of thanks to her. The reply he received, written in the feeble scrawl of the aged, began, "My dear Willie." He was delighted. Now over 50, bald and a professor, he didn't think there was a person left in the world who would call him "Willie." Here is that letter:
"My dear Willie, I cannot tell you how much your note meant to me. I am in my eighties, living alone in a small room, cooking my own meals, lonely and, like the last leaf of autumn, lingering behind. You will be interested to know that I taught school for 50 years and yours is the first note of appreciation I ever received. It came on a blue-cold morning and it cheered me as nothing has in many years.'
"Not prone to cry easily, Will wept over that note. She was one of the great UN-thanked people from Will's past. You know them. We all do. The teacher who made a difference. That coach we'll never forget. The music instructor or Sunday school worker who helped us to believe in our­selves. That scout leader who cared.
"We all remember people who shaped our lives in various ways. People whose influence changed us. Will Stidger found a way to show his appreciation —- he wrote them letters. Who are some of the UN-thanked people from your past? It may not be too late to say, ' Thanks'." (By Steve Goodier)
~ Chelle Thompson ~
CLICK BELOW TO SHARE THIS ISSUE
WITH YOUR FRIENDS & FAMILY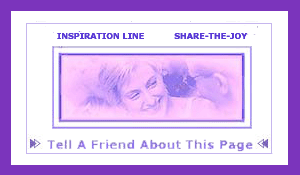 WWW.INSPIRATIONLINE.COM


"The intent of Inspiration Line is to show What Is Possible … By choosing new perspectives,
we can change ourselves from the inside out and improve our relationships, our community and our planet."
Editor . Chelle Thompson ~~~ Associate Editor . Geri Merrill

........................................................
E-mail your motivational, informative or humorous stories for us to share:
Click Here to Submit Articles, Contact Us or UNSUBSCRIBE


COPYRIGHT NOTICE: All articles and images shown are believed to be public domain and, therefore, reprintable material.
We make every attempt to credit original authors and websites, and do not intentionally infringe on anyone's copyright.
........................................................

FOR YOUR PROTECTION: All transmissions are virus-free.
Copyright © 2003 Inspiration Line - All Rights Reserved