FOR YOUR INFORMATION
Music may be turned ON/OFF under 'Today's Tune' on left.
Many subscribers enjoy printing out Inspiration Line to read offline at their leisure.



Connecting 50 U.S. States & 110 Countries Worldwide






"If you believe you can, you probably can.
If you believe you won't, you most assuredly won't.
Belief is the ignition switch that gets you off the launching pad."

~ Denis Waitley, Motivational Speaker and Author

December 29, 2003
TODAY'S TUNE
(On/Off)

"When You Wish
Upon a Star"


---

IN THIS
WEEK'S ISSUE:


From the Inside Out...
Mentor Orphans


Yes You Can!...
Rev Up Naturally
for 2004


Far Horizons...
Glasgow Hogmanay


Links That Shine...
The Hunger Site


Just for YOU ...
Discovery of the Week



Laughing It Off...
Doggy Resolutions


Untangling the Web...
What a Site!
&
Computer Ease



Look at That!...
A Fresh Start

Fascinating Facts...
The Most Ancient Holiday


Joyful Lifestyles...
Don't Look Back

---

BE the World
You Want to See!

When we have enough clarity to turn "Life's Lemons" into sweet lemonade, we realize what
a gift those lemons were!

~ Chelle ~


From the Inside Out
MENTOR ORPHANS


It was the year 1950 and I was leaving ... leaving the only home I ever knew (that's me in the photo). This meant I was special — I was wanted! It was a miracle. I had spent the first 4 years of my life in an orphanage in Germany at the end of W.W.II. It was a horrendous place. A place of poverty, loveless caretakers, and hunger. I would often look out the window wondering what the world was like beyond the gates. And now, through the intervention of a gentleman from South America, who had heard about the German orphans, I would finally be able to go beyond just looking — to being loved.

Originally, I was to have been adopted by a Venezuelan family, but that didn't work out. Eventually, I was adopted by an American family that lived in Caracas, Venezuela. Boy, did they have their work cut out! It's funny when I think about what a mess I must have been. I could neither speak nor understand their language, I didn't know how to eat properly, and I had developed some awful habits. With patience and a good deal of hard work, my life became somewhat normal. Although I had persistent fears that I would be sent back to THAT PLACE if I wasn't "good."

In 1954, tragedy struck my new family when Bob Russell, my adopted father and "Knight in Shining Armor," died of a heart attack. My world became unglued! Although on the outside I seemed quite normal, on the inside, I became insecure about my surroundings. In the blink of an eye, my new family environment changed and I became fearful again that I wouldn't "belong." This emotional yo-yoing affected me for years.

Most orphans experience two common emotional "hang ups," if you will. One is the need to belong and the other is the longing to identify with their biological parent(s). It is a natural phenomenon.

Psychologically it was important for me to realize that I my life could no longer be driven by the "victim" role. It was my responsibility to change the way I viewed myself. How could I help other orphans deal with their emotions, if I had not dealt with my own? As Ralph Waldo Emerson says "no one can sincerely try to help another without helping himself." I made the necessary changes and with that arose a new mission in my life ... to help other orphans by seeking ways to inspire.

Statistically, the number of orphans throughout the world is increasing, not decreasing. Yes, there are a lot of wonderful organizations that are trying to make sure these orphans are fed, given shelter and some education, but what about their emotional needs? So many orphans are sent off into the world as soon as they reach an age that is "appropriate" in their particular culture to fend for themselves. What about the emotional turmoil they feel? The inner rejection?

On the flip side of this, there are orphans who have gone beyond their emotional outlook and have been successful with their lives. But many, many are still struggling because they did not have a mentor and because there are few published orphan stories that inspire. Now is the time for orphans who have become successful in life, to tell their stories. These stories will inspire other orphans to believe in themselves, to reach for the stars, to remove the long-felt stigma and put joy back into their lives.

The orphans of today are our future. Some have become writers, politicians, spiritual leaders, homemakers, musicians, tradesmen, reporters, speakers and social workers. Some have not reached their potential as an adult because they are left emotionally handicapped. A new year is around the corner ... money and food are simply not enough to gently calm the inner pain that an orphan feels. Let it be the job of each and every Mentor Orphan to tell their story, thus inspiring other orphans.

I am grateful for the gentleman who took me out of the orphanage in Germany and gave me a new opportunity for living. Had that not happened, my life would most certainly have been a life of despair and hopelessness. I know that. Through my life's lessons, it is my passion and through my story, that I inspire other orphans.

~ Karin Peterson-Sitrin
Founder, The Orphan Connection

www.OrphanConnect.com is a web site that honors
orphans who are making a difference by briefly telling their story.
Each story creates a Mentor Orphan and these stories are read all over the world.
Click the link above to visit this site and, if possible, help us to find more stories
about successful orphans, in every walk of life, who can inspire and give hope.

Yes You Can!
REV UP NATURALLY FOR 2004

It's 3 PM. Your mind is wandering and your productivity has come to a grinding halt. If you're like most people, that means it's time to reach for a cup of coffee or a candy bar to give you some extra oomph before quitting time. But quick-fix solutions like caffeine and sugar ultimately deplete your energy rather than enhance it. Try a healthy pick-me-up instead:

Bananas and Watermelon: These fruit faves rev up energy as fast as sugary sweets do. In fact, ripe bananas rate almost as high as table sugar on the energy-upping index. But unlike sugar, fresh fruit gives a stamina boost plus the nutritional bonus of fiber, vitamins and minerals. Bonus — there's no food quite as portable as a banana. And watermelon can be cut into chunks and stashed in a plastic container. (Dates, mangos, papaya and pineapple also rank high on the energy-revving scale.)

Carrots and Potatoes: Mashed and baked potatoes are on a par with pure honey when it comes to how quickly they're digested and absorbed into your bloodstream. But unlike junk food, these good-for-you eats supply a host of important nutrients along with that energy blast. Bonus — keep a bag of baby carrots in your desk drawer, and you'll be less likely to make an afternoon trip to the candy machine.

Cornflakes and Shredded Wheat: Wholesome cereals such as muesli, corn flakes, instant oatmeal, puffed rice and shredded wheat top the list of breakfast foods that provide quick energy. These morning eats tend to be digested slowly, which means that blood-sugar levels stay stable, and adding skim milk and fruit to the mix helps produce a slow but steady release of glucose into the blood stream to fuel your muscles and brain.

Water: If you're not drinking at least 8 cups of water a day, especially in warm weather, you're setting yourself up for dehydration and lagging energy. Don't wait until you feel parched to fill your glass: At that point your body is already suffering. Make a habit of setting a full glass of water on your desk all day long.

~Susan McQuillan, R.D., Lifetime.com

---


Click to Learn More about
RICHARD CARLSON'S CDs/Cassettes...
"Creating Miracles
Every Day"

---


Please don't depend on "someone else" to support Inspiration Line ...
YOUR
Donation Makes a Difference
Click Here to


Far Horizons
GLASGOW HOGMANAY

Hogmanay is the Scottish New Year, celebrated
on December 31st. Its roots reach back to the pagan practice of sun and fire worship in mid-winter. In more remote parts of Scotland, customary first footing and Scottish dances, or "ceilidhs" (pronounced "kayli"), take place. For centuries, torch light processions, fireball swinging and lighting of New Year fires have played an important part in the Hogmanay celebrations. The flame and fire symbolize many things—bringing of the light of knowledge from one year to the next, lighting the way into the next uncharted century, putting behind the darkness of the past, but carrying forward its sacred flame of hope and enlightenment.


"The Hunger Site"

Let's start out the New Year in a VERY positive way with the eradication of world hunger. Sponsors purchase tiles on the Thank You page for a certain amount of time. The Hunger Site then tabulates the number of people who click during that time frame and bill the sponsor accordingly. Funds go to aid hungry people in over 74 countries including Africa, Asia, Eastern Europe, the Middle East, Latin America and North America. (We feature this site on our Links Page, referenced below.)
www.TheHungerSite.com
Just for YOU ...
DISCOVERY OF THE WEEK


ANITA'S ANIMAL SHELTER
Anita Strehlow (age 63) has used all of her savings to help support her shelter in Lake Chapala, Mexico. She spends from 12-14 hours a day working with the animals. In the last 5 years she has never had a day off, nor even a vacation. This shelter needs help, as it tries to
care for approximately 60 dogs and 100 cats. Read the uplifting story of this amazing woman and...
Click Here to Help Save Animals in Mexico at www.AnitasAnimals.com

Laughing It Off
DOGGY RESOLUTIONS

1. I MUST no longer be beholden to the sound of the can opener or the refrigerator door.

2. Stop being fooled by barking dogs and ringing doorbells on the television and radio.

3. Grow opposable thumb; break into pantry; decide for MYSELF how much food is TOO much.

4. Jan. 1: Defeat the sock! Must defeat the sock! ....Jan. 2 - Dec. 31: Re-live victory over sock.

5. Wait until that pile of clothes that just came out of the dryer cools down before lying on it.

6. Re-smear nose prints on car and house windows immediately after they have been cleaned off.

7. Don't suddenly stand straight up when lying under the coffee table.

8. Always drink from the bathroom bowl and use water dish only for a splashing pool.

9. Whether indoors or outside, always head for the living room to look for a fresh section of carpet when about to throw up.

10. Always be the first one out of the car window to grab the bag of burgers from the McDonald's lady.

11. Quickly determine which guest is afraid of dogs and charge across the room, barking loudly and leap playfully onto this person.

12. Never resist the urge to roll in stinky stuff right after a bath.

13. I will absolutely NOT chase that stupid stick unless I see it LEAVE HIS HAND.

14. I must try to understand that the cat is from Venus and I am from Mars.

15. And NEXT Christmas: I must mind my tail when I'm near the tree; I must not rip open packages under the tree, even ones that smell interesting or that have my name on them; don't drink water from the container that holds the tree; and, for goodness sake, don't chew on the cord that runs from the hole in the wall to the tree.



~FunOne.com


Untangling the Web


WHAT A SITE!


Packages didn't arrive?
Parcel tracking IDs can be entered into Google's search box for quick access to information about them. For example, typing "fedex" followed by a space and a FedEx tracking number ("fedex 999999999999") will return the latest
information on your package. For UPS enter "1Z9999W999999999" at Google.
www.Google.com
(Contributed by Jane at The Cat's Meow )



COMPUTER-EASE

Shortcuts...
Refresh current page Ctrl + R or F5
Save current page Alt + F then A
Print current page Ctrl + P.

---

Look at THAT!
A FRESH START


"Kadomatsu"

In Japan, the years are traditionally...
seen as separate from each other, so the new year is viewed as a fresh start. This means that in December all duties should be completed and "bonenkai parties" (year forgetting parties) are held in order to forget the worries and troubles of the old year. House entrances and cars are decorated with special decorations called "kadomatsu" and "matsukasari" that are made of pine, bamboo and plum trees. The January 1-3 New Year celebration ("Shogatsu") represents the whole upcoming year and should, therefore, be full of joy and free of stress and anger. A well-known Japanese proverbs says: "New Year's is the key to unlock the year." ~Japan-Guide.com
Fascinating Facts
THE MOST ANCIENT HOLIDAY


Joyful Lifestyles: Weekly Insights
DON'T LOOK BACK
When Mary Engelbreit was young, people told her that being an artist was not a realistic way to make a living, but Mary was never one to be easily discouraged.
"I believed in myself," she says, "and now I'm living my dream." In true storybook fashion, Mary's road to becoming a professional illustrator was full of unexpected twists and turns, however, she knew that she did her best work when it was coming from her own head. What she truly wanted was to be a children's book illustrator. Today, Mary Engelbreit Studios, The Mary Engelbreit Store and Mary Engelbreit's HOME COMPANION magazine are headquartered in Mary's hometown, St. Louis, Missouri. Thousands of retailers nationally and internationally sell Mary Engelbreit products, spreading what the Wall Street Journal coined a "vast empire of cuteness" with total retail sales soaring above $100 million annually. Following is one of my favorite poems to begin the New Year from Mary's delightful little book "DON'T LOOK BACK" :


Don't Look Back —You're Not Going That Way
As you travel through life there are always those times when decisions just have to be made,
When the choices are hard, and solutions seem scarce, and the rain seems to soak your parade.
There are some situations where all you can do is simply let go and move on,
Gather your courage and choose a direction that carries you toward a new dawn.
So pack up your troubles and take a step forward — the process of change can be tough,
But think about all the excitement ahead if YOU can be stalwart enough!
There might be adventures you never imagined just waiting around the next bend,
And wishes and dreams just about to come true in ways you can't yet comprehend!
Perhaps you'll find friendships that spring from new things as you challenge your status quo,
And learn there are so many options in life, and so many ways you can grow!
Perhaps you'll go places you never expected and see things that you've never seen,
Or travel to fabulous, faraway worlds and wonderful spots in between!
Perhaps you'll find warmth and affection and caring and somebody special who's there
To help you stay centered and listen with interest to stories and feelings you share.
Perhaps you'll find comfort in knowing your friends are supportive of all that you do,
And believe that whatever decisions you make, they'll be the right choices for you.
So keep putting one foot in front of the other, and taking your life day by day ...
There's a brighter tomorrow that's just down the road —
Don't look back! You're not going that way!
May Your Year Be Filled with Timeless Joy & Blessings Unlimited!!!

~ Chelle Thompson, Editor ~
CLICK BELOW TO SHARE THIS ISSUE
WITH YOUR FRIENDS & FAMILY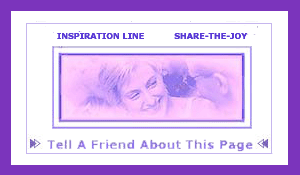 WWW.INSPIRATIONLINE.COM


"The intent of Inspiration Line is to show What Is Possible . By choosing new perspectives,
we can change ourselves from the inside out and improve our relationships, our community and our planet."
Editor . Chelle Thompson ~~~ Associate Editor . Geri Merrill
........................................................
Click Here to UNSUBSCRIBE ~ Editor@InspirationLine.com


COPYRIGHT NOTICE: All articles and images shown are believed to be public domain and, therefore, re-printable material.
We make every attempt to credit original authors and websites, and do not intentionally infringe on anyone's copyright.
Where a source is available, it has been stated. If you believe a mistake has been made or know the source of
an unattributed article or image, please write to: Editor@InspirationLine.com and a correction will be made.
........................................................

FOR YOUR PROTECTION: All transmissions are virus-free.
Copyright © 2003 Inspiration Line - All Rights Reserved