SPECIAL NOTE: Music may be turned ON/OFF under 'Today's Tune' on left ...



Connecting 64 Countries around the Globe




"Animals are not brethren, they are not underlings;
They are other nations, caught with
ourselves in the net of life and time."

~Henry Beston, American Author, also known as
"The Vagabond of the Dunes" (1888-1968 )


June 2, 2003

TODAY'S TUNE
(On/Off)

"My Best Friend"


---

IN THIS
WEEK'S ISSUE:


From the Inside Out...
The Remarkable
"Franklin"

Yes You Can!...
Win the Weed War (1)

Far Horizons...
Cave Castles

Links That Shine...
Science for Seniors

Fascinating Facts...
More than a Quick Fix


Laughing It Off...
No-Snooze Anagrams


Untangling the Web...
What a Site!
Computer Ease


Look at That!...
Tiny Seahorse

Joyful Lifestyles...
Dismantling Our Walls (1)

From the Inside Out
THE REMARKABLE "FRANKLIN"

Found lying on the side of the road in the snow, it was amazing that this little dog was alive. The car that hit him apparently did not care enough to stop and take care of him.

However, when a college student saw him, she picked him up and called Because You Care, Inc. (BYC), the local animal rescue organization that I volunteer for. When I received the call, the description I got of the Beagle's injuries convinced me that he needed to be euthanized.

Sadly, I agreed to authorize payment of the vet bill and sent the woman and the dog to a local veterinarian. Less than an hour later, I received a call from the vet telling me that both of the Beagle's back legs were broken, as well as his pelvis. What hope would there be for a dog with injuries like that?

But the vet surprised me by telling me that he would like to get X-rays to see if the breaks could be fixed. I agreed to the X-rays and got a call later telling me that the vet was certain he could fix this dog. The catch -- it would cost over $1000. How could our small nonprofit organization spare that much of our hard-earned donations on one animal?

I turned that question over to the other BYC members. The overwhelming response: How can you place a price on a life? Nearly everyone I spoke to agreed that as long as this dog could have a good quality of life after rehabilitation, his life should be spared.

The vet called me immediately after surgery to tell me how well the Beagle, now dubbed Franklin, had fared. The following day, Franklin was sitting up -- something he had not been able to do before surgery. He was ready to go to his foster home to begin recuperation. Judy, one of our volunteers, had agreed to foster him during this critical care stage since she has experience in this area.

We were optimistic that Franklin would be able to stand on his own one month after the surgery and that he would be walking and starting to run another month later. Now it was time to pay for the surgery. We decided to take it to the community.

The story was aired on several local newscasts and articles were written in two local newspapers. Soon, nearly everybody knew the story of this remarkable little Beagle and his strong will to live.

Not knowing what kind of response we would get, we were amazed when the donations started rolling in. Our little nonprofit group created the Franklin Fund and the community was generous. We were soon able to pay the $1400 vet bill with money left over! (The fund will remain in place for future badly injured animals, and we now know that we won't have to face the difficult decision of euthanizing an animal because of lack of funds.) Interestingly, some local middle school students heard about Franklin's story and decided to donate their lunch money for a day, saying, "We can live without lunch for one day but Franklin cannot live without surgery."

Franklin is doing just fine. In fact, he has a whole website with his pictures and story. You are welcomed to check it out at: www.BecauseYouCare.org






~Kris Steiner, Because You Care, Inc.
~ Reprinted from Petwarmers.com




MAKE A DIFFERENCE EACH DAY... JUST CLICK HERE



AT NO COST TO YOU, SPONSORS CONTRIBUTE EVERY TIME YOU "CLICK"
WITH FIVE HUMANITARIAN ORGANIZATIONS FEATURED ON OUR WEBSITE
Yes You Can!
WIN THE WEED WAR (Part 1)


All gardeners know what it's like to have their yards invaded by unwelcome plants. Although there's no easy way to banish weeds, there are a few techniques you can use to reclaim your turf — at the least, you can limit hostile takeovers.

1. Be a mulching maniac. Mulch acts as a suffocating blanket by preventing light from reaching weed seeds. At the same time, it holds moisture for your plants and provides nutrients for your soil as it decomposes. Apply coarse mulch, such as bark or wood chips, directly onto soil. Leaves, grass clippings, or straw work better as a weed deterrent with a separating layer of newspaper, cardboard, or fabric between them and the soil.

2. Water those weeds. Pulling weeds is easier and more efficient when the soil is moist. You are more likely to get the whole root system, and your yanking won't disturb surrounding plants as much either. No rain? Turn on the sprinkler or even water individual weeds, leave for a few hours, then get your hands dirty. (Just ignore the strange looks from your neighbors as you water your weeds.)

3. Cut weeds down in their prime. Weeds love open soil. But if you till or cultivate, then wait to plant, you can outmaneuver the weeds. Till the ground at least twice before you plant. Your first digging will bring dormant weed seeds to the surface where they can germinate. Watch and wait for a few weeks until they begin to grow. Then slice up the weeds again with a tiller or a hoe, only don't dig as deep. Now it should be safe to put precious plants into the soil.

4. Pass the salt. Try sweeping rock salt into crevices between paths. Although more harsh, borax also works well. Be sure to wear rubber gloves with the latter material. You might need to apply a few doses, but be aware of any surrounding plants because both products kill the good plants along with the bad.

5. Lay down the law. Try using landscape fabric as a weed controller. Landscape fabric is usually made of a non-woven, porous polypropylene fabric, which enables air, water, and nutrients to reach the soil but keeps weed seeds in a dark, cool environment where they can't germinate. You lay down the fabric, cut a hole where your plants are positioned or will be planted, then cover the fabric with a 2- to 4-inch layer of mulch or gravel. However, landscape fabric doesn't work well on steep slopes or windy sites, where the mulch often slides off or is blown away, exposing the fabric. Never use plastic, as it prevents moisture and air from reaching your plants' roots.

6. Boil them alive. If you have pesky weeds in a spot with no nearby grass or valuable plants, boil water and pour it over the unsuspecting weeds. To control the stream of boiling water and to save surrounding plants and your toes from a scalding, use a teakettle.

7. To compost or not to compost. After you've labored to rid your garden of weeds, be careful that you don't throw weeds onto the compost heap where they can drop seed and infect your entire yard. When you pull or till young weeds, leave them where you chop them and let the sun dry them out, then use them as mulch. Throw mature weeds on a hot compost pile where they should cook at 200 degrees or higher for several weeks to ensure the seeds are killed.

~Better Homes & Gardens
House & Home MSN.com

Far Horizons
CAVE CASTLES

Predjama Castle in Slovenia stands inside an overhanging rock wall and there are still remains of the older Erasmus Castle in the natural cave. At first the castle was owned by the Patriarchs of Aquiliea and later Erasmus of Predjama. Archaeological excavations in Erasmus Castle and the old stables have demonstrated the presence of man from the Eneolithic to the Early Middle Ages. Below the castle is the entrance to what used to be the stables, which are now open to the public.

---

LINKS
THAT SHINE

"Science for Seniors"

Science for Seniors delivers the benefit of
discovery to seniors and their supporters with medical
research, health news and science.
www.ScienceForSeniors.org



Fascinating Facts

MORE THAN A QUICK FIX
In its December 2001 issue, Worth magazine selected Heifer International as one of the top 100 Best Charities in the United States. According to Worth, Heifer is "especially innovative" and one of the best relief and development charities that " ... work effectively with other groups on the scene, sharing information and resources. They focus tightly on their missions and don't venture into areas in which they lack expertise. And they involve local leaders in program design and implementation, which helps ensure lasting results after they move on."
In the 1930s, a civil war raged in Spain. Dan West, a Midwestern farmer, ladled out cups of milk to hungry children on both sides of the conflict. It struck him that what these families needed was "not a cup, but a cow." He asked his friends back home to donate heifers, a young cow that has not borne a calf, so hungry families could feed themselves. In return, they could help another family become self-reliant by passing on to them one of their gift animal's female calves. The idea of giving families a source of food rather than short-term relief caught on and has continued for more than 50 years.

According to Worth, "... while many Americans enjoy relative luxuries, vast numbers of people around the world live lives that are too short and afflicted with poverty, disease, civil strife, and open warfare. Relief and development charities all provide desperately needed assistance overseas. Surveys have shown that Americans are under the impression that as much as 20 percent of the federal budget goes to foreign aid. In truth, the figure is less than 1 percent."
Heifer has helped 4 million families in 115 countries move toward self-sufficiency by giving them one of 25 types of breeding livestock (cows, goats, geese, chickens, etc.) for plowing power or for food and income (from milk or eggs). Families spend a year in training and agree to pass on the first female animal offspring and their own know-how to other needy families. Heifer animals offer hungry families around the world a way to feed themselves and become self-reliant. Children receive nutritious milk or eggs; families earn income for school, health care and better housing; communities go beyond meeting immediate needs to fulfilling dreams. Farmers learn sustainable, environmentally sound agricultural techniques.
~ Visit Heifer.org


~Contributed by Rosa of Homestead, Florida


When did the traditions of bridesmaids,
best man and wedding cake begin?

Click for Answer


Laughing It Off
NO-SNOOZE ANAGRAMS

Snooze Alarms --- rearrange the letters
--- Alas! No More Z's

Dormitory --- rearrange the letters
--- Dirty Room

The Morse Code -- rearrange the letters
--- Here Come Dots

Slot Machines --- rearrange the letters
--- Cash Lost In 'Em

Animosity --- rearrange the letters
--- Is No Amity

"That's one small step for a man, one
giant leap for mankind." Neil Armstrong
--- rearrange the letters ---
"A thin man ran; makes a large stride,
left planet, pins flag on moon! On to Mars!"

A Decimal Point --- rearrange the letters
--- I'm a Dot in Place

Eleven Plus Two --- rearrange the letters
--- Twelve plus one

The Public Art Galleries --- rearrange the letters
--- Large Picture Halls, I Bet

Alec Guinness --- rearrange the letters
--- Genuine Class

And the grand finale (this one is incredible):

To be or not to be: that is the question,
whether its nobler in the mind to suffer the
slings and arrows of outrageous fortune.
--- rearrange the letters ---
In one of the Bard's best-thought-of tragedies,
our insistent hero, Hamlet, queries on two
fronts about how life turns rotten.

~Send4Fun.com





Untangling the Web

WHAT A SITE!

Locate shelters and rescue groups...
caring for adoptable pets at Petfinder.com. Browse their petcare resource library. Post classified ads for lost or found pets, pets wanted, and pets needing homes. Sign up to be a volunteer to help your local shelter or rescue group.
www.PetFinder.org




COMPUTER-EASE

10 Search Engines to Explore the Invisible Web...
The Invisible Web refers to the part of the WWW that's not indexed by the search engines. Most of us think that that search powerhouses like Google and Bing see everything. Unfortunately, they can't because they are just web spiders who index pages by following one hyperlink after the other. Let's get to know a few resources which will be our deep diving vessel for the Invisible Web. Some of these are invisible web search engines with specifically indexed information:
www.makeuseof.com/tag/10-search-engines-explore-deep-invisible-web/



---

Look at THAT!
TINY SEAHORSE


Photo: McGill University


Pygmy seahorse is smaller than a fingernail,
and lives in coral in the tropical waters of the western Pacific. The orange marine animals had been seen before, but scientists thought they were looking at the offspring of a larger type of seahorse. The new species is a master of camouflage and that may have protected it from the over-exploitation threatening other types of seahorses. However, it still faces many potential threats — including underwater tourism.
Joyful Lifestyles: Weekly Insights
DISMANTLING OUR WALLS (Part 1)
It's important in developing a joyful lifestyle that we shift out of irrational beliefs like "If this happens, then I'll be happy" or "Someday my prince will come, then I'll be happy" ... and replace them with "I CHOOSE to make HAPPINESS my priority. This is the situation; how can I perceive it so I am happy?"
We all know the lyric line, "Ships are safe within the harbor, but is that what ships are for?" Well, it's time to embark on an Adventure of Self-Discovery or an Experiment in Perceptual Alternatives. Most people's perception of difficult situations softens over time anyway; so we're just choosing to shorten that time span by learning a new approach to these situations.
Barbara DeAngelis, Ph.D. has found that what we need to do is dismantle our self-restrictive walls and patterns from childhood. Each time we were hurt or disappointed as a child, we put up an emotional wall as protection. That emotional wall traps the original energy of the pain, anger or sadness inside us and keeps our love from getting out and other people's love from getting in.
When old feelings behind those walls suddenly express themselves and cause us to overreact, we experience emotional flashbacks. These flashbacks can influence us to form personal meanings that may be DISTORTIONS of what actually exists.
SELF-DISCOVERY:
Pick up a pen with the hand you don't normally use (this bypasses brain pathways to access the unconscious mind). Close your eyes and imagine you're 6 or 7 years old writing about how it felt to live in your house and what you wish would change and what you want to say. Now, ask your child what it feels and needs. Open your eyes and allow the feelings that come up to flow onto the paper. Rewrite it with your usual writing hand so it will be legible later. (Continued next week.)

~ Chelle Thompson ~
CLICK BELOW TO SHARE THIS ISSUE
WITH YOUR FRIENDS & FAMILY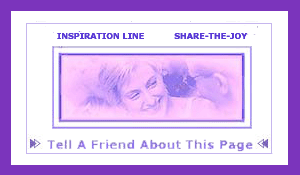 WWW.INSPIRATIONLINE.COM


"The intent of Inspiration Line is to show What Is Possible … By choosing new perspectives,
we can change ourselves from the inside out and improve our relationships, our community and our planet."
Editor . Chelle Thompson ~~~ Associate Editor . Geri Merrill

........................................................
E-mail your motivational, informative or humorous stories for us to share:
Click Here to Submit Articles, Contact Us or Unsubscribe


COPYRIGHT NOTICE: All articles and images shown are believed to be public domain and, therefore, reprintable material.
We make every attempt to credit original authors and websites, and do not intentionally infringe on anyone's copyright.
........................................................

FOR YOUR PROTECTION: All transmissions are virus-free.
Copyright © 2003 Inspiration Line - All Rights Reserved