NOTE: Music may be turned ON/OFF under 'Today's Tune' on left ...



Connecting 67 Countries around the Globe





"The greatest danger for most of us is not
that our aim is too high and we miss it,
but that it is too low and we reach it."

~Michelangelo, Italian Painter, Sculptor,
Architect and Poet (1475-1564)


June 30, 2003

TODAY'S TUNE
(On/Off)

"More than a Miracle"


---

IN THIS
WEEK'S ISSUE:


From the Inside Out...
The Miracle You Are

Yes You Can!...
Save Pets from
Fireworks

Far Horizons...
Penguin Parade

Links That Shine...
Anita's Animal Shelter

Fascinating Facts...
Suppress Appetite
Naturally


Laughing It Off...
Random Thoughts


Untangling the Web...
What a Site!
Computer Ease


Look at That!...
Muskie Mouth

Joyful Lifestyles...
Reinventing Ourselves

From the Inside Out
THE MIRACLE YOU ARE ...

Thoughts are powerful and create our day to day reality. With the pressures of modern life, it is easy to get into a negative way of thinking from the moment we wake up. However, we can change our thoughts and become stronger in our mind and the world around us.

We all have an internalized parent and child within us, if we listen to our inner conversations enough, we will discern gradually one voice is a parent, with all its mood swings, the other voice is our inner child with all its mood swings. Now if your outer parents were negative to your child, you in turn may do the same to your inner child as you grow in age. We can be 50 years old and yet feel emotionally about 8 years old and respond in that manner, especially when our needs for being loved and nurtured are not being met.

Often memories from an unloved childhood will resurface when we enter a serious relationship and more so when we become a real parent. If it is true that our self-image is created by the way adults treated us in our early years, our children can then trigger our own childhood memories, often with a negative consequence. The screams of a baby can panic a young mother into complete confusion; the cry of her own inner baby or child is screaming back. If we learned that nobody was there for us emotionally when we were young, it is extremely hard for us to be there for our own children, as a positive encouraging and motivating parent.

Unmet social and creative needs in our life can generate such an emotional void to produce an adult child that is unable to communicate fun, love and energy due to a childhood of being overly criticized.

For many adults who have an inner child that continually criticizes itself, it is like feeling a foreign being inside of you which nobody understands — including you, the lost lonely child that nobody loved, including your inner scolding parent. Often in therapy I witness a grown person still carrying a highly critical parent and/or frightened rebellious child. The venom and rage from the child that was never heard and the internalized parent that never stops blaming can do enormous damage to a person wanting to take steps towards loving him or herself.

To help change this, I create a safe environment where, hopefully, the child can feel believed, understood and given some basic listening with unconditional love. I also encourage the person to read books like The Self Parenting Program by John K. Pollard III. This one book has the most simple, yet deeply healing, exercises in which your inner parent allows your inner child to express its thoughts and feelings in a daily structured way.

By using John Pollard's self-parenting methods, your inner parent can learn to positively love, support and genuinely nurture your inner child. Both inner child and parent can become ALLIES using talents and skills together. It's like the right and left brain come together and you rewire them. Our genius "wonder child" can safely appear, grow and thrive, without being scolded!

By returning to loving our miraculous self, we can see beyond the pain of our past, to overcome our addictions to limiting beliefs and old thoughts. We can learn to let these go without guilt and have our own personal relationship with healing, loving thoughts.

You loving yourself as a MIRACLE can help heal and send love into the minds and souls of all who live on this planet. All humanity is crying out to be loved.

~ Excerpted from
"Soul Talk Book #1: The Miracle You Are"
by Roger King, Counselor and Author
Contact Roger at: rogerking3@btopenworld.com


MAKE A DIFFERENCE EACH DAY... JUST CLICK HERE



AT NO COST TO YOU, SPONSORS CONTRIBUTE EVERY TIME YOU "CLICK"
WITH FIVE HUMANITARIAN ORGANIZATIONS FEATURED ON OUR WEBSITE
Yes You Can!
SAVE PETS FROM FIREWORKS


On 13 January 2000, we adopted our little Roggi — a beautiful 8 month old Tan Terrier, from the Lost Dogs' Home in Melbourne, Australia.

We do not know whether he was one of the many dogs that had been scared by the New Year's Eve fireworks and had run away from their homes, ending up at the Lost Dogs' Home.

We do know, however, that we cannot risk losing our little Roggi, so he comes out with us on New Year's Eve, last year and this year, to visit my Mum.

Then we take Roggi home before midnight. When he hears the fireworks and starts to pace and look frightened, we just give him a big hug and he knows that all is OK and he is no longer afraid.


Roggi Happy Playing Ball

If more people spent time with their pets on New Year's Eve (and other celebrations like the upcoming "Fourth of July" in America) and provided care and a hug for them when the fireworks started, then maybe we would have a lot less scared animals, less injured pets and the animal shelters would not be inundated with these poor frightened souls.

Our animal shelters do a great job and deserve a well earned break and all the support they can get. Give your pets love and be with them on New Year's Eve, as well as any events around the world that use fireworks, rockets, firecrackers, etc. ... then they will not run away.

~ Carole Goldsmith
Gardendale, Victoria, Australia
Contact Roggi and Carole at: goldor@primus.com.au

---

Far Horizons
PENGUIN PARADE


Photo: Phillip Island

Melbourne, Australia, is a stylish, cosmopolitan
city of wide, tree-lined boulevards, winding colonial laneways and beautiful parklands. Nearby you'll find Phillip Island, with its enchanting "fairy penguins". Each night, just after dusk, hundreds of the world's smallest breed of penguin spontaneously come ashore and waddle up the beach to their burrows. Photography is very difficult as flashes are strictly prohibited, so this photo is from the Visitors Centre. While on the island, be sure to meet koalas in their natural environment at the Koala Conservation Centre and visit the Seal Rocks Sea Life Centre.

---

LINKS
THAT SHINE

"Anita's Animal Shelter "


Anita Strehlow (age 63) has used all of her savings to help support her shelter, Anita's Animals at Lake Chapala, Mexico. She spends anywhere from 12-14 hours a day working with the animals, deriving great satisfaction knowing she is helping to save animals in Mexico. In the last 5 years she has never had a day off, nor even a vacation. This shelter needs help, as it tries to care for approximately 60 dogs and 100 cats. The money she earns doing translations doesn't go far enough to care for all the strays and abused animals. Read the uplifting story of this amazing woman at.
www.AnitasAnimals.com

Fascinating Facts

SUPPRESS APPETITE NATURALLY
How the brain controls appetite is still a mystery and until that mystery is solved many theories are being tested to control appetite. It seems that appetite regulation is the result of a complex mix of compounds produced by the body. In 1994 scientists discovered a so-called appetite-control hormone called leptin. Neurochemicals called neuropeptide Y and melanocortin-4 receptor are also believed to be appetite-controlling compounds, and factors such as seratonin levels are thought to play a role.
In an attempt to utilize these compounds, many diet drugs were developed — some more effective than others, and some safer than others; however, the best method for appetite control is a natural one. You should address true hunger not by masking it with appetite suppressants but by satiating it with the most satisfying, least caloric food possible. Interestingly, it was discovered through research that the foods people felt best satisfied their hunger were those with the most volume or bulk.
Therefore, it seems that the best way to control your appetite is with a food that is high in bulk and low in calories. For example, eat a large salad and drink a glass of water before your main meal. This will do the job better than bread — as is so often offered right away at a restaurant.
Researchers at the University of Sydney developed a "satiety index" by cataloging foods based on how full volunteers felt after eating a controlled number of calories of each. A report published in the newsletter "Environmental Nutrition" says that the food that people found most satisfying were those high in fiber, particularly fruits. Calorie for calorie, apples and oranges were more filling than bananas, and potatoes topped the list for the fullness factor. Other foods high on the list were whole grains and high-protein foods like fish.
Surprisingly, foods high in fat were the least filling and came in low on the satiety index. It seems that the volunteers reached the calorie limit for foods high in fat and sugar before they'd eaten enough to satisfy. The least satisfying foods for the calories were bakery products, especially white bread, doughnuts and cakes. Popcorn was the best snack food for satiety.
All of this research seems only to reinforce the recommendation to base your diet on fruits, vegetables and whole grains. You may still be able to be a big eater with a hearty, healthy appetite, as long as you use the most satiating foods to satisfy it. Choosing nutritious, low-fat, high-fiber foods will not only do your hunger a favor, but it will also help your health and aid in controlling your appetite and weight.




Laughing It Off
RANDOM THOUGHTS

The early bird ... STILL has to eat worms.

I signed up for an exercise class and was told to wear loose fitting clothing. If I HAD any loose fitting clothing, I wouldn't have signed up in the first place!

The worst thing about accidents in the kitchen ... is eating them.

Don't argue with an idiot. People watching may not be able to tell the difference.

Wouldn't it be nice if whenever we messed up our life we could simply press 'Ctrl Alt Delete' and start all over?

Stress is when you wake up screaming and then you realize you haven't fallen asleep yet.

My wife says I never listen to her. At least I think that's what she said.

When I die, I want to die like my grandmother, who died peacefully in her sleep. Not screaming like all the passengers in her car.

If raising children was going to be easy, it never would have started with something called labor!

Brain cells come and brain cells go, but fat cells live forever.

Did you ever notice: When you put the 2 words "The" and IRS" together it spells "THEIRS"?

A hug is a great gift ... one size fits all, it can be given for any occasion, and it's easy to exchange.





Untangling the Web

WHAT A SITE!

THE SIXTIES ...
For those who insist often enough
(but seldom convincingly) that they have no
recollection of the '60s, there is Sixties City.
www.SixtiesCity.com




COMPUTER-EASE

Delete seldom-used programs ...
launch Add/Remove Programs from the Control Panel and examine each item. Don't meddle with items that are completely unfamiliar; they may be required by the system. But if you find a standalone application that you no longer use, get rid of it!
Contributed by Jean at SCOOP



---

Look at THAT!
MUSKIE MOUTH


Photo: Webshots


The largest fiberglass structure in the world ...
is also the world's largest fish, a leaping muskie,
and the museum at the National Freshwater
Fishing Hall of Fame in Hayward, Wisconsin.



Joyful Lifestyles: Weekly Insights
RE-INVENTING OURSELVES
Remember the song lyrics by Eliza Gilkyson: "Calling all angels, put down your disguise, unveil your hearts, wipe the sleep from your eyes ..."? As those words suggest, unveiling our hearts and seeing clearly is our assignment as spiritual beings having a human experience. When we wipe the sleep from our eyes, we can see how we stay stuck by attaching symbolic meaning to the behavior of our partner, or others, with whom we are emotionally involved. It's a way of blaming instead of taking responsibility for healing our own emptiness.
As long as we believe that someone else is the problem, we avoid working on our own issues. Healing ourselves is the first step we take toward emotional autonomy. The following was written on the tomb of an Anglican bishop in the crypts of Westminster Abbey:
When I was young and free and my imagination had no limits, I dreamed of changing the world.
As I grew older and wiser, I discovered the world would not change, so I shortened my
sights somewhat and decided to change only my country. But it too seemed immovable.
As I grew into my twilight years, in one last desperate attempt, I settled for changing
family, those closest to me, but alas, they would have none of it.
And now, as I lay on my deathbed, I suddenly realize: If I had only changed myself first,
then by example I would have changed my family. From their inspiration and encouragement,
I would then have been able to better my country and, who knows, I may have even changed the world.
A lack of healing keeps us wanting our relationships to be there for us in ways that are neither healthy nor productive for anyone. Returning over and over again to what may be a dry well of emotion in others keeps us from tapping additional resources, especially the richest wellspring of all .... our spiritual foundation.
Our commitments, beliefs and values form the basis of this foundation. They support us and reveal what we're made of. Healing ourselves asks that we create a firm foundation ... strong enough to support us, sound enough to keep us secure, and safe enough to provide sanctuary from the storms.
Each of us builds our own foundation formed from unique and particular strengths. We may see ourselves as courageous, flexible, determined or resilient. We may include kindness, acceptance or compassion among our gifts. We have all survived an experience or two in which we showed courage and fortitude, reminding us what we're made of. Knowing and acknowledging our foundation provides the roots of self-healing and greatly determines our capacity to stand on our own two feet.
SELF-DISCOVERY:
If you rated yourself 3 OR MORE on any of the beliefs in last week's "Dirty Dozen" quiz, realize these are the ones that will probably give you the most trouble. When a situation arises in which you're emotionally upset, check this list to see if you can recognize what demand you might be making. Ask yourself, "How am I placing demands on myself, others or life? What am I telling myself?" Then look for the ABSOLUTE words (should, must, always, never, etc.) that you may be using which reflect can't-standing, complaining and blaming. These demands and absolutes may not be recognized easily ... yet they are at the very heart of disturbing emotions that block our happiness. As we reflect on our own personal demands, we will develop greater self-awareness and understanding.
~ Chelle Thompson ~
CLICK BELOW TO SHARE THIS ISSUE
WITH YOUR FRIENDS & FAMILY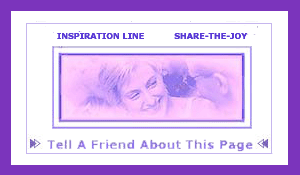 WWW.INSPIRATIONLINE.COM


"The intent of Inspiration Line is to show What Is Possible … By choosing new perspectives,
we can change ourselves from the inside out and improve our relationships, our community and our planet."
Editor . Chelle Thompson ~~~ Associate Editor . Geri Merrill

........................................................
E-mail your motivational, informative or humorous stories for us to share:
Click Here to Submit Articles, Contact Us or Unsubscribe


COPYRIGHT NOTICE: All articles and images shown are believed to be public domain and, therefore, reprintable material.
We make every attempt to credit original authors and websites, and do not intentionally infringe on anyone's copyright.
........................................................

FOR YOUR PROTECTION: All transmissions are virus-free.
Copyright © 2003 Inspiration Line - All Rights Reserved