NOTE: Music may be turned ON/OFF under 'Today's Tune' on left ...



Connecting 50 U.S. States & 106 Countries Worldwide




"We not only live among men, but there
are airy hosts, blessed spectators, sympathetic
lookers-on, that see and know and appreciate
our thoughts and feelings and acts."

~ Henry Ward Beecher, Abolitionist & Clergyman (1813-1887)

December 8, 2003
TODAY'S TUNE
(On/Off)

"And the Angels Sing"


---

IN THIS
WEEK'S ISSUE:


From the Inside Out...
Snow Angels


Yes You Can!...
Enjoy the Holidays
(Part 2)


Far Horizons...
Phnom Penh Palace


Links That Shine...
Wigs for Kids


Just for YOU ...
Discovery of the Week


Fascinating Facts...
Our Brains Are
Indeed Different



Laughing It Off...
Kids Write to God


Untangling the Web...
What a Site!
&
Computer Ease



Look at That!...
A Cow's Best Friend


Joyful Lifestyles...
Dismantling Our Walls

---

BE the World
You Want to See!

The more we bless miraculous events in our lives, the more they will occur. Sometimes even guardian angels need a "green light"!

~ Chelle ~


From the Inside Out
SNOW ANGELS


The pre-Christmas snowstorm had blanketed a wide patch of rural eastern Pennsylvania, and Chris Clark Davidson probably should have waited until the roads were plowed before she, her mother and her two small sons attempted a drive. But Chris's grandmother lived alone over a hundred miles away, and couldn't get out to buy groceries. "We'll be fine," Chris reassured her mother. "We'll take that shortcut that we use all summer."

They found the shortcut, and turned onto it. Chris had forgotten how narrow the road was, especially with drifts piled high, and wind blowing snow across the fields. Usually chatting on previous drives, neither woman had noticed how deserted the area was. When another vehicle roared around a curve, Chris swerved, and skidded into a snowbank. The other car kept going.

The wheels spun uselessly as she tried to pull out. "Mommy, are we stuck?" toddler Phillip asked, from under his blanket in the back seat. "Looks that way, honey," Chris admitted. They had only seen that one car since they'd turned onto the shortcut. How long would it be before someone came along? How long before the freezing temperature invaded the car's interior? And why, oh why, had she worn SANDALS and pantyhose instead of warm boots?

Chris got out, her feet plunging into a high drift, and looked around. Lord, please send us some help, she prayed. Then she saw it —- a silo and barn roof peeking up from the hills, about a quarter-mile away. "Mom," Chris leaned in the car, "I'll walk down to that barn and see if anyone's there. Keep the kids warm."

The journey was incredibly cold, and by the time Chris pushed open the barn door, her feet were icy. A welcome blast of heat greeted her, along with the mooing of heifers in their stalls. It was a working dairy, clean and well organized, with a shiny window fan circulating the air. Even better, Chris heard young male voices behind a stall. Maneuvering around fresh manure, she followed the sound and came upon two farmhands in overalls and flannel shirts, kidding and teasing each other. They stopped and smiled when they saw her, and quickly she explained the situation.

"Stay here!" one said, tramping past the cows and out the door. A few moments later, Chris heard a horn honking in front of the barn. There he was, driving a blue pickup truck. "Get in!" he shouted. Chris hesitated. She didn't know these men. And yet there was something so merry about them that she couldn't feel afraid. She and the other farmhand scrambled into the pickup, and bounced down the road. There was the car, her toddlers bundled up and Mom waving. The driver roared across the field, spun in a wide circle and screeched into position in front of it. "'Way to go!" his buddy yelled. Chris gripped the seat. "Do you always drive like this?" she asked, only half joking. The driver shrugged. "Well, it ain't our truck."

Within minutes, the men had freed Chris's car, and she opened her purse to reward them. But both backed away. "It was our pleasure, Ma'am. Just drive safely." Not like you, Chris grinned as she pulled away. But they had been wonderful guys.

Chris didn't realize just how wonderful until two weeks later when she and her mother decided to make a return visit to her grandmother. Since the snow was almost melted now, the short cut was safer. Soon the silo and barn roof came into view. "Let's stop and let the guys know we made it to Grandma's that day," Chris suggested. But when they pulled up in front, where Chris had climbed into the blue truck, she could hardly believe her eyes.

For the barn was vacant, shabby, with paint peeling and door hinges hanging loose. Bewildered, Chris wiped away a heavy film of dirt and cobwebs on the milk house window and peered inside. Where were the heifers, the floors littered with fresh manure? Even the fan was rusty. "You couldn't have seen any farmhands or cattle there," the woman at the next house told Chris. "No one's worked that property for years."

Chris got in the car. "Am I crazy, Mom?" she asked. "No." Her mother was firm. "This is definitely the place." Then how…? Suddenly Chris understood, and like the shepherds at that first Christmas, she was filled with awe. Her angels had worn blue jeans instead of white robes.

~ Joan Wester Anderson © 2003
Where Angels Walk

WHERE ANGELS WALK:
True Stories of Heavenly Visitors
Click for Book Details & Reviews

(A portion of your purchases here
helps support Inspiration Line programs.)

MAKE A DIFFERENCE EACH DAY
AT NO COST TO YOU WITH FIVE HUMANITARIAN ORGANIZATIONS....
JUST CLICK HERE



Yes You Can!
ENJOY THE HOLIDAYS (Part 2)

This week we present the remaining ten ways to make your holiday season joyful and more meaningful this year:

11. Promise to teach a new skill to someone in January, example: a child to ride a bike or an older person to use a computer.

12. Force fruit blossoms: plant a sprig of plum, apple or lilac in wet sand December 1st. Place it in a sunlit window and water regularly. December is about waiting, so keep watching!

13. Look through the snapshots you took last summer. Add funny captions and send to friends instead of cards.

14. Go as a family to help serve a meal at a homeless shelter. Place a candy cane and a handwritten greeting at each place setting. Talk about the experience on the way home.

15. Visit a nursing home with the whole family, including the family pets. Practice in advance some questions to ask and some jokes or poems to share.

16. Declare one night a week as "family work night." Make this a time for baking cookies, creating and addressing greeting cards, singing carols, doing a craft project.

17. Reach out in friendship to forgotten persons in your community. Invite them to go with you to see the holiday displays in store windows or a live nativity. Or invite them to attend a worship service or a concert or to watch a TV special with you.

18. Ask an international student or family to tell about holiday celebrations in the country they come from. Mark your calendar for a date in January when you will connect with this person(s) again.

19. Take someone who can no longer drive for a ride to see the holiday decorations around town.

20. Make a few changes this year, add more the next. That way, you'll gradually build a tradition of simpler, less stressful celebrations that everyone in the family can enjoy.

Out of 10,000 visitors, only 20 will read this
and only ONE will respond.......



VISIT OUR
INTERNATIONAL
MESSAGE BOARD




Bookmark the above link and visit us often!

(Note: It is not required to enter your
e-mail address anywhere in this forum.)

SHARE THE JOY THIS HOLIDAY SEASON

ENTER HERE TO SEND FREE INSPIRATION LINE
GIFT SUBSCRIPTIONS TO FRIENDS & FAMILY


Far Horizons
PHNOM PENH PALACE

Cambodia's capital of Phnom Penh still retains an undeniable charm despite its tumultuous past. The Royal Palace was built in 1866 by the French, not far from the banks of the Tonle Sap river. At the northern area of the palace grounds is the Silver Pagoda. The name of the pagoda derives from the fact that its floor is made of more than 5,000 silver blocks weighing more than six tons. In the south part of these grounds is the villa of Napoleon III. This villa was built in 1866, not in Cambodia, but in Egypt. There it served as French Empress Eugenie's accommodations during the opening of the Suez Canal. One year later Napoleon III gave the villa as a gift to the Cambodian king.


"Wigs for Kids"

Wigs for Kids is a not-for-profit organization providing hair replacement solutions for children affected by hair loss due to chemotherapy, alopecia, burns and other medical conditions.

They welcome donations of any kind. Their main purpose is to help children look themselves —- alleviating additional stress due to lack of understanding among their peers.

www.WigsForKids.org
Just for YOU ...
DISCOVERY OF THE WEEK

Click for the World's Most Important Gifts


The idea behind Heifer … is similar to the notion that it's better to teach a man to fish so he can feed himself than to give him a fish that will feed him just once. One animal could eventually benefit an entire community.

"After the goats arrived, there was such an excitement in the house and enthusiasm to look after them. Their offspring have given us milk and improved the appearance and the health of our children. We were so excited to pass on the gift to another family. I still follow-up and visit this family as we have become friends. Actually, we are even closer than that, as though related, because we were able to give them a gift."
— Lily Daka, Zambia
Fascinating Facts

OUR BRAINS ARE INDEED DIFFERENT
What Could He Be Thinking?: How a Man's Mind Really Works combines two decades of neurobiological research with anecdotes from everyday life, plus social philosopher and author Michael Gurian's experience as a family therapist, to present a new vision of the male psyche. Culture plays a part, but Gurian argues that biology matters much more than previously realized.
"The science has been crucial. Wherever I go, I start by showing PET scans and people can see for themselves the differences between the male and female brain. I think that alters life and marriages," Gurian says. The UC Irvine PET scans shown here indicate that an emotional film sparked activity in the left amygdala (which processes memories for emotions) of female brains, but in the right amygdala of male brains.
The male brain secretes less of the powerful primary bonding chemical oxytocin and less of the calming chemical serotonin than the female brain. So while women find emotional conversations a good way to chill out at the end of the day, the tired male brain needs to zone out all that touchy-feely chatter in order to relax — which is why he wants the remote control to zap through the TV channels. His brain takes in less sensory detail than a woman's, so he doesn't see or even feel the dust and household mess in the same way.

Gurian says his book is aimed mainly at women. "Men get this already. They are living this brain but they don't have the conscious language to explain it. Women are not living it. If they are relating to a man, I hope they will be touched, informed and entertained and will have a new vision of the way they can make their relationship work. I beg people to go back to nature, look at the PET scans, look at the brain differences and see if it makes sense."

If it does, the consequences could be profound for women brought up to believe it is men who must change, and men who must respond to a female way of relating in order for marriage to succeed. Gurian says men CAN learn new skills and alter their behavior, but they will not necessarily be able to meet all of women's expectations. "Most people believe that marriages break up because men and women are not close enough. But what I am learning about the brain leads to the idea of 'intimate separateness', in which the brain seeks less intimacy at times," Gurian said. "People want to love each other. If we can learn who we might be — not what is he thinking, but what could he be thinking — then I am optimistic."


Laughing It Off
KIDS WRITE TO GOD

Dear God, Please put another holiday between Christmas and
Easter. There is nothing good in there now. -Amanda


Dear Mr. God, I wish you would not make it so easy for people
to come apart. I had to have 3 stitches and a shot today. -Janet


Dear God, I like the story about Chanukah the best of all of them. You
really made up some good ones. I like walking on water, too. -Glenn


Dear God, My Grandpa says you were around when he
was a little boy. How far back do you go? -Dennis


Dear God, Do you draw the lines around the countries?
If you don't, who does? -Nan


Dear God, Please send Dennis Clark to a different
summer camp this year. -Peter


Dear God, I keep waiting for spring, but it never did
come yet. What's up? Don't forget. -Mark


Dear God, It is great the way you always get the stars in the
right place. Why can't you do that with the moon? -Jeff

Dear God, You don't have to worry about me. I always look
both ways before I cross the street. -Dean

Dear God, Is it true my dad won't get into heaven
if he uses his golf words in the house? -Anita


Dear God, If you watch in Church on Sunday I will
show you my new shoes. -Elaine


Dear God, I am doing the best I can.
Really!! -Frank




~Contributed by Diane in St. George, Utah


Untangling the Web


WHAT A SITE!


Mighty Hot Gift Buying...
By analyzing the e-shopping habits of consumers in a variety of categories, MightyHot is the ultimate destination for the shopper who wants to know the answer to one question: What's hot? (Contributed by Jean in British Columbia, Canada)
www.MightyHot.com


COMPUTER-EASE

Closing a window...
You can close the current window that you are viewing by pressing CTRL+W.

---

Look at THAT!
A COW'S BEST FRIEND


Scientific name: Bubulcus (Egretta) ibis

The very rare Cattle Egret in Suriname...
is about half the size of the Great Egret. It has a definite reddish crown and stringy top feathers, with a red back stripe. When immature it is all white and can be confused with other small egrets or herons. A distinguishing characteristic is that it tucks its neck in close to the body in flight, rarely extending it; another, of course, is that this egret sits on the back of cows looking for insects.
Joyful Lifestyles: Weekly Insights
DISMANTLING OUR WALLS
A terrific gift to ourselves this season would be to shift out of irrational beliefs — like "If this happens, then I'll be happy" or "Someday my prince will come, then I'll be happy" — and replace them with the belief that "I CHOOSE to make HAPPINESS my priority. This is the situation, how can I perceive it so I am happy?" Most people's perception of difficult situations softens over time anyway; so why don't we simply choose to shorten that time span.
In this process, it's important for us to begin dismantling our self-restrictive walls and patterns from childhood. Each time we were hurt or disappointed as a child, we put up an emotional wall as protection. That emotional wall traps the original energy of the pain, anger or sadness inside us and keeps our love from getting out and other people's love from getting in. When old feelings behind those walls suddenly express themselves and cause us to overreact, we experience emotional flashbacks. These flashbacks can influence us to form personal meanings that may be distortions of what actually exists. In Woody Allen's film "Deconstructing Harry", this occurrence is profoundly described when Woody's therapist tells him: "You expect the world to adjust to the distortion you have become."
Irrational beliefs often originate from childhood perceptions. We developed these beliefs based on how we interpreted early experiences. As young children we had limited experience and, therefore, took our interpretations as absolute truth. Suppose my parents had very exacting standards. My response to these standards may have been to try to be perfect. Blaming my parents for my perfectionism would be a natural assumption. But, suppose I had a brother or sister who had no interest in perfection. In fact, sloppiness and laziness were their claim to fame. Same parents, different interpretations. So, I can't blame my parents for my perfectionism ... I have to take responsibility for my interpretation.
Note that responsibility doesn't mean blame. It simply means we made a choice at an early age about how to interpret our experiences ... perhaps the best choices we could make at that time. Since WE chose our INTERPRETATION, we can change our mind and make another choice now — we can create new, positive experiences to heal the old pain.


~ Chelle Thompson, Editor ~



CLICK BELOW TO SHARE THIS ISSUE
WITH YOUR FRIENDS & FAMILY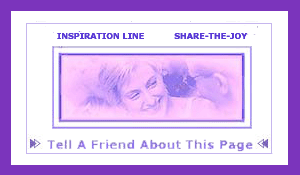 WWW.INSPIRATIONLINE.COM


"The intent of Inspiration Line is to show What Is Possible . By choosing new perspectives,
we can change ourselves from the inside out and improve our relationships, our community and our planet."
Editor . Chelle Thompson ~~~ Associate Editor . Geri Merrill
........................................................
Click Here to UNSUBSCRIBE ~ Editor@InspirationLine.com


COPYRIGHT NOTICE: All articles and images shown are believed to be public domain and, therefore, re-printable material.
We make every attempt to credit original authors and websites, and do not intentionally infringe on anyone's copyright.
........................................................

FOR YOUR PROTECTION: All transmissions are virus-free.
Copyright © 2003 Inspiration Line - All Rights Reserved