SPECIAL NOTE: Music may be turned ON/OFF under 'Today's Tune' on left ...



Connecting 66 Countries around the Globe




"A keen sense of humor helps us to overlook the
unbecoming, understand the unconventional,
tolerate the unpleasant, overcome the
unexpected, and outlast the unbearable."

~Billy Graham, American Minister & Author (1918 --)


June 9, 2003

TODAY'S TUNE
(On/Off)

"Popcorn"


---

IN THIS
WEEK'S ISSUE:


From the Inside Out...
Finding Laughter
During Difficult Times

Yes You Can!...
Win the Weed War (2)

Far Horizons...
La Brea Pitch Lake

Links That Shine...
Self-Healing Expressions

Fascinating Facts...
Pets Reduce
Stess at Work


Laughing It Off...
Tater People


Untangling the Web...
What a Site!
Computer Ease


Look at That!...
New Leap on Life

Joyful Lifestyles...
Dismantling Our Walls
(Part 2)

From the Inside Out
FINDING
LAUGHTER DURING
DIFFICULT TIMES


Dare we laugh during difficult times? As I reflect upon my own laughter meter in recent weeks, I realized that I have had several moments of weeping and many moments of laughing.

This reminded me that laughing and crying are on the same continuum — both designed to offer release and relief. During tough times we may think that laughter is inappropriate or an indication that we're not as serious as we "should" be.

My belief is that it is in tough times that laughter is especially helpful to move us from intense introspection to connection with others, perhaps through service and outreach. Laughter is about connection, and I can't think of a better time to connect outside of self than during difficult times.

So go ahead and laugh — and weep — simply because you can. And, if you need a jumpstart, here are some ideas to help get you laughing:

Laugh with a friend: Call the one person you know will absolutely laugh — no preliminary conversations needed; just laugh.

Look for laughter in each day: A funny incident, a thought, a billboard, a commercial, whatever helps you smile.

Listen to other people laughing and then join in: This is great in parking lots, grocery stores, wherever people gather.

Try a laughter exercise: Simulate laughter to stimulate laughter. Example: Smile 5 times in 5 seconds; next do this while watching yourself in a mirror.

Walk and laugh: Granted, this may draw some interesting looks from observers. As you are walking at a leisurely pace, simply repeat a laughing word like "ha" with each step. Change the pace of your walk and the pace of the laughing word. You can do this audibly or silently —- you'll be smiling either way!

Invite friends over and begin storytelling: You'll learn new things about each other and share some laughter plus the connection will be priceless.

Now is a good time to re-connect with levity and lightheartedness: Fly a kite, play ball, paint, sing silly songs, take a child for a walk, visit a senior and get them talking about the "good old days", laugh out loud simply because you can.

Connect with each other and connect with the "spirit of laughter" so that you experience all that laughter can be for you. The spirit of laughter is part of your spiritual health and is wonderfully infectious, contagious, universal, fun, free and uplifting — ideal for difficult times.

~ LynnShaw, MSW is a laugh therapist and
author of the email course: "Laughter for the Healing Heart"
at Self-Healing Expressions.com

and the book: Tee Hee Moments: Remembering to Laugh
When You're Having One of Those Days






MAKE A DIFFERENCE EACH DAY... JUST CLICK HERE



AT NO COST TO YOU, SPONSORS CONTRIBUTE EVERY TIME YOU "CLICK"
WITH FIVE HUMANITARIAN ORGANIZATIONS FEATURED ON OUR WEBSITE
Yes You Can!
WIN THE WEED WAR (Part 2)


There are a few more techniques you can use — "battle strategies" if you will — to be the winner in the annual weed war.

8. Cover your ground. Cultivate plants close together or grow winter ground cover in areas that typically suffer from weed invasion. A thick mass of plants not only is attractive but also shelters the soil from direct sunlight, making it more difficult for weed seeds to prosper.

9. Old-fashioned elbow grease. Weed every couple of weeks throughout the growing season in order to stay in control of the weed situation. If you're going to get down and dirty, use a comfortable knee cushion or try pads to lessen the impact of weeding on your body. You can also try an upright tool such as the Weed Hound, which prevents excessive bending or body strain.

10. Solar-powered soil. Solarization uses heat to disinfect your soil. If you have a large planting bed or area of lawn that you want to reseed, till the area to clear all vegetation. Then water the area until it is saturated. Wait 24 hours, then cover with clear 3- to 6-mil plastic sheeting. Bury the edges of the sheeting to seal it. Let the soil cook for four to six weeks, then remove the plastic. If any weeds appear, till them lightly without disturbing the soil. Wait a few days for the soil to cool, then start planting. This method helps get rid of many soil-borne diseases as well.

11. Kiss my grits. You can try a natural weed control such as WOW! (WithOut Weeds), which is made from a byproduct of corn. It acts as a pre-emergent, best applied during the spring, killing weeds before they germinate. A second application at the end of the growing season helps kill weeds that sprout late in the summer and go to seed in the fall. Its nontoxic formula is safe, and it even releases nitrogen into your soil.

12. I.D. your weeds. If you can identify the sprouting menaces in your yard, you can control their reseeding habits better. Annual weeds complete their growing cycle from seed to plant in a few months, then die. Unfortunately, they can leave behind thousands of babies if they go to seed, so always try to remove annuals before they drop seeds. Perennial weeds usually live for at least three years and are more difficult to banish, so at first sighting remove them immediately.

13. Time is tight. If the weeds are starting to grow, but you don't have the time or energy to pull them up at the moment, suffocate the weeds by covering them with a block of wood or piece of plastic. Better yet, use a few large decorative stones, a work of art, or a birdbath. At least you'll stop the weeds from spreading so you can tackle them when you have time.

14. Off with their heads. To stop weeds from spreading, pluck off their flower heads before they drop seed. This technique can be especially helpful with weeds which love to provide generation after generation of weeds.

15. Don't go too low. To help discourage weed germination in your lawn, avoid scalping with your mower. A buzzed lawn not only kills the grass in that spot, it allows light to reach the weed seeds and gives them the opportunity to sprout and run amok. Raising your mower blade also helps promote extra root growth in your lawn, making it harder for weeds to get a foothold.


~Better Homes & Gardens
House & Home MSN.com

---

Far Horizons
LA BREA PITCH LAKE

A stone's throw from the sparkling blue Gulf of Paria, on Trinidad's southwest coast, lies one of the strangest wonders of the world. Pitch Lake is a dark mass of imperceptibly moving asphalt near the little village of La Brea that burbles, hisses and occasionally spits fire. The lake is 300 feet (90m) deep at its center with a surface like elephant skin. According to legend, Sir Walter Raleigh discovered the lake in 1595 and used the asphalt to caulk his ships. The lake was formed millions of years ago, and it's believed that at one time it was a huge volcano into which muddy asphaltic oil seeped. Churned up and down by underground gases, the oil and mud eventually formed the largest known deposit of natural asphalt on the planet.

---

LINKS
THAT SHINE

"Self-Healing Expressions"

This wonderful website provides self-paced email courses on holistic and personal growth, guided meditation and healing prayers. Course topics include Romantic Resume, Grief Healing, Pet Loss, Nutrition, Laugh Therapy, Healing the Earth, Wisdom of Thoreau, and more. www.SelfHealingExpressions.com



CLICK FOR LINKS


Fascinating Facts

PETS REDUCE STRESS AT WORK
It's nearly 5 p.m. and like clockwork, Mozez and Argyle are spread across John La Croix's desk at a law firm. "They know when it's time to go home," says La Croix, who has brought the litter mates to work ever since they were frisky kittens. Argyle the cat makes himself comfortable on John La Croix's desk at a law office in Boulder, Colo. Studies show that having pets at work lowers stress levels. La Croix isn't the only animal shuttle at Withers, Seidman & Rice. Three dogs, two more cats and two birds share the office.

Pets at work appears to be a welcome trend in many cities. "A lot of people have been telling me they bring their animals to work," says Jan McHugh, executive director of the local humane society. The trend is most noticeable in the high-tech industry, where dogs have become part of a casual-office culture. Recent studies show what high-tech industry leaders have been saying for years: Having pets at work lowers stress levels and makes employees more productive.
"Having the animals around makes the office more homey and comfortable," says Janet McLachlan, a paralegal who says a 12-year-old pit bull named Sophie was the reason she took the job with Withers, Seidman & Rice. "Being a law office, there's a lot of stress and deadlines, and having animals around allows you to take a break, pet them and that makes you feel better."
Pets in the workplace isn't a new concept, but it's unusual when the animals outnumber the people, as they do at the cozy, two-story law firm. Most of the office animals belong to Mary Lee Withers and her husband, attorney Ed Withers, and all were rescued from a hard life of abuse and neglect. Sophie was the first animal to come to work. Then came Libby, a 14-year-old sheep dog mix, who Mary felt was too old to be outside in the winter's cold. Then came Finley, a 2-year-old mixed breed showing chow features. The newest addition is Emmy Lou, a skittish longhair black cat who slowly is becoming socialized.
The pets obviously benefit from the arrangement, but so do the attorneys and their clients. "I'm not a big animal lover and I usually don't like cats," says Bill Alexander, a client of the law firm. "But when I go in to sign papers, the animals have a calming effect and I always feel a helluva lot better than when I came in." The enjoyment and relaxation that clients, attorneys and staff experience mirrors scientific studies of the physiological and mental health benefits of having animals around.
Tips for allowing pets at work:
* Poll employees before adding a new policy.
* Appoint someone to keep a daily "attendance" sheet of office animals.
* Have a written pet policy.
* List animals (i.e. insects) that aren't welcome in the office.
* Require employees to document their pet's health status.
* Have guidelines for unacceptable behaviors and consequences.
* Designate an outdoor area for walking dogs.
* Accommodate employees who have allergies with a pet-free work area.

The American Heart Association recently highlighted a study that suggests pets can significantly reduce high blood pressure associated with highly demanding careers.
Some people never seem motivated to participate, but are just content to watch while others do the work.


They are called "Spec Taters".


Some people never do anything to help, but are gifted at finding fault with the way others do the work.


They are called "Comment Taters".


Some people are very bossy and like to tell others what to do, but don't want to soil their own hands.


They are called "Dik Taters".


Some people are always looking to cause problems by asking others to agree with them. It is too hot or too cold, too sour or too sweet.


They are called "Agie Taters".


There are those who say they will help, but somehow just never get around to actually doing the promised help.


They are called "Hezzie Taters".


Some people can put up a front and pretend to be someone they are not.


They are called "Imma Taters".


Then there are those who love others and do what they say they will. They are always prepared to stop whatever they are doing and lend a helping hand. They bring real sunshine into the lives of others.


They are called "Sweet Taters"!!!!!!



~Contributed by John of Mohave Valley, Arizona





Untangling the Web

WHAT A SITE!

Often called "The Wheatgrass Place"...
this site is a natural health learning center offering a program of body purification, nutrition and rejuvenation through the use of fresh raw fruits, vegetables, juices, nuts, grains, beans, chlorophyll-rich wheatgrass juice.
www.CreativeHealthInstitute.us
(Contributed by Jean in Lake Chapala, Ajijic, Mexico)



COMPUTER-EASE

Enter accented font characters ...
such as café, naïve, façade, mañana, by holding down the Alt key and entering number combinations on the Num pad. Here's a printable table showing the Mac, Windows, and HTML codes for common accent marks encountered in English text.
http://Desktoppub.about.com


---

Look at THAT!
NEW LEAP ON LIFE


Photo: Today Show


About 18 months ago Stumpy came to...
The International Kangaroo Society with an amputated hind leg. Tammie and Larry Rogers run this sanctuary located, not in the wilds of the Australian outback, but just outside Columbus, Ohio. Doctors decided the leg needed some kind of spring device similar to the one used by Para Olympian Thomas Bourgeois. The solution was a custom-made prosthesis that boosts power each time she jumps. ~MSNBC



Joyful Lifestyles: Weekly Insights
DISMANTLING OUR WALLS (Part 2)
As we discussed last week, emotional flashbacks influence us to form personal meanings that may be distortions of reality. In his film "Deconstructing Harry", Woody Allen profoundly describes this occurrence: "We expect the world to adjust to the distortion we've become."
Irrational beliefs often originate from childhood perceptions. We developed these beliefs based on how we interpreted early experiences. As young children we had limited experience and, therefore, took our interpretations as absolute truth.
Suppose my parents had very exacting standards. My response to these standards may have been to try to be perfect. Blaming my parents for my perfectionism would be a natural assumption. But, suppose I had a brother or sister who had no interest in perfection. In fact, sloppiness and laziness were their claim to fame. Same parents, different interpretations. So, I can't blame my parents for my perfectionism ... I have to take responsibility for my interpretation.
Note that responsibility doesn't mean blame. It simply means we made a choice at an early age about how to interpret our experiences ... perhaps the best choices we could make at that time. Since WE chose our INTERPRETATION, we can change our mind and make another choice now. We can create new, positive experiences to heal the old pain.
(Next week: Moving Beyond Irrational Thinking)
SELF-DISCOVERY:
Close your eyes and imagine you're 6 or 7 years old again. Ask your child "Why did I put up my first wall?" Did someone let me down? Did I feel I could never live up to expectations? Was there so much pain around I felt I couldn't fix it? Trust yourself and let the words flow.

~ Chelle Thompson ~
CLICK BELOW TO SHARE THIS ISSUE
WITH YOUR FRIENDS & FAMILY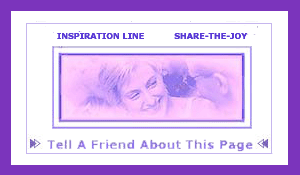 WWW.INSPIRATIONLINE.COM


"The intent of Inspiration Line is to show What Is Possible … By choosing new perspectives,
we can change ourselves from the inside out and improve our relationships, our community and our planet."
Editor . Chelle Thompson ~~~ Associate Editor . Geri Merrill

........................................................
E-mail your motivational, informative or humorous stories for us to share:
Click Here to Submit Articles, Contact Us or Unsubscribe


COPYRIGHT NOTICE: All articles and images shown are believed to be public domain and, therefore, reprintable material.
We make every attempt to credit original authors and websites, and do not intentionally infringe on anyone's copyright.
........................................................

FOR YOUR PROTECTION: All transmissions are virus-free.
Copyright © 2003 Inspiration Line - All Rights Reserved