Online Weekly Magazine
From Inspiration Line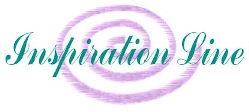 ©
"It's Time to BE — the World You Want to See"
Inspirational Newsletter Archives

"SUBSCRIBERS LOVE OUR ONLINE MAGAZINE"
.Motivation, inspiration, poems, quotes and positive life coaching...

2005 & 2006 WEEKLY eNEWSLETTER ARCHIVES
.Please Select Issues Chronologically or By Title ... All eZines Can Be Shared by Tell-A-Friend
..

BOOKMARK INSPIRATION LINE ARCHIVES!

"Let us not be content to wait and see what will happen,
but give us the determination to make the right things happen." -Peter Marshall
All Online Magazines Feature Our Free Language Translator

Please include "Reprinted from www.InspirationLine.com" whenever you copy and share Inspiration Line articles.