Free Super Toolbar with
Instant RSS Reader
Daily Inspirational Quotes From Inspiration Line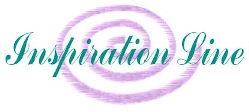 ©
"It's Time to BE — the World You Want to See"
Internet Security Advisories, E-mail Tips & Computer Help
"COMPUTER-EASE"
Improve your computer skills and Internet navigation and protect your email with ...


CHECK VIRUS NEWS & COMPUTER TIPS ...

BOOKMARK THIS PAGE & VISIT US EVERY DAY!

COMPLETE SITE DEVELOPMENT/WEB HOSTING PACKAGES - AFFORDABLE RATES
Even more important, Matt's personalized service and technical expertise have enhanced Inspiration Line and made my work much easier! ~Chelle, Editor
Visit: www.MarkeTrends.net
Conscious Content Editing & Critiques by Chelle
Books - Articles - Poetry - Manuscripts - Newsletters - eMagazines
Academic Assignments - Dissertations - Query Letters

From Author Karin Janin: "Chelle Thompson patiently took each chapter of my book and made suggestions in parenthesis as to what needed to be done to ensure the flow of thought. She is not only an excellent editor, she is also considerate enough to not change the personality of the manuscript. There is one thing about being edited and another thing about being 'lost in the translation.' Chelle is very careful not to do that. Her purpose was to make the book a success and to make me look good through gentle suggestions. As a result I am receiving rave reviews on my book. This could not have happened without Chelle's careful eye and excellent writing skills. I continue to use her, and only her, as my Editor."
Click Here to Ask about Affordable Editing Rates and Web Design Services