Free Super Toolbar with
Instant RSS Reader
Daily Inspirational Quotes From Inspiration Line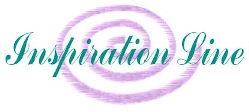 ©
"It's Time to BE — the World You Want to See"
Daily Inspirational-Motivational Quotes
"INSPIRATION-TO-GO"
Great eGreetings in poetry and prose, filled with hope, love, fascinating trivia and fun...

PERSONALIZED ENCOURAGEMENT GREETINGS, POEMS, STORIES & FUN
Simply Select eGreeting Topics in the List Below ... for Yourself or to Send to Loved Ones
..

BOOKMARK INSPIRATION LINE ENCOURAGEMENT GREETINGS!

"You need to be aware of what others are doing, applaud their efforts, acknowledge their successes,
and encourage them in their pursuits. When we all help one another, everybody wins." ~Jim Stovall


Please include "Reprinted from www.InspirationLine.com" whenever you copy and share Inspiration Line articles.

Choose from Our
Uplifting eGreeting Themes Below:

HOME