Free Super Toolbar with
Instant RSS Reader
Gifts-Products-Services
From Inspiration Line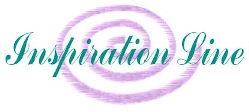 ©
"It's Time to BE — the World You Want to See"
Meaningful Life Inspirational Gifts, Services and Other Treasures
MAKE A DIFFERENCE WITH GIFT GIVING
When we do even a small kindness for someone else, at that moment we ourselves receive a blessing...
The Animal Rescue Site
The Breast Cancer Site
The Child Health Site

The Hunger Site
The Literacy Site
The Rainforest Site


SHOP & SUPPORT


Help support our network of fair trade partnerships in honor of National Fair Trade Month this October by shopping handcrafted journals, bags, ornaments, jewelry and more. This selection of unique items has been marked down up to 50% off!


Visit this unique giving opportunity for Inspiration Line readers and friends at:




INSPIRATION LINE'S GIFT REGISTRY
... where it's so easy and affordable to make a significant
difference with contributions of $10 - $20 - $30 - or more!

Heifer has helped millions of resource-poor families in 115 countries move toward self-sufficiency by giving them one of 25 types of breeding livestock for plowing power or for food and income from milk or eggs. Heifer animals have offered hungry families around the world ways to feed themselves and become self-reliant for more than 60 years.


HEART INSPIRED PRESENTATIONS
We have put together some wonderful gift packages at very special prices to help you offer presents that will inspire and uplift your friends, family and loved ones throughout the year ... Affirmawrap® affirmation blankets, Books, CDs & More. Bonus — You'll receive a Free gift from Heart Inspired Presentations with any purchase.

Meticulously Conscious Editing by Chelle
Books - Articles - Poetry - Manuscripts - Newsletters - eMagazines
Academic Assignments - Dissertations - Query Letters

From Author Karin Janin: "Chelle Thompson patiently took each chapter of my book and made suggestions in parenthesis as to what needed to be done to ensure the flow of thought. She is not only an excellent editor, she is also considerate enough to not change the personality of the manuscript. There is one thing about being edited and another thing about being 'lost in the translation.' Chelle is very careful not to do that. Her purpose was to make the book a success and to make me look good through gentle suggestions. As a result I am receiving rave reviews on my book. This could not have happened without Chelle's careful eye and excellent writing skills. I continue to use her, and only her, as my Editor."
Click Here to Ask about Affordable Editing Rates and Web Design Services


Naturally, not every aspect of the above items could be reviewed,
so not everything is necessarily endorsed by Inspiration Line.
Inspiration Line Webmaster Networking